Oscars 2015 Best Moments: From Host Neil Patrick Harris' Naked Tribute To Lego Trophies [VIDEOS]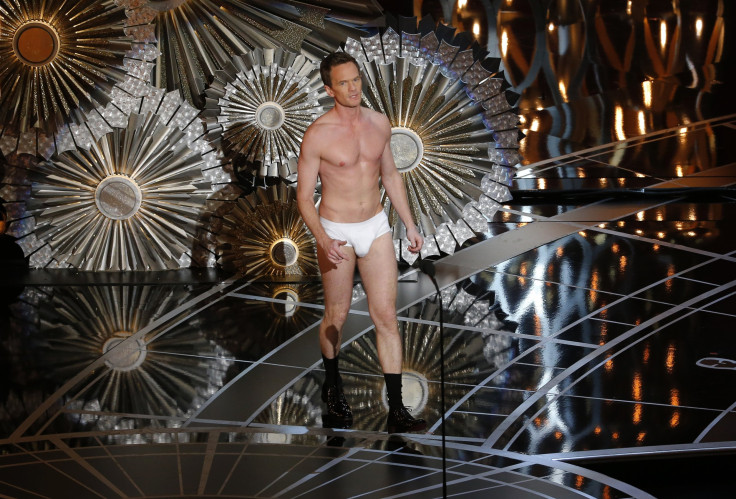 We've officially survived award season! Last night, celebrities gathered to celebrate the "best and whitest" of Hollywood at the 2015 Oscars. But not everything during the 87th annual Academy Awards received the recognition it deserved – and we're not just talking about "Selma." Here are the best moments of the Oscars:
1. Neil Patrick Harris' Opening Number
Harris' musical monologue, "Moving Pictures," which was composed by the "Let It Go" writers Robert Lopez and Kristen Anderson-Lopez, set standards high for the rest of the night. The number featured a slew of talented celebs like Anna Kendrick, Jack Black and best of all: Benedict Cumberbatch sipping from a flask.
2. Touching Speeches
Even more incredible than the Oscar nominated performances were the acceptance speeches that the actors gave after receiving the coveted gold statue:
Patricia Arquette (best supporting actress, "Boyhood") promoted equal pay for women. This also happened to be Meryl Streep and Jennifer Lopez's favorite speech of the night.
J.K. Simmons (best supporting actor, "Whiplash") reminded us all to call our parents.
Pawel Pawlikowski (best foreign language film, "Ida") defied Academy Award rules and wouldn't let the cut off music stop him from thanking his friends, family and colleagues.
Graham Moore (best adapted screenplay, "Imitation Game") inspired us all to "stay weird, stay different."
3. Lady Gaga's "Sound of Music" Tribute
We weren't the only ones impressed with Lady Gaga's pipes during the 2015 Oscars! After her tribute performance, Julie Andrews revealed how in awe she was. "Dear Lady Gaga, thank you for that wonderful tribute," Andrews said before presenting the award for best score.
4. Adele Dazeem Part II
John Travolta was a good sport in laughing at himself in regards to his 2014 Oscar flub when he called Adele Dazeem ... instead of Idina Menzel. However, he landed himself back in the comedy dog house after he weirdly touched the Menzel's face while presenting an award with the wickedly talented singer. That wasn't his only odd moment of the night.
5. NPH Stripped Down
The host had viewers in stitches during his recreation of the scene from "Birdman" when Michael Keaton's character runs throughout the city in nothing but his tighty whities.
6. "Glory"
We cheered, we laughed and we even cried at the 87th Academy Awards thanks to the emotional performance of "Glory," the Oscar-winning song from "Selma," which was written by John Legend and Common.
The expressive performance even had celebrities in the audience tearing up, like David Oyelowo and Chris Pine. However, surprisingly enough Chrissy Tiegen wasn't one of the faces caught sobbing at the event. According to Legend, his wife avoided cameras because she "[didn't want to] become a meme again." Never forget.
7. Lego Trophies For Everyone!
"Everything is Awesome" from "The Lego Movie" might not have been nominated for best original song during the 2015 Oscars but it definitely won best moment in our hearts! The number, performed by The Lonely Island and Tegan and Sara, was full of whimsical moments like dancing cowboys and opossums, Questlove, Will Arnett as Batman and Lego Oscar awards!
The yellow statues were handed out to a bunch of celebs, including an excited Oprah and hopeful Emma Stone.
What was your favorite moment from the 2015 Oscars? Sound off in the comments section below.
© Copyright IBTimes 2023. All rights reserved.