Eddie Redmayne: 5 Fast Facts About The Oscar Winning 'The Theory Of Everything' Star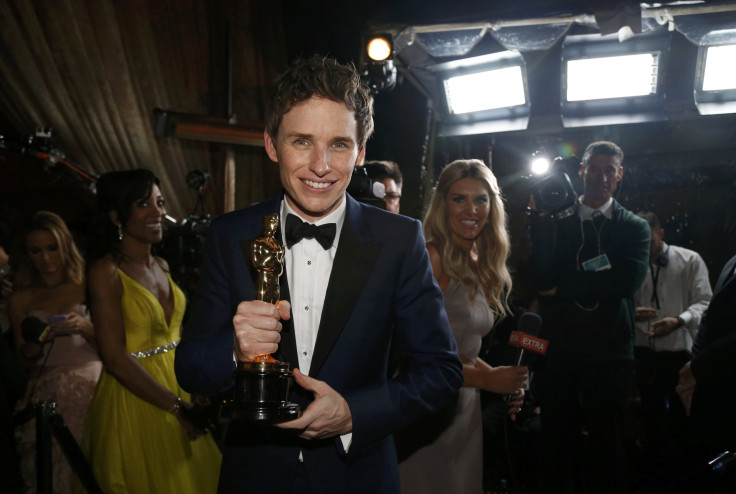 Eddie Redmayne has stepped into the spotlight this awards season. The 32-year-old Brit won best actor at the 2015 Oscars for his performance in the biopic "The Theory of Everything." Ahead of his win Sunday, Redmayne also scored the best actor win at almost all of the major awards shows this season, including the Golden Globes, BAFTA Awards and SAG Awards. So what else do you need to know about Hollywood's new "it" boy?
1. He lost weight for the film. Playing Stephen Hawking required a very physical performance from Redmayne. Not only did he have to convey Hawking's physical differences as his amyotrophic lateral sclerosis progressed but Redmayne also had to lose 15 pounds for the role. The actor had just finished filming "Jupiter Ascending," in which he had to gain muscle mass.
"So I'd spent months basically doing sit-ups and eating chicken, and then the day that it finished, I started prepping for 'The Theory of Everything,'" Redmayne told Variety. "I was like, 'Please, it's the only time in my life that I've ever got close to abs! Can't I just walk down a beach?'"
2. This isn't his first Oscar-nominated film. The Oscar winner played Marius in "Les Misérables," which picked up eight nominations at the 2013 Academy Awards. He also portrayed Colin Clark in "My Week With Marilyn," which was nominated for two Oscars in 2012. In 2008, Redmayne took on the role of Anthony Babington in "Elizabeth: The Golden Age" which also scored two nominations at the Academy Awards. His best actor nod this year, however, was his first individual nomination.
3. Redmayne is married. Sorry, ladies, he has been off the market for a couple months now, but those who watched him thank his wife at the Oscars already knew that. Redmayne is married to Hannah Bagshawe, a publicist. The two were married in December after three years of dating. The Academy Award winner recently told Ellen DeGeneres that his wife was late for their wedding but he wasn't worried about a runaway bride.
"Her grandfather had to be sort of held back from going and summoning her," Redmayne explained. "Everyone else was really stressed, but I was kind of relaxed, knowing that she'd never been on time for pretty much anything in her life."
4. He wasn't nervous. Despite receiving an individual nomination and being predicted as a likely Oscar winner, the "Theory of Everything" star didn't have too many nerves going into the Academy Awards Sunday night. After all, he didn't have to perform any Oscar-nominated songs.
"I feel, like, relatively relaxed," Redmayne told E! on the red carpet. "Last time I was here I knew I had to sing.... Just before I went on to sing, there was a guy with a headset who was like, 'That's a billion people watching.'"
5. No audition. Redmayne was offered the role in "The Theory of Everything" without an audition. While bypassing the process sounds like a dream come true, it was also a little terrifying for the star. "At least when you've auditioned, they've seen some sense of what you can do," the Academy Award winner told Variety. "I was thrilled and instantaneously nervous." While Redmayne may have questioned their process, it seems like they managed to pick the right actor for the role.
© Copyright IBTimes 2023. All rights reserved.