Oscars 2015: Neil Patrick Harris Jokes About 'Hollywood's Best And Whitest'; Watch Musical Opening With Anna Kendrick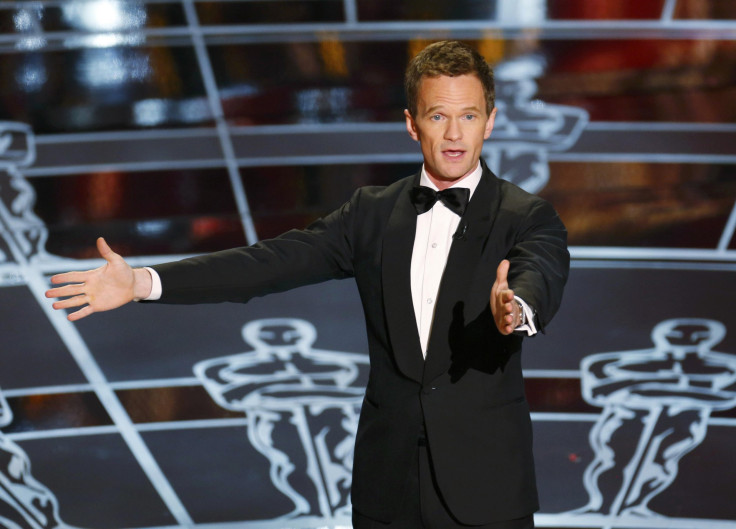 The 87th annual Academy Awards kicked off with host Neil Patrick Harris doing what he does best: a song and dance. But first, the "Gone Girl" actor kicked off the opening by noting the controversy surrounding the lack of diversity in the 2015 Oscar nominations. "Tonight we honor Hollywood's best and whitest -- sorry, brightest," Harris said before he launched into a song.
The actor, who starred on Broadway's "Hedwig and the Angry Inch" last year, was ready to address Grammy controversy as well in his song. "I secretly hope someone pulls a Kanye," Harris sang. Of course, he was referring Kanye West's interruption during Beck's album of the year acceptance speech.
Harris brought out some friends for his opening number. Anna Kendrick join him in her Cinderella dress from "Into the Woods." He found Kendrick's Jimmy Choo slipper and they sang about how much they loved movies and happy endings "except for in 'Gone Girl' when that lady slit your throat," Kendrick sang, talking about Harris' brutal demise in his Oscar nominated film.
"Spoiler alert," Harris said.
Jack Black chimed in from the audience and started singing about how Hollywood films lack originality. "After 'Fifty Shades of Grey' they'll all have leather whips," Black sang.
Kendrick shooed him off the stage with her shoe, and they went back to singing about their love of movies. "They may not be real life but they'll show you what life really means," Harris sang.
Watch the opening ceremony from the 2015 Oscars below:
Click HERE for information on how to watch the 87th Academy Awards online or on TV. For a full list of Oscar nominees click HERE. Follow our live blog HERE for updates throughout the night.
© Copyright IBTimes 2023. All rights reserved.
FOLLOW MORE IBT NEWS ON THE BELOW CHANNELS