Oscars Preview: Cate Blanchett, Matthew McConaughey, '12 Years a Slave' Win Independent Spirit Awards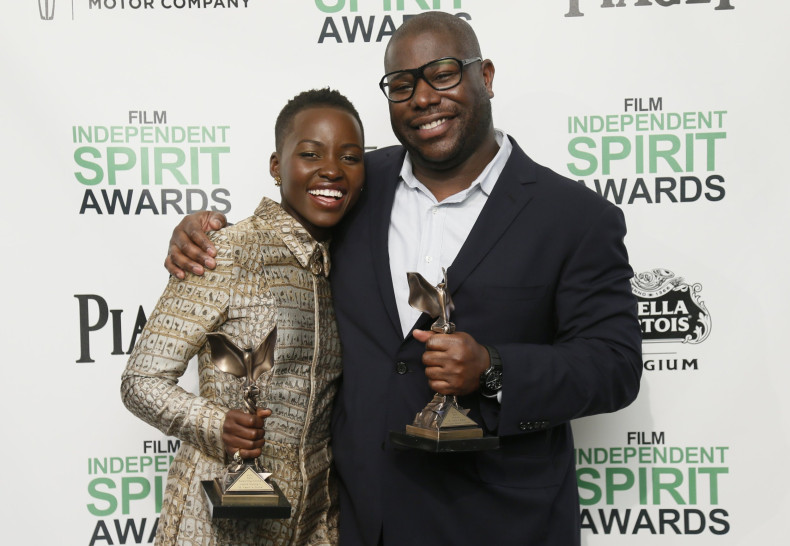 "12 Years a Slave," Mathew McConaughey and Cate Blanchett were the big winners at the Independent Spirit Awards held Saturday in Los Angeles.
"12 Years a Slave" dominated the awards show, which recognizes independent cinema, winning best feature and four other awards, including director for Steve McQueen, supporting actress for Lupita Nyong'o and screenplay for John Ridley, Variety reports.
Matthew McConaughey won the best actor trophy for "Dallas Buyers Club," while Cate Blanchett took the best actress award for Woody Allen's "Blue Jasmine."
Blanchett thanked Allen for his script, fellow actors Sally Hawkins and Andrew Dice Clay, and acknowledged an aircraft passing overhead. "That's the drone come to pick me up," she joked.
McConaughey began his acceptance with a thank you, followed by his trademark "All right, all right, all right."
"12 Years a Slave" British director Steve McQueen won for best director and dedicated the award to Solomon Northup, whose life and book was the basis for the historical drama.
"Michael Fassbender is a genius. Nothing he wouldn't do, nothing he can't do," McQueen said, also giving thanks to Chiwetel Ejiofor — the "soul" of the film.
McQueen thanked "Mr. Brad Pitt" and gave a nod to indie legend John Cassavetes.
Newcomer Lupita Nyong'o won the best supporting actress award for her emotional portrayal of the slave Patsey in "12 Years a Slave," while Jared Leto took the best supporting actor award for his role as transgender AIDS patient Rayon in "Dallas Buyers Club."
In accepting the award, Nyong'o said that she had not been aware initially of the distinction of independent films, but said she then realized, "Independent film is where stuff actually happens."
Leto thanked "all the women I've been with and all the women who think they've been with me," makers of vegan butter, people who make size 12 heels, 7 billion people on the planet. He also said he's going to do "an opposite McConaissance and just do romantic comedies."
Leto concluded on a serious note by dedicating the award to the 36 million people who have died of AIDS and the 35 million living with HIV/AIDS.
John Ridley took the screenplay trophy for "12 Years a Slave." He delivered an emotional acceptance speech, saying he had not fully realized the impact of the film until he saw it at the Toronto Film Festival. "12 Years" also took the cinematography award for Sean Bobittt.
"Nebraska" screenwriter Bob Nelson won the Spirit Award for first screenplay in the first award of the night. The awards were held under the traditional big white tent on the beach.
Cate Blanchett paid tribute to James Gandolfini, Philip Seymour Hoffman and Roger Ebert, who all passed away this year. Gandolfini was nominated for "Enough Said."
In order to be nominated, each film has to have a production budget lower than $20 million. To vote, one need only buy a $95 per year membership in Film Independent, the nonprofit arts organization that also produces the Los Angeles Film Festival.