'Outlander' Season 3 Spoilers: 4 Exciting Moments From New Trailer
"Outlander" is going to feel like a whole new show in the next few episodes of Season 3. Jamie and Claire have reunited, but "happily ever after" is not in their future. They'll head off on a dangerous adventure after the kidnapping of Young Ian, and a new trailer, released Monday, highlights the excitement ahead. Check out the most thrilling moments of the promo video:
Back To Paris: It looks like Jamie (Sam Heughan) and Claire (Caitriona Balfe) are going back to France. At the 22-second mark, the couple is dressed in fancy duds that are too colorful for Scotland. Their search for Young Ian apparently takes them to Paris again. As viewers will remember, the couple went to the City of Love in Season 2 for a while when they were trying to stop the Jacobite Rising.
Claire Gets Kidnapped: She's usually in trouble, so Claire getting taken isn't that surprising. However, it's always fun to see Jamie get protective. Unfortunately, the other sailors might not see it that way. Jamie gets locked up below deck.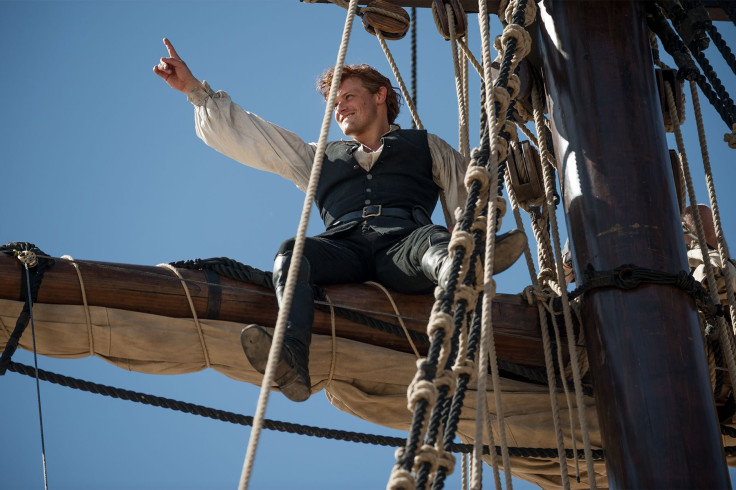 Jamie's Plea: When asking to be freed from his cell, Jamie explains to Fergus (César Domboy) that it wouldn't be a risk for a man who understood true love. "If you ken what love is, you would move heaven and earth. You would risk death," he says passionately. Though the trailer doesn't show it, Fergus will be experiencing his own love story in these episodes.
The Action: Get ready for action scenes. From cannon fire to bloody machetes to Jamie trying to save someone from falling off the ship's mast, "Outlander" Season 3 looks like it'll have plenty of heart-stopping moments.
Watch the new trailer below:
The later half of Season 3 will take place in Jamaica but was actually filmed in Cape Town, South Africa. The Starz drama took over the "Black Sails" set after the pirate drama wrapped, and showrunner Ronald D. Moore told International Business Times that the cast and crew loved shooting in the sunny location.
"It gave a different vibe to the production, which was great because it was leaving Scotland in story and going somewhere else," Moore told IBT in June. "You felt a different energy on the set because they were somewhere else. It's a very different place. It's completely different from Scotland. You can see all the people, all the Scots in the crew, were out like baking in the sun and getting sunburned because they were just so in love with seeing the sun for a change."
"Outlander" Season 3 airs Sundays at 8 p.m. EDT on Starz.
© Copyright IBTimes 2023. All rights reserved.