'Outlander' Season 3 Spoilers: Sophie Skelton Teases Claire And Brianna's Bond
"Outlander" has largely been about Claire's romances, but the Starz show will focus on her family life in Season 3. Claire's quest to return to Jamie will not only bring her back to her true love but also bring her closer to daughter Brianna. Sophie Skelton hinted that there would be some mother daughter bonding in the time travel drama.
"It's been really lovely actually because last season, obviously, these two strong women kind of clashed heads a lot, which you still see some of in this season," the Brianna actress told Entertainment Tonight. "But you do also see that element where it is that really strong mother daughter bond, which they kind of haven't had for the past 20 years, so it's nice to see them come together. They kind of become friends as much as mother and daughter which — there's some really lovely scenes in that Boston home."
When "Outlander" Season 3 kicks off, viewers will be treated to flashbacks to Brianna's childhood, during which she believed Claire's (Caitriona Balfe) first husband Frank (Tobias Menzies) was her father. Eventually, the show will catch up to Brianna in the late '60s. At the end of Season 2, Claire decided that she needed to go back to Jamie (Sam Heughan) after learning he survived the Battle of Culloden. Brianna will help her mother and biological father reunite in the fall episodes.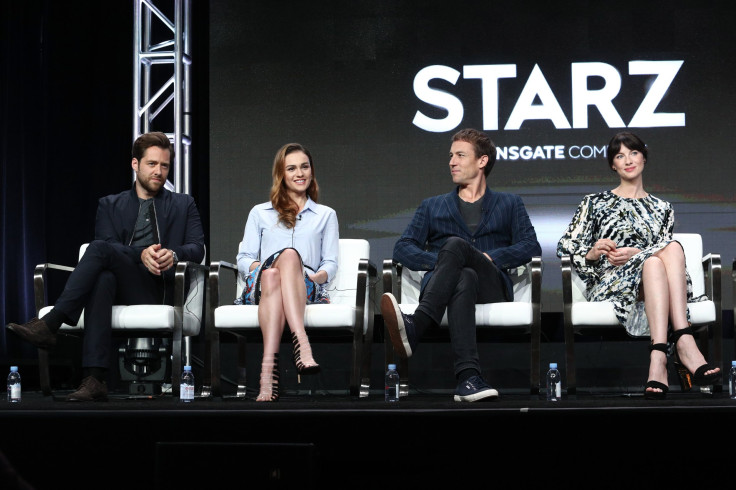 Brianna will be researching Jamie's history with help from Roger Wakefield (Richard Rankin), and readers of Diana Gabaldon's books know that their investigation won't be kept professional for long. There is definitely a passionate romance brewing, but it won't be easy for them to get together.
"You see a lot more of Brianna and Roger's relationship coming together and then in an equal amount being sort of torn apart as well," Skelton added. "So even with some scenes, they sort of read one way, but then we've talked about it and actually some of the scenes have sort of turned out quite different than we imagined."
Skelton previously teased that the romance might frustrate fans. It doesn't seem like the two will be able to convey their feelings very openly. "With Brianna and Roger, they don't communicate very well even though they are the only people in the world who understand each other," Skelton told TV Guide last month. "There's that beautiful infuriation. You just want them to sit down, tell each other how they feel and move the relationship forward that way."
"Outlander" fans will get to see how Brianna and Roger's relationship plays out when Season 3 finally premieres. The show has been on hiatus since July 2016, but it will finally return Sunday, Sept. 10 at 8 p.m. EDT on Starz.
Some viewers will get a chance to see the "Outlander" Season 3 premiere early. San Diego Comic-Con attendees were able to see the first episode, and there are advanced screenings happening in Los Angeles on Sept. 5. Check out how to attend HERE.
© Copyright IBTimes 2023. All rights reserved.