'Outlander' Star Sam Heughan Shares Set Photos From New Movie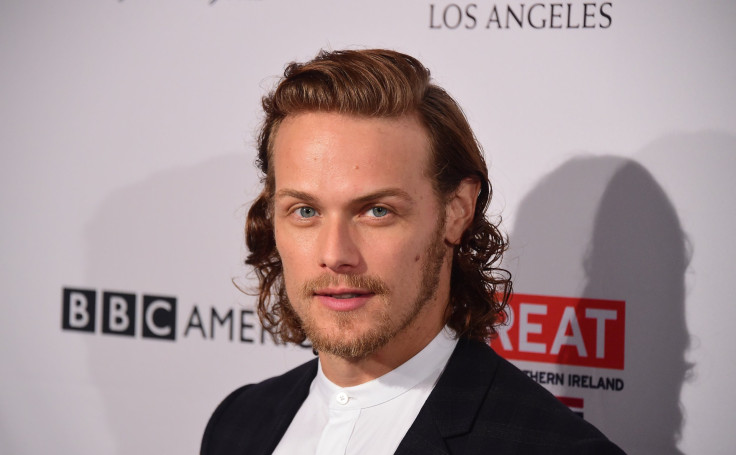 Sam Heughan is keeping busy during his "Outlander" hiatus. Though he went to San Diego Comic-Con last month to promote the Starz drama, it seems he has returned to the set of his new action comedy, "The Spy Who Dumped Me." Heughan has been posting behind-the-scenes photos from the set of the new film.
While the Jamie Fraser actor did not show off the famous faces he is working with (Mila Kunis and Kate McKinnon also star), he showed off a furry co-worker. It seems Heughan is bonding with a dog named Tiny. Heughan joked that they both "will work for biscuits."
READ: Caitriona Balfe Teases Sam Heughan For Healthy Habits
Heughan seems to be in a humorous mood while taking behind-the-scenes photos. He posted another photo of "his trailer," which was labeled "Dumb American Girl #6."
Heughan is not, in fact, playing a dumb American girl. He is actually playing a spy while Kunis and McKinnon play best friends Audrey and Morgan, respectively. Audrey is dumped by Heughan's deceptive character, but she and Morgan become caught up in an international conspiracy when Heughan shows up running from a team of assassins. The comedy was co-written by Susanna Fogel and Brian Grazer, and Fogel will also direct.
Lionsgate's "The Spy Who Dumped Me" won't be released until July 6, 2018, but Heughan has been sharing other details on Twitter. As previously reported, he praised "Saturday Night Live" alum McKinnon. "She's SO cool and funny! What a pro," he told a fan who asked about the experience.
The Scottish actor, who recently chopped his long locks for the role, will have a Hungarian accent in the movie. He also revealed that he was also doing some of his own stunts for the film. Though he'd ended up with a few bruises, he wasn't too banged up after shooting some of the action scenes.
READ: Caitriona Balfe Teases 'Awkward' Reunion On "Outlander"
The "Outlander" cast seems to be used to getting a few bruises on set. Caitriona Balfe has blamed more than one "war wound" on Heughan. While shooting Season 3 this spring, Balfe claimed that Heughan is responsible for a bruise on her leg that she sustained while filming the turtle soup scene. She also revealed that she hit the bridge of her nose on the last day of filming when Heughan supposedly steered her into a log. See photos of her injuries HERE.
As soon as the 10-week movie shoot for "The Spy Who Dumped Me" wraps up, Heughan will reunite with Balfe to promote "Outlander" ahead of the Season 3 premiere. When the time travel drama returns, it will show what Jamie and Claire have been doing while they've been apart. For Jamie, that will mean viewers will see what happened to him at the Battle of Culloden while Claire experiences her pregnancy with Frank (Tobias Menzies) by her side.
"The Spy Who Dumped Me" hits theaters July 6, 2018. "Outlander" Season 3 premieres Sunday, Sept. 10 at 8 p.m. EDT on Starz.
© Copyright IBTimes 2023. All rights reserved.
FOLLOW MORE IBT NEWS ON THE BELOW CHANNELS