As Outrage Grows Over Children, White House Defends Immigration Policy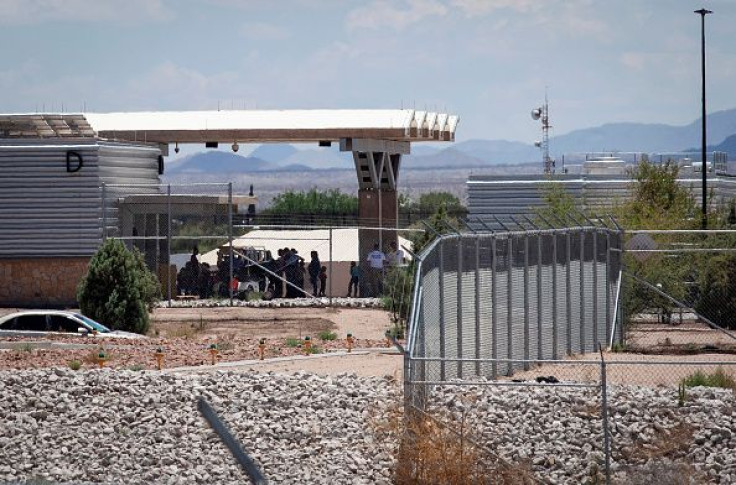 WASHINGTON (Reuters) - The Trump administration on Monday defended its hardline immigration policy at the U.S.-Mexico border as furor grew over the separation of immigrant parents and children, including video of youngsters sitting in concrete-floored cages.
Democrats blasted such treatment as "barbaric," while a few of President Donald Trump's fellow Republicans also voiced concern as the Republican-controlled U.S. House of Representatives moved toward voting later this week on two pieces of immigration-related legislation.
Department of Homeland Security Secretary Kirstjen Nielsen, appointed by Trump, told reporters at a White House briefing that the administration was only strictly enforcing the law.
"This administration did not create a policy of separating families. ... What has changed is that we no longer exempt entire classes of people who break the law," she said.
The outcry over the detained children resulted from the Trump administration's "zero tolerance" immigration policy, which provides for the arrest of all adults caught trying to enter the United States illegally, including those seeking asylum.
While parents are held in jail, their children are sent to separate detention facilities, some in remote locations. Video footage released by the government showed migrant children held in wire cages, sitting on concrete floors.
An audio recording said to capture the sounds of immigrant children crying in a detention facility was circulating online. Reuters could not independently verify its authenticity.
Trump administration officials say the zero-tolerance policy, which was not practiced by the two previous presidents, is needed to secure the border and deter illegal immigration.
But Democrats and some Republicans have admonished the administration for dividing nearly 2,000 children from their parents between mid-April and the end of May.
"The increasing number of children being ripped away from their parents is sickening," said Democratic Senator Michael Bennet. "Yet the president and his administration continue to perpetuate falsehoods and blame others for their own cruelty."
After visiting an immigration detention center in San Diego, House Democratic leader Nancy Pelosi said: "Our message to Mr. Trump is, stop this inhumane, barbaric policy." Pelosi also called on Nielsen to resign from her post over the dispute.
MICROSOFT VOICES 'DISMAY'
Seattle-based software company Microsoft Corp, one of America's largest businesses, said in a statement it was "dismayed" by the situation. "We urge the administration to change its policy and Congress to pass legislation ensuring children are no longer separated from their families," it said.
Trump, whose promise to crack down on illegal immigration was a major theme of his 2016 campaign and one he has carried into his presidency, responded sharply to critics on Monday.
At the White House, he said: "The United States will not be a migrant camp, and it will not be a refugee holding facility. It won't be."
Trump has sought to use the widespread outrage over the family separations to push through other immigration priorities that have stalled in Congress, such as funding for his long-promised wall along the Mexican border.
He has blamed Democrats for the impasse, even though his fellow Republicans control both chambers of Congress.
Republican Senator Ted Cruz, who ran unsuccessfully against Trump in 2016 for their party's presidential nomination, said he would introduce legislation this week to halt family separations.
"All Americans are rightly horrified by the images we are seeing on the news, children in tears pulled away from their mothers and fathers. This must stop. Now. We can end this crisis by passing the legislation I am introducing," the Texas lawmaker said.
He said his bill would build temporary shelters where immigrant families could stay together in cases where there was no threat to the children's safety, double the number of federal immigration judges and speed handling of asylum applications.
HOUSE VOTES COMING
The House was set to vote on Thursday on two Republican immigration bills, both drafted without input from Democrats.
One would limit, but not entirely prohibit family separations, fund Trump's wall and give legal protections to young immigrants, known as "Dreamers," who were brought to the country illegally as children. Details were still in flux.
The bill faces strong headwinds as it is opposed by Democrats, who object to another provision that would cut legal immigration levels, and conservative Republicans who are backing a rival bill that takes a harder line on immigration.
Trump was due to meet with House Republicans on Tuesday evening as they prepared to vote on the two bills.
The debate over family separations drew in current and former presidential wives, including Laura Bush and Michelle Obama, who condemned the practice. Melania Trump released a statement on Sunday saying she "hates to see" children separated from their families.
Border crossings briefly dropped after Trump took office in January 2017, but have since risen to levels seen during the administration of his Democratic predecessor, Barack Obama. Almost 52,000 people were caught trying to cross the southern border illegally in May, according to government figures.
(Additional reporting by Stephanie Nebehay in Geneva and Nathan Frandino and Yeganeh Torbati in Washington; Writing by Kevin Drawbaugh; Editing by Grant McCool and Peter Cooney)
© Copyright Thomson Reuters 2023. All rights reserved.