Paul McCartney Marries Nancy Shevell: Best Moments [PHOTOS]
Sir Paul McCartney on Sunday entered into his third marriage, this time with with three -year-girlfriend Nancy Shevell, at the Old Marylebone Town hall in London on Sunday -- the same place he married his first wife, Linda Eastman.
Thousands had gathered by the steps of the Town Hall in 1969 to witness the marriage of the Beatles star to Eastman, but on Sunday only a few hundred showed at the same location to witness the star's third marriage to the American New York heiress.
The 69-year-old Beatles Star looked proud, content and eager to share his joy with the crowd, The Huffington Post reported. Following an intimate civil ceremony attended by close family and friends, McCartney came down the town hall steps raising his new wife's hand in the air as white confetti petals covered them both.
The bride and groom wore Stella McCartney to the wedding. Shevell wore an ivory, knee-length V-neck dress with a button-up bodice and long sleeves. Her shoes were white cross-strapped with a low heel and elegant strap around the ankle. She wore a white flower in her long brown hair. McCartney wore a dark blue suit, with white shirt with a lighter blue tie.
I feel absolutely wonderful, McCartney told fans as he came down the steps.
His wedding to Shevell was quite the contrast to his last marriage with Heather Mills, which ended in a bitter public divorce. McCartney and Mills married in 2002 in a lavish Irish castle, throwing a ceremony worth £1.5million. Mills accused McCartney of cruelty during their marriage, securing herself $48.7 million in the divorce settlement.
On Sunday, McCartney's wedding to Shevell was greatly understated and genuine, many guests said. Fellow Beatle Ringo Starr, Barbara Walters (who is Shevell's cousin) and McCartney's children -- Mary, James, Stella and Beatrice -- were all present. The former Beatle performed a song specially composed for his third wife at the reception, according to the Daily Mail, together with Let It Be and Let Me Roll It.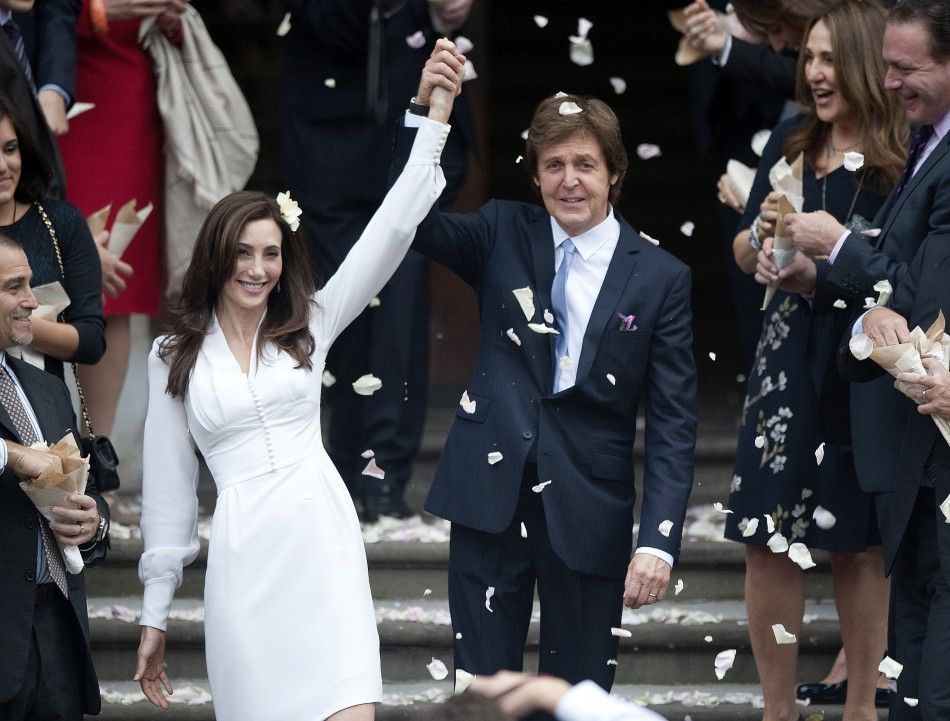 © Copyright IBTimes 2023. All rights reserved.