Pax Snow Totals: New York, Baltimore and Philadelphia Blanketed By Winter Storm 2014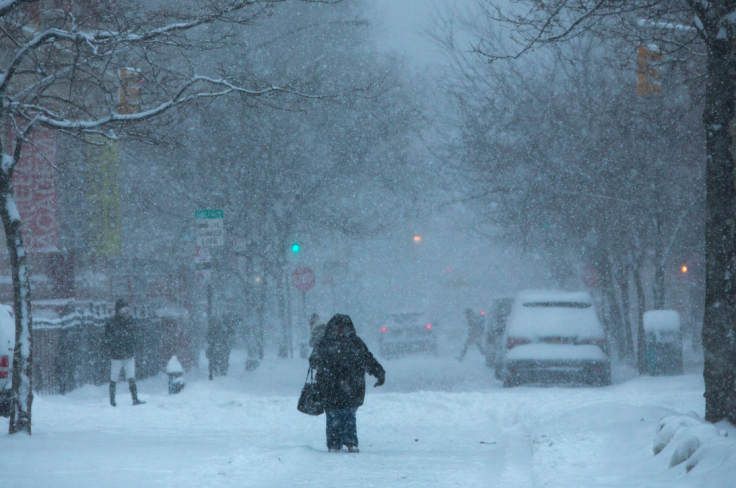 Pax might mean "peace" in Latin, but when millions of people in the Northeast woke up Thursday morning, they probably found nothing peaceful about the snowfall that yet another winter storm brought. Like the Midwest and the Southeast, the Northeast has been bombarded with the white stuff this winter season, and Pax piled on.
Now to answer the question everyone wants to know: How much snow? Several inches have already fallen in many Northeast locations, but when the storm has finished there could be as much as 18 inches of accumulation in some locations, The Weather Channel reported Thursday morning. But overall most areas will probably see six to 12 inches. Precipitation is expected to continue into Friday.
West Virginia to Maryland, southern and eastern Pennsylvania, New Jersey, southeast New York and a large part of New England will all see snowfall from Pax, but there's the dreaded "wintry mix" in store for the Washington, Baltimore, Philadelphia and New York City areas, which will see multiple types of precipitation. First some snow, then sleet, next freezing rain or plain rain. But the snow hasn't finished. More is expected to fall Thursday evening.
According to The Weather Channel, 11 inches of snow had already fallen in Washington. Baltimore had already seen a foot of snow and Philadelphia picked up 8.8 inches.
Winds are also expected to be an issue during Pax. New England might get the brunt of it, leading to poor visibility at times and blowing snow. Sustained winds of 15 to 30 mph can be expected, but gusts could approach 40 or 50 mph from the New York City area into coastal New England.
Public schools in New York City remained open Thursday, which teacher's union head Michael Mulgrew called "unwarranted." "Having students, parents and staff traveling in these conditions was unwarranted," Mulgrew said in a statement quoted by the New York Daily News. "It was a mistake to open schools today."
© Copyright IBTimes 2023. All rights reserved.