'Peace, Love, and Misunderstanding' Stars Chace Crawford and Jeffrey Dean Morgan Talk Jane Fonda, Woodstock, And Getting ?Blown Away? By Elizabeth Olsen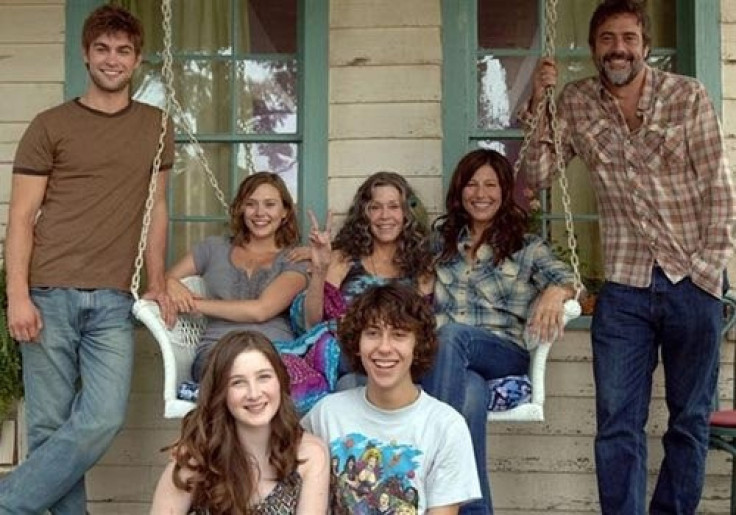 Peace, Love, and Misunderstanding, opening Friday, is a bold female-driven comedy with a stellar cast. When Diane (Catherine Keener), a tightly wound Manhattan attorney, is dumped by her husband, she retreats to Woodstock to stay with her estranged hippie mother, Grace (Jane Fonda). Taking along her two children, Zoe (Elizabeth Olsen) and Jake (Nat Wolff), she struggles to adjust living with her wildly unconventional, pot-dealing mother.
Her uptight nature is challenged by Jude (Jeffrey Dean Morgan) a freethinking musician who encourages her to be more carefree. Meanwhile, Zoe becomes smitten with Cole (Chace Crawford), a local butcher, despite being a staunch animal rights advocate.
The International Business Times sat down with the audacious Morgan and Crawford to hear their take on Fonda, food, and Woodstock.
In the film, both of you play two incredibly charming gentlemen.
J.D.M: We're hunks!
For instance, Chace's character manages to woo a vegetarian/animal rights activist even though he's a butcher.
C.C: It could have been a great spinoff comedy or a great sitcom.
A show entitled The Vegan and the Butcher?
C.C: Or...a terrible sitcom.
J.D.M: (To Chace) You should talk about how you interned at a butcher shop for six weeks to prepare for the role.
C.C: Exactly, I know my cuts of meat.
So from that you were able to adopt the mindset of a butcher?
C.C: I just grew a beard to look like I did. [He laughs.] I grew up in Texas which was preparation enough for the role. The monologue that I have in the film (his character Cole talks about working for a mom and pop food distributor as opposed to a major chain) probably educated me the most. I started to understand more about GMOs.
J.D.M: (To Chace) You really pulled it off by the way.
C.C: Well, how do you even make a monologue about genetically modified organisms sexy?
Can you break the process down into steps and educate the public on how to make GMO's sexy?
J.D.M: You be Chace Crawford.
C.C: Actually, I think the fact that Cole is being filmed for a documentary makes that scene what it is. That's the charm of it. I definitely learned a bit about the food industry. I'll notice that certain steak houses buy their food from Fleisher's [A popular organic butcher shop in the Hudson Valley.] It's interesting that the lid is being blown off when it comes to food chains like McDonald's. The videos on the internet now show the pink slime that's used to make their chicken. How do we go years and years without knowing what's in our food? So I guess I'm proud to know more about GMO's and avoid them.
J.D.M: Chace is very method. [He laughs.]
One of the most interesting things about this film is its location. Woodstock is probably an incredible place to work.
C.C: Truthfully, filming was like a paid vacation. I was working on Gossip Girl and the producers gave me Fridays off and I would just drive upstate. It was isolated that it felt good to be there.
J.D.M: We film a few scenes in actual Woodstock but the rest was shot in the Catskills and near Kerhonkson but it was awesome. I live there now. I bought a house while we were filming.
The residents living in-and-around Woodstock are known for being artsy and eccentric. You must have some crazy stories.
J.D.M: Easily, Chace and I were the craziest although Jane (Fonda) is a little crazy. She's a trip. The extras that we had at certain points, like the party scenes, the festival, and the protests (which were shot in Woodstock) had locals in them. They were the real deal. That was just the tie-dyed nakedness of local Woodstock folks who just got to be themselves.
So clearly they welcomed all of you during shooting and were happy to have you in their town.
J.D.M: Yeah! Woodstock has a big artistic community. They have their own film festival now and there's a bunch of artists lining up there. Anything that comes through their town that is somewhat creative they embrace. That's why it was so much fun to shoot up there and be around those people.
Jeffery, there's a scene where you sing a cover of The Weight by The Band with Catherine Keener as Jane Fonda and a slew of Woodstock locals look on. How can you ever top a moment like that?
J.D.M: I hated that moment.
C.C: I can imagine. I would be freaking out.
J.D.M: I'm not a musical person and Bruce (Beresford) insisted that Catherine and I sing that ourselves. My character started off being a really good musician and singer and by the end of the movie he's a pretty good song writer. [He laughs.] That was the hardest scene I think I've ever done in my whole life because I was so nervous about getting up in front of those people and actually singing.
You really don't want to make a complete ass of yourself in front of people you don't know. I don't mind making an ass of myself in front of Chace or any of the cast members but not in front of 200 extras.
Since filming Levon Helm passed away so the scene has so much more meaning now.
J.D.M: Well, I'm no Levon Helm I'll tell you that much.
Both of you work with some incredibly talented actresses in this film. For example, Elizabeth Olsen, who's become a film sensation seemingly overnight.
C.C: Yeah! This was her first job on camera. She was still at NYU at the time. We're still good friends actually and I remember her telling me about a film she was going to do with first time director named Sean Durkin. The next thing you know that film (Martha Marcy May Marlene) is everywhere. She's it. She's the whole deal.
J.D.M: That was the first time I have ever been to a table read where I immediately called my agent afterwards. I called him up and said: There's this little girl named Elizabeth Olsen, I don't care what you have to do, just sign her.
C.C: You did that, really?
J.D.M: I had never done that before and haven't done it since. She didn't end up signing with him. (He laughs) It would have been a much better story if she had. But I was blown away by her.
C.C: It was really apparent that she had the confidence and strength to pull off the role. Even though she was working with Keener and Fonda, she came on strong and her talent was so apparent.
J.D.M: All the women in this film are. The men are just the window dressing and the women are center stage. We have supporting roles in their movie. I liked watching those chicks work.
Jane Fonda plays an exaggerated version of her own persona. This is a woman who has lived through some of the most fascinating moments in pop culture. To share the screen with have must have been remarkable.
J.D.M: She really is a living legend in more ways than just the film business. I'll be honest, the reason I did the movie was because of Jane Fonda and Catherine Keener. I grew up watching Jane's films. I became a man watching Barbarella. [He laughs.] Numerous times!
C.C: Numerous times! I love it. [He laughs.]
Was that the first thing you told her when you met?
J.D.M: Yes, that may have been the first thing I told her. She's awesome. It was amazing to watch her work. She was so giving. Working with young actors is not necessarily an easy deal and what she did with Elizabeth and Nat (Wolff) really helped to get a great performance out of them.
If you could go back in time and see any band/artist perform live at Woodstock, who would it be?
J.D.M: Hendrix with his guitar performing Star Spangled Banner.
C.C: Bob Dylan for sure. Hendrix is a good one though.
J.D.M: Well, he's dead, so all the more reason.
© Copyright IBTimes 2023. All rights reserved.