People's Choice Awards 2015 Red Carpet: Ellen DeGeneres Calls Wife Portia De Rossi 'Beautiful' [PHOTOS]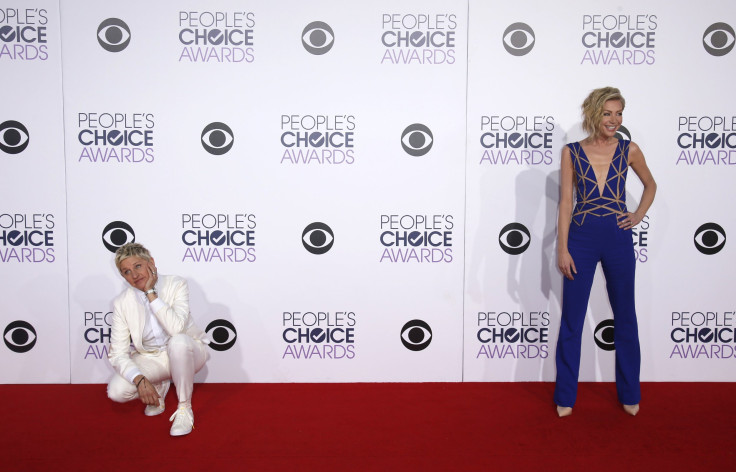 Ellen DeGeneres and Portia de Rossi graced the red carpet at the 2015 People's Choice Awards, and brought the laughs. While speaking with E! correspondent Giuliana Rancic, DeGeneres revealed an odd thing she does when the photographers start snapping photos -- she crouches on the floor of the red carpet!
"I don't put the effort into my clothes apparently," the 56-year-old talk show host joked to Rancic, explaining that photographers usually yell for her to get out of the fashion shots. But DeGeneres reassured viewers that it's not something that she takes to heart.
"I don't blame them, she's beautiful," she added, pointing toward her wife of over six years. "And I like what she's wearing and all that."
De Rossi was wearing a cleavage-bearing cobalt jumpsuit from Zuhair Murad. DeGeneres joked that she too was wearing "hair from the Zu," but she was actually wearing a jacket and pants from her upcoming clothing line and a St. Laurent shirt. "It's fun," DeGeneres dished of her new business venture. "We haven't launched my line officially. It comes out in May. But it's exciting."
Click HERE for a 2015 People's Choice Awards live blog.
Click HERE for 2015 People's Choice Awards live stream information.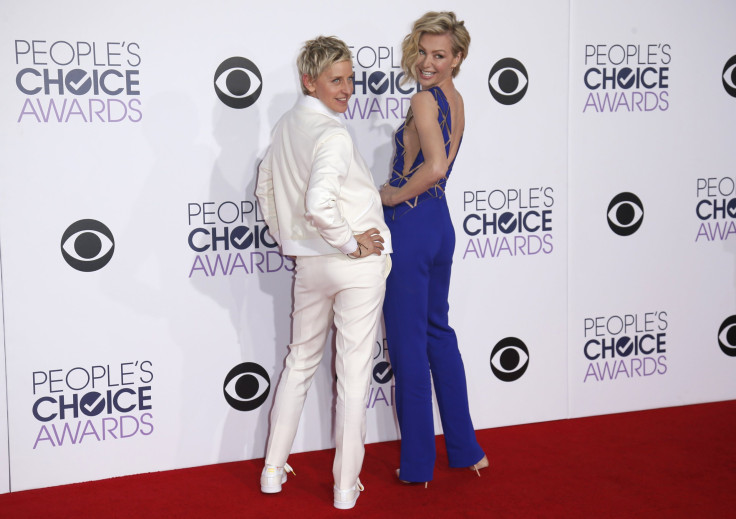 © Copyright IBTimes 2023. All rights reserved.