Peter Thiel For California Governor? These Voters Want PayPal Co-Founder To Run For Public Office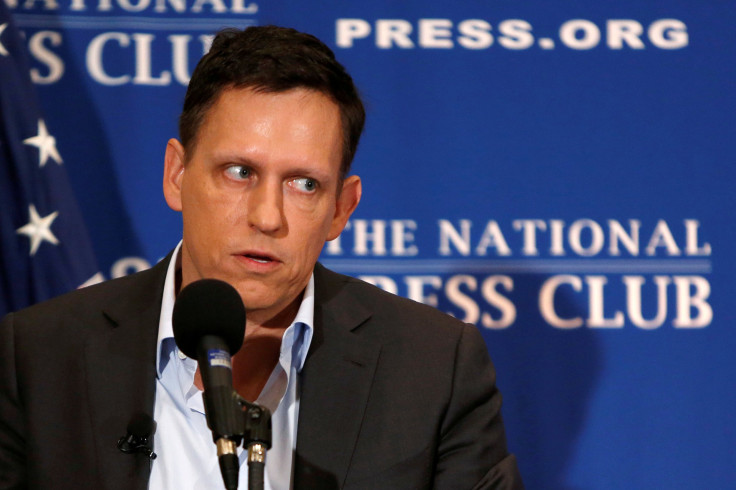 PayPal co-founder Peter Thiel will not enter the 2018 race for California governor despite earlier claims. Politico reported last month that Thiel, an adviser to President Donald Trump, was contemplating a run in 2018, citing three unnamed Republican sources. But Thiel's spokesman, Jeremiah Hall, said Monday it was not happening.
"Peter is not running for governor," Hall said in a statement.
However, a preliminary Federal Election Commission filing suggests some supporters want Thiel to run for California governor – even if he showed no interest in the position. A group called "Draft Peter Thiel For Governor" registered with the Federal Election Commission Saturday as a political action committee to raise money for the Silicon Valley billionaire to run in 2018, reported the Los Angeles Times. The filing is required for political committees that anticipate they will "exceed $50,000 in contributions or expenditures," according to FEC rules.
Draft Thiel For Governor presented an open letter to Thiel on its website urging him to "save the state of California." The group also bashed Gov. Jerry Brown, who is a Democrat.
"I hereby add my name to those who implore you to file for Governor in the state of California and take out liberal extremist and career politician Governor Jerry Brown," the letter reads. "You have the knowledge and the experience to see where liberals have led California's policy astray, and you have the courage to say so when others will not. A great economic state like California should not be represented by a extremist like Governor Jerry Brown!" it said. "Help us trade Governor Jerry Brown in for a no-nonsense conservative who speaks truth to power every day of his life."
So far, the Democrats in the race are Lt. Gov. Gavin Newsom, former Los Angeles Mayor Antonio Villaraigosa, state Treasurer John Chiang and former state Superintendent of Public Instruction Delaine Eastin.
Former Los Angeles Rams football player and Republican Rosey Grier was also set to run.
© Copyright IBTimes 2023. All rights reserved.