Petreaus Will Not Be Demoted For Leaking Classified Info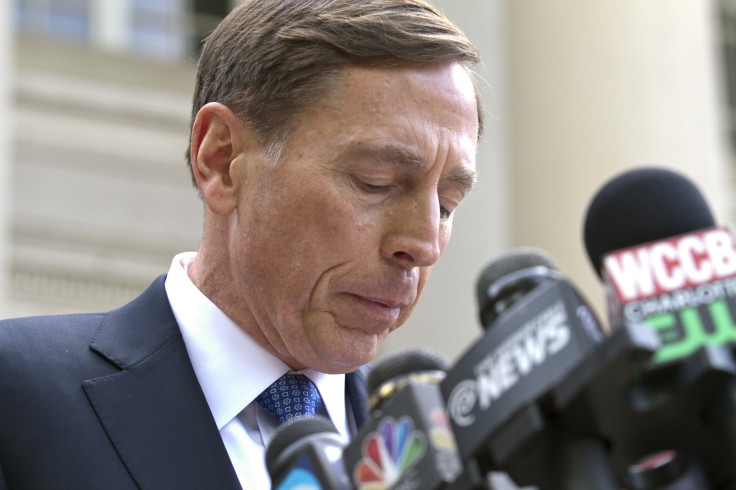 U.S. Secretary of Defense Ash Carter has decided not to demote Gen. David Petraeus for leaking classified information to his biographer and mistress several years ago, the Hill reported Saturday. "As you know, the Army completed its review of his case and recommended no additional action," Stephen C. Hedger, principal deputy assistant secretary of defense for legislative affairs, wrote in a letter to Sens. John McCain and Jack Reed of the Senate Armed Services Committee.
"Given the Army review, Secretary Carter considers this matter closed," Hedger added. McCain and Reed had written to the deputy assistant secretary asking Petraeus be spared any form of demotion. The Daily Beast had reported a week earlier that Carter's office was considering overruling an earlier recommendation by the Army to allow Petraeus keep his rank of general.
An FBI investigation discovered in 2011 the retired general had been passing information to his biographer Paula Broadwell, with whom he was having an extramarital affair. A family friend of Petraeus approached the bureau complaining of harassing messages from Broadwell, which prompted a cyberstalking investigation. The search eventually revealed the affair, and Petraeus resigned from his post as CIA director in November 2012.
In 2015, the FBI and Justice Department brought charges against Petraeus for leaking information to Broadwell. Petraeus pleaded guilty to a misdemeanor and admitted he gave Broadwell black notebooks with notes on war strategy, intelligence and names of covert officers, the New York Times reported.
The retired general was sentenced to two years' probation and a $100,000 fine with no prison time.
© Copyright IBTimes 2022. All rights reserved.
FOLLOW MORE IBT NEWS ON THE BELOW CHANNELS