Polar Vortex 2014: Tips On How To Deal With Travel Delays And Cancellations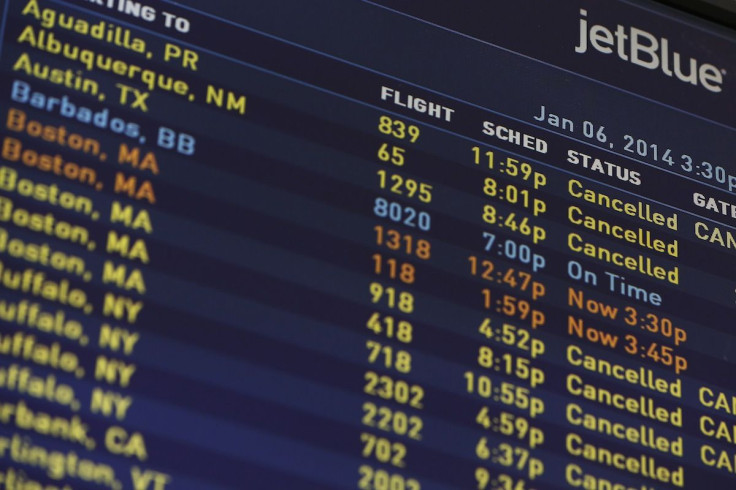 An estimated 2,630 scheduled U.S. flights did not take off Tuesday thanks to a polar vortex that has slipped southward into the United States. The sprawling area of circulating frigid air from the North Pole sent temperatures plummeting to record lows from Texas to New York, foreboding an ominous start to 2014.
According to Houston-based airline tracking service FlightAware, airlines have canceled a whopping 10,250 flights within, into or out of the U.S. since Sunday. Another 23,000 flights were delayed in that time, leaving tens of thousands of passengers stranded at the very moment many planned to return home from their year-end vacations.
A trend within the airline industry to reduce flights and increase capacity, while great for the carriers' bottom lines, hasn't helped the problem. In fact, it's left precious few available seats for stranded travelers to rebook each time Mother Nature refuses to cooperate.
Yet, while you may be left at the mercy of the airlines, there are several things you can do to improve your odds of a swift journey:
-Be sure the airline has your full details, including your email address and phone number. If you didn't provide this information when you purchased the ticket, you will certainly want to go online and add it now.
-Follow your airline's Twitter handle. Rather than calling up the customer service number and waiting on hold for an hour, just tweet your question directly to the public relations team on Twitter. According to an analysis by travel news website Skift, American Airlines (1,869 tweets per day), JetBlue (989 tweets per day) and United (585 tweets per day) have had the most active PR teams throughout the cold and stormy week, responding to fliers' every complaint, request and cry for help.
-Check your airline's website before leaving home even if your destination is not directly affected by the polar vortex. The airline industry's hub-and-spokes approach to air travel ensures that delays and cancellations have a ripple affect across the continent.
-All major U.S. and Canadian carriers issued travel policies earlier this week covering a large swath of North America. They allow fliers to rebook fee-free for travel on another, more convenient date. Altering your travel dates, if possible, could save you a whole lot of hassle in the long term.
-Missed your connection? Most airlines will automatically rebook you onto the next available flight. If that flight is already at capacity, however, you may have to wait for an extended period to find an empty seat.
-If you're an elite flier, make sure to use your loyalty program hotline to receive quicker and better assistance when checking on or rebooking a flight.
-Can't get the information you need from your airline? Try websites like FlightAware or FlightStats, which have search functions that let you investigate the status of your flight. Both websites also paint a broad picture of what's happening across the nation, offering more perspective on the situation at both your departure and arrival destinations.
-Check your airport's website, Facebook page and Twitter handle to decide if it's a good idea to head out in the first place. Many airports have urged travelers not to show up unless they have a definite flight for fear of getting stuck overnight.
-Charge your electronics to 100 percent before heading off to the airport. If you find yourself stuck for an extended time, you will not want to be jockeying for a spot next to the electrical outlets with the masses unless you absolutely have to.
-If you find yourself stuck at the airport, consider a one-day pass to the airline lounge (around $50). With free drinks, snacks and some of the best service in the industry, this may be the only place in the building where you can truly relax and decompress. Better still, the line to speak with the ticketing agent is typically shorter in the lounge, while the staff are often able to pull more strings to find you the next flight out.
-If you find yourself stuck in a city unexpectedly with no place to stay, try websites like Roomer, the "stub-hub" of the hotel industry. Roomer lets anyone unable to use their hotel room list the pad at a discounted price so that those grounded by, say, a polar vortex can snag a last-minute deal. The site offers sellers a safe and effective solution that reduces the cost of canceling a room, while providing savvy travelers with steep discounts at some amazing properties.
© Copyright IBTimes 2022. All rights reserved.
FOLLOW MORE IBT NEWS ON THE BELOW CHANNELS