Polar Vortex And Global Warming: Will Winters Get Colder? Climate Change Could Make Icy Blasts More Common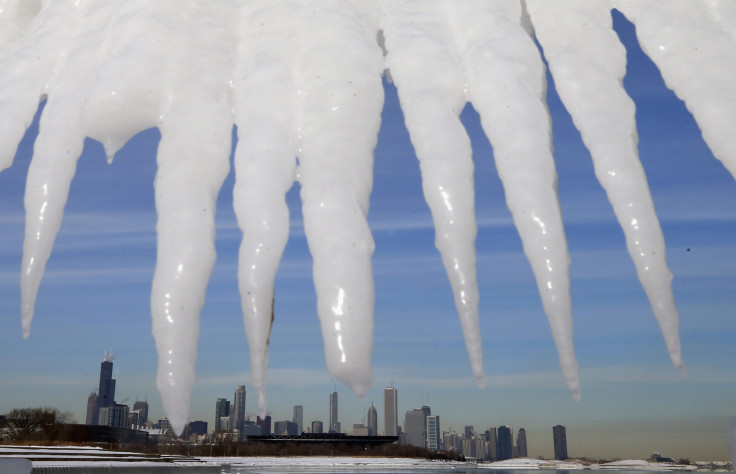 Freezing temperatures and ice-cold winds were expected to descend upon the Midwest and Northeast United States this week in what some scientists predicted would be a repeat of record-low temperature conditions nearly three years ago that led to widespread damages and several deaths.
The phenomenon, referred to as the polar vortex, is a large system of cold air that has historically been contained up north but has shifted lately. Scientists expect similar extreme weather events to continue due to climate change.
Over the past three decades, the polar vortex has weakened due to Arctic sea-ice loss that has been caused by global warming patterns resulting from human-created greenhouse gasses that trap heat in the atmosphere, according to a study in October in Nature Climate Change that analyzed the impact on Europe. That weakening means that the vortex has shifted and that unusual cold spells will hit more frequently and later in winter.
"Climate change can lead to extremes; it's not like a regular change, everyone to the same extent at all times and places," Martyn Chipperfield, a co-author of that study and a professor of atmospheric chemistry at the University of Leeds told Scientific American then. "Despite the overall warming, you can get in places like the Northeastern U.S. extreme cold events. That's consistent with climate change and global warming."
More extreme events like the polar vortex would likely have devastating effects. The last time it really impacted North America, in January of 2014, temperatures that dropped to negative 60 degrees Fahrenheit in some places led to the deaths of at least nine people and impacted 200 million people in total. Analysts later estimated that damages from the cold totaled more than $5 billion. There were 77 cold-related fatalities in 2014, the highest toll going back to at least 1993, according to data from the National Oceanic and Atmospheric Administration.
Extreme coldness from the polar vortex may hit the Northeast United States and Midwest, including Chicago.
© Copyright IBTimes 2023. All rights reserved.