Police And Hate Crimes: Do Blue Lives Matter? Trump Executive Order, New Law Would Protect Officers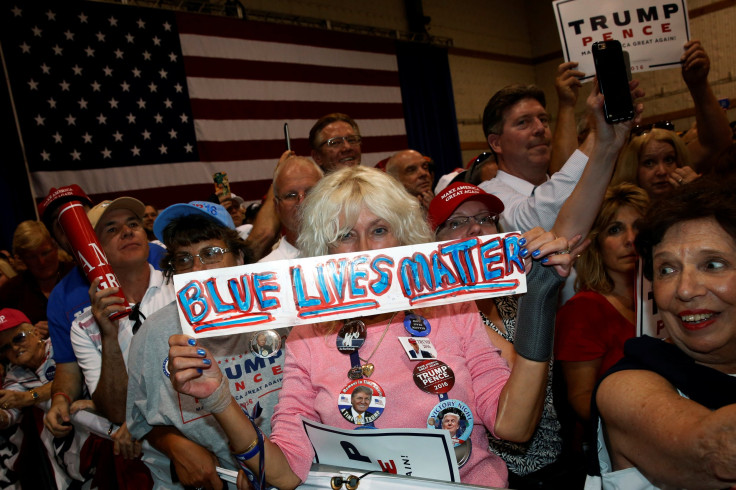 A recent executive order from President Donald Trump, the self-described "law and order candidate" in last year's presidential election, directed new Attorney General Jeff Sessions to lead the development of new legislation that would protect police. Trump has repeatedly portrayed officers as besieged by criminals and betrayed by politicians.
"It's a shame what's been happening to our truly great law enforcement officers," Trump said Thursday.
The president wasn't alone in his belief that police need to be supported and protected. Across the country, state lawmakers have introduced legislation that would add law enforcement officers and first responders to classes of people protected by existing hate crime laws. The "blue lives matter" bills, as they've come to be called, would make assaulting officers a hate crime -- something that proponents said would prevent the kind of brutal anti-police ambushes that took the lives of officers in Dallas and Baton Rouge last year. Now, in Trump's executive order, some see the groundwork for a federal "blue lives matter" law to be enacted.
"We're extremely heartened by the executive order," James Pasco, the senior advisor to the president of the Fraternal Order of Police, the nation's largest police group, told the International Business Times. "We will look to [Trump's] continued leadership in crafting legislation... What we'd like to see is police officers included in existing hate crimes legislation."
That could happen soon. Last year, Rep. Ken Buck (R-Colo.) introduced the "Blue Lives Matter Act of 2016," which would add employment as a police officer to the list of characteristics -- religion, national origin, gender, sexual orientation, gender identity, disabilities -- that can be used to prosecute a hate crime.
"Blue Lives Matter" is a play on Black Lives Matter, a global social justice borne out of a recent spate of police killing mostly unarmed black men.
A spokesperson for Buck confirmed the congressman was working with the House Judiciary Committee to hone the language in the bill, which was expected to be reintroduced later this year. Louisiana became the first state to enact a "blue lives matter" law last summer, and similar bills have been introduced in Kentucky, Mississippi, Wisconsin, Pennsylvania, and New York.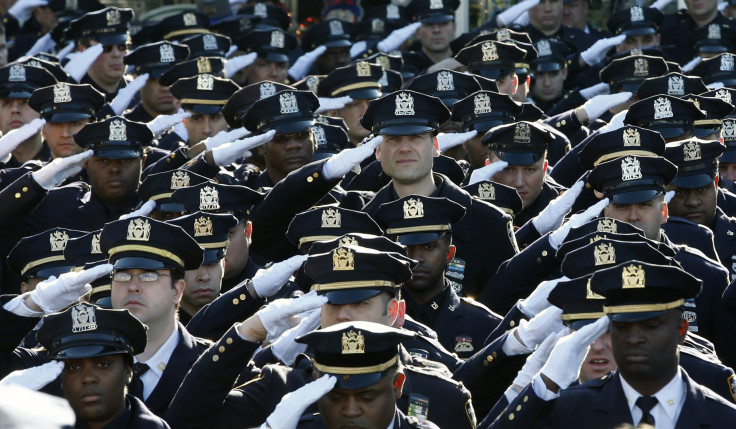 But opponents argue that "blue lives matter" bills are empty political gestures; penalties for assaulting or killing cops are already extremely harsh.
"Hate crime legislation is about protecting people who have been discriminated against," Jeffery Robinson, deputy legal director at the ACLU, told IBT.
Robinson explained that hate crime legislation was designed to protect classes of people who were historically victimized and weren't properly defended by the legal system. Crimes against these groups would go uninvestigated or unprosecuted and the convictions that did arise would lead to light sentences.
"There is no evidence anywhere in America that crimes against police officers are not prosecuted vigorously and that punishment against the offenders is not strict and serious," Robinson said. "The whole foundation for having a hate crime is missing when it comes to police officers."
The number of police killed by gunfire did jump from 2015 to 2016 -- from 41 to 64. That's the highest number of firearm related police deaths since 2011, when 73 police officers were killed by guns while on the job, according to the National Law Enforcement Officers Memorial Fund.
Total line-of-duty officer deaths have risen each year since 2013, when 109 cops died on the job. (In 2016, 135 officers lost their lives while on duty). But 2013 had the fewest police deaths on record. In 1974, for example, 280 police officers died in the line of duty.
It was debatable whether increasing penalties for violent acts against police officers will dissuade criminals from attacking cops. In many states, cop killers are already put to death. But it was a fact that the first state which enacted a "blue lives matter" law has fumbled enforcing it.
Louisiana first applied the law in the case of Raul Delotoba after he damaged a hotel window in the French Quarter neighborhood of New Orleans and then shouted slurs at responding officers. After initially charging Delotoba with a hate crime, the New Orleans Police Department admitted the law had been applied incorrectly and dropped the charge.
Less than two months later, NOPD tried to use the law for a second time after Frenwick Randolph called 911 and told the dispatcher he was going "to shoot and kill any officer that responded to the call." An officer approached and apprehended Randolph, who didn't resist. Randolph didn't have any weapons and was charged with terrorizing and a hate crime. A local magistrate commissioner ruled that the there wasn't probable cause for either felony charge, but that Randolph could be charged with misdemeanor criminal mischief.
As Louisiana showed, the application of "blue lives matter" bills could prove problematic.
"What it will do is create confusion at the lower levels about what constitutes a hate crime now," Dennis Kenney, a former Florida police officer and a professor at the John Jay College of Criminal Justice in New York, told IBT. "The definitional problems become considerable."
Kenney explained that a hate crime statute could be used against people at a Black Lives Matter rally advocating the ending of some particular police behavior.
"That's the kind of thing that will create a much more chilling effect within communities," Kenney told IBT.
"It will create a short term rush, making police feel good about not letting people talk bad about them... but it will continue to drive that wedge between the police and the community, which is an unfortunate thing we are seeing now," he added.
© Copyright IBTimes 2023. All rights reserved.