Despite Irma, Florida Congressman Aims To Let Companies Hide Climate-Change Risks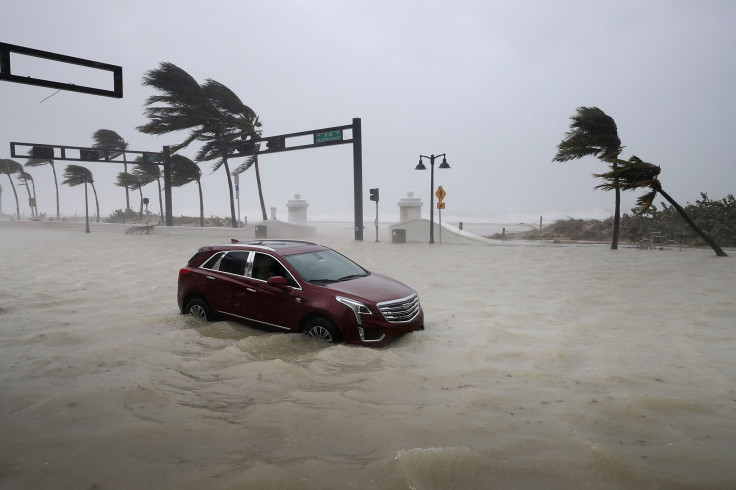 The Republican congressman from one of Hurricane Irma's hardest hit counties is leading a legislative effort to let companies conceal how climate change affects their businesses. Only weeks before the storm came ashore, Florida U.S. Rep. Bill Posey reintroduced legislation designed to bar federal regulators from forcing companies to better disclose their climate-related risks to their shareholders. Amid fossil fuel industry lobbying on the bill, a version of Posey's legislation was passed by the House last year, and now — despite hurricanes and floods intensified by climate change — the legislation could get a boost from a Trump administration that has moved to roll back efforts to combat global warming.
Climatologists have said that while climate change may not have caused Hurricane Irma, warmer waters intensify such storms. Still, Florida has twice elected a Republican governor who has questioned the science behind climate change and whose administration has barred the use of the terms "climate change" and "sea-level rise" by state officials. Meanwhile, in Washington, Florida's Posey has taken a similarly high-profile leadership role in fighting efforts to confront climate change.
Posey, of District 8, represents Brevard County — which sustained significant damage, flooding and power outages from Irma. Since being elected in 2008, Posey has voted against enforcing limits on carbon pollution and in favor of barring the EPA from regulating greenhouse gases. He signed a pledge to oppose any climate change legislation that increases government revenue. As a member of the powerful Financial Services Committee, he has most prominently spearheaded legislation to kill a Securities and Exchange Commission (SEC) initiative designed to compel corporate executives to tell their shareholders how their companies could be affected by climate change.
Posey's office did not immediately return an International Business Times request for comment.
Posey's initiative revolves around the SEC's 2010 directive, which required companies to publicly disclose the impact climate change will have on their businesses. The directive, said the agency, was "intended to remind companies of their obligations under existing federal securities laws and regulations to consider climate change and its consequences as they prepare disclosure documents to be filed with us and provided to investors," reads the guidance.
Elected to the House in 2008, Posey first wrote legislation in March 2010 to roll back the SEC's directive. The bill was referred to committee that year, so Posey revived the bill in 2011, and again it didn't make it out of committee. At the time, Posey said in a press release that the SEC's climate risk guidance was "yet another startling example of how the Administration is making it worse for job creators across our country. Our bill blocks the SEC from forcing American employers to conduct burdensome and expensive climate analysis."
In 2016, Posey tried again with an amendment to an appropriations bill prohibiting funds from being used to address the SEC guidance on climate change; the House approved that amendment on July 7, 2016.
Leading up to the House approval, the fossil fuel industry was lobbying Congress, along with the SEC itself, against the guidance. Texas-based petroleum refining company Tesoro, now known as Andeavor, lobbied on climate risk disclosure, as did the American Fuel and Petrochemical Manufacturers, a trade association that represents nearly all of America's refining capacity and petrochemical manufacturing facilities, and which is funded in part by the Koch Industries PAC and the American Petroleum Institute. AFPM employed lobbyist Justin Daly to lobby Congress and the SEC on the issue; Daly previously worked as a senior counsel to the House, Senate and SEC.
Ceres, a nonprofit organization that advises investors on sustainable investing, lobbied against Posey's proposal.
In the same month that the Posey amendment passed, fossil fuel trade groups submitted letters urging the SEC to avoid expanding its existing climate disclosure mandates. Among the groups that submitted letters were the American Fuel and Petrochemical Manufacturers; the National Mining Association, which represents the greater coal, metals and minerals mining industry; and the U.S. Chamber of Commerce, which counts major fossil fuel companies among its top members.
"Mandatory disclosure for climate change would not benefit the market or investors," AFPM wrote. "Requiring a company to disclose social and environmental matters that are not material or sufficiently certain would effectively force the company to support social and environmental policy agendas that lie outside the SEC's authority and that disregard the company's purpose and strategy as a business."
The environmental group Ceres countered with its own letter to the SEC, encouraging the SEC to strongly enforce its 2010 climate risk guidance and to issue new rules. The nonprofit coordinates the "Investor Network on Climate Risk, a group of 120 institutional investors managing more than $14 trillion in assets focused on the business risks and opportunities of climate change."
Now in 2017, Posey is trying once more to have the guidance rescinded.
A History Of Climate Denial
Like Florida Gov. Rick Scott, Posey has questioned whether climate change is caused by human activity. At a congressional hearing in 2014, Posey challenged White House science advisor John Holdren, asserting that because of periodic ice ages, the climate must naturally adjust, or warm, in the intervening periods.
After the House passed his amendment last year, Posey called climate change "a political agenda with its supporters lobbying on behalf of special interest groups to set policies that include more unnecessary red tape for American businesses."
Posey's 2016 Democratic challenger in District 8, Corry Westbrook, wrote, "Financial disclosure would not only protect investors, but would also pressure corporations to manage their exposure to climate change risks. But not according to Congressman Bill Posey.
"His amendment will harm investors, our local economies, our children and our planet," she continued. "It would let real estate companies be quiet on the risks posed to waterfront properties by rising seas and let agriculture and food companies leave the impact of future drought unaddressed."
In Posey's congressional district sits the National Aeronautics and Space Administration's John F. Kennedy Space Center, its primary launch center for human spaceflight, where Posey once worked. NASA is one of the key agencies researching climate change, but Posey wants to end that critical research.
Posey has received nearly $87,000 from the energy and natural resources sector during his state and federal campaigns, according to the National Institute on Money in State Politics.
The Trump administration appears to be slashing climate measures as quickly as it can — with Trump pulling out of the Paris Climate Accord, EPA Director Scott Pruitt blocking more than 30 environmental rules, and Interior Sec. Ryan Zinke fast-tracking oil and gas exploration permits for federal lands. But Trump's pick to chair the SEC, Jay Clayton, has, as a lawyer, advised fossil fuel companies to increase their disclosure of climate-change impact.
© Copyright IBTimes 2023. All rights reserved.
FOLLOW MORE IBT NEWS ON THE BELOW CHANNELS