Federal Money For Police Gear Goes To A Company With A Reputation For Fraud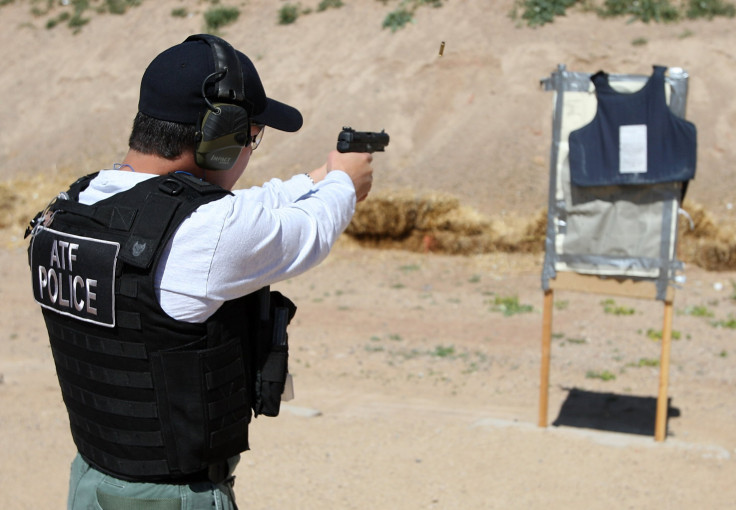 A law enforcement equipment company with a reputation for corruption and fraud is lobbying Congress for federal funding for police gear. The company, Safariland, has paid more than $40 million in settlements to the Department of Justice for alleged criminal activity connected to the sale of defective bulletproof vests. Despite that, Safariland has won about a third of the sales made under the federal body armor program while its subsidiary is moving quickly to capture market share in the hot new area of police body cameras.
Safariland declined to comment for this article.
Federal lobbying disclosures show Safariland paid the lobbying firm Ghazal & Associates $80,000 in both 2015 and 2016 and is on pace to spend that much again in 2017, with $20,000 paid to Ghazal in the year's first quarter.
On the lobbying disclosure forms, which federal lobbyists are required to file, Ghazal lists the Bulletproof Vest Partnership Act Grant program as one of the specific lobbying issues for which the firm was contracted. While it is impossible to know how much time was spent lobbying that issue as opposed to other issues related to law enforcement products, it's the only piece of legislation mentioned by name.
Read: Seattle Police Shooting Raises Concerns About Officers' Disarmament Efforts
The lobbying is directed at both houses of Congress, which periodically have to renew the legislation that authorizes the federal funds for the program. The latest renewal extends the program through 2018. The program has been in existence since 1999, awarding more than $400 million to purchase over one million bulletproof vests.
Safariland's company history includes two multimillion-dollar settlements with the Department of Justice when the company was known by a different name, Armor Holdings. In 2008, Armor Holdings paid $30 million to settle allegations of False Claims Act violations by knowingly manufacturing and selling defective bulletproof vests.
"The Justice Department will not tolerate its first responders wearing defective bulletproof vests. This settlement will help ensure that first responders receive the highest quality ballistic protection," said Gregory G. Katsas, then the Assistant Attorney General for the Department of Justice's Civil Division, after the settlement.
In declining to comment for this article, Safariland did not explain how its manufacturing process has changed, if it has, to ensure that the company's bulletproof vests are now effective.
In 2011, the company paid $10.2 million to settle alleged violations of the Foreign Corrupt Practices Act after the company bribed a U.N. official to receive contracts for $6 million worth of body armor for U.N. peacekeepers. That case also cost Armor Holdings $5.7 million in a settlement with the Securities and Exchange Commission. (President Donald Trump has previously called the FCPA "a horrible law," that "puts us at a huge disadvantage.")
Armor Holdings' Chairman and CEO Warren Kanders sold the company to BAE Systems in 2007. Kanders then purchased the umbrella company, now known as Safariland, back from BAE in 2012. Armor Holdings' legal troubles stemmed from actions between 2000 and 2006 while Armor Holdings was owned and controlled by Kanders.
"Kanders distanced himself from the company at just the right time for BAE to be footed with legal settlement bills," Anna Feigenbaum, author of a forthcoming book on tear gas and riot control, told International Business Times. "By adopting the Safariland name after he bought back Armor Holdings, Kanders was able to bury the company's checkered past through re-branding."
After purchasing Safariland back from BAE Systems, he told his local newspaper, the Stamford Advocate, that "this is an opportunity for me to buy back this particular company. The plan is to grow the business, both organically and through acquisitions."
Kanders did not reply to IBT requests for comment.
The Office of Justice Programs, the DOJ agency responsible for the Bulletproof Vest Partnership, has regulations requiring the recipients of OJP funds to report any fraud that occurs in connection to the funds being awarded. But those regulations do not appear to extend to a prohibition on using those federally awarded funds to purchase from a company that already has committed fraud or settled fraud allegations.
When asked if there were any restrictions on purchasing bulletproof vests from a company that has violated the False Claims Act or Foreign Corrupt Practices Act, an OJP spokesperson told IBT via email: "The Office of Justice Program's BVP program does not make awards to companies. BVP funds are awarded to jurisdictions (state, local or tribal) to be used for the purchase of ballistic and stab-resistant vests for their sworn law enforcement and corrections officers."
OJP also explained that companies must meet certain effectiveness and workmanship standards, which are set by the agency.
"In order to qualify for BVP program reimbursement, body armor must comply with the most current National Institute of Justice [a bureau of OJP] body armor standards," the spokesperson said.
Compliance testing is done at third party facilities accredited by the OJP's National Institute of Justice.
In 2016, the Bulletproof Vest Partnership disbursed more than $18.5 million to 4,504 villages, towns, cities and counties across the United States, purchasing nearly 150,000 vests. However, the OJP does not have up-to-date records available on which brands and models of body armor were purchased.
The most recent publicly available records are from 2010. In that year, the Bulletproof Vest Partnership paid for jurisdictions to purchase 193,236 vests, of which 78,423 were from companies owned by what was at the time called Armor Holdings. One of Safariland's largest competitors, Armor Express, sold 11,882 vests through the program that year.
"Kanders re-entered the police equipment market with a new image and a fresh acquisition strategy, quickly buying up more small companies and extending his reach across the sector," Feigenbaum said.
Safariland today sells body armor under the Protech brand in addition to the Safariland brand name, having apparently retired the American Body Armor and Second Chance Body Armor brands.
Read: Police Departments Face A Crucial Question: How To Pay For Body Cameras?
In June 2015, Safariland acquired Vievu, one of the country's largest police body camera companies and the major competitor to Taser International's Axon body camera line. Body-worn cameras have become a booming business as the result of public outrage following police shootings of unarmed black men, in particular after the shooting of Michael Brown in Ferguson, Missouri, in 2014.
Vievu, like Safariland, has spent a considerable amount of money – $21,000 per quarter – lobbying on federal body worn camera funding. Vievu McAllister & Quinn to lobby on police body camera funding and policy. According to disclosures filed by the firm show it lobbied on such measures as the Safer Officer and Safer Citizens Act of 2015, which authorized the Office of Justice Programs to create a program similar to the Bulletproof Vest Partnership but for police body cameras.
As of September 2016, the Office of Justice Programs' body-worn camera program had awarded local jurisdictions $20 million to buy body cameras and train officers in their use.
While Armor Holdings was a publicly traded company, Safariland has remained privately held by Kanders, making its financial dealings less transparent because the company is not required to submit filings to the SEC. However, Safariland's lobbyists are still required to submit records of their lobbying activity.
© Copyright IBTimes 2023. All rights reserved.