Donald Trump Owes At Least $315 Million To Financial Firms, Some Of Which Are Lobbying The Federal Government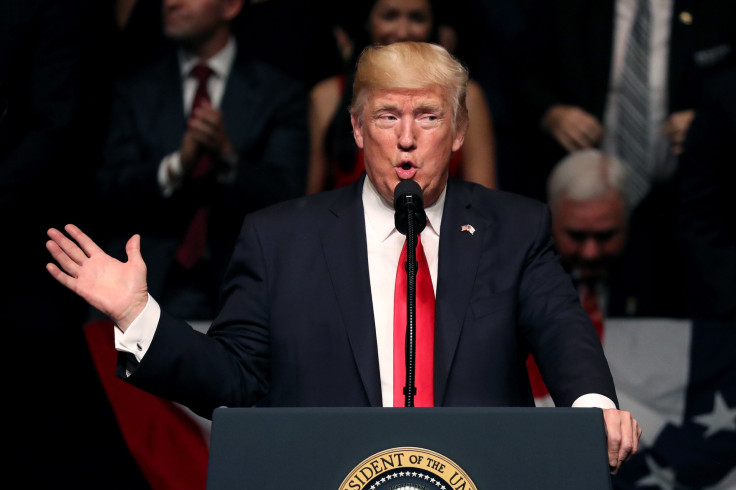 Financial disclosure documents released Friday by the Office of Government Ethics shed new light on President Trump's finances, even as he refuses to release his tax returns. The documents show that Trump owes hundreds of millions of dollars to major financial institutions -- some with business before Trump's administration.
According to section 8 of the disclosure documents, Trump lists liabilities with 10 creditors. The minimum amount he owes is $315 million. Based on the maximum amounts listed, he could owe more than half a billion dollars to the creditors.
Among Trump's largest creditors is Deutsche Bank, which has faced requests from Democrats to explain its lending to Trump. Deutsche Bank earlier this month rejected that request.
According to lobbying records, Deutsche Bank in 2017 has been pressing federal officials on "issues related to Dodd-Frank Act reform" and "issues related to the regulation of foreign banks." Trump has pushed to repeal key portions of the Dodd-Frank legislation that was passed in the wake of the 2008 financial crisis.
Trump entities also owe at least $110 million to Ladder Capital, a firm whose Securities and Exchange Commission filings say it "loans together with certain financial institutions, which to date have included affiliates of Deutsche Bank Securities Inc., J.P. Morgan Securities LLC, RBS Securities Inc., UBS Securities LLC and Wells Fargo Securities, LLC." Reuters recently reported that the firm is working with Citigroup on a sale.
Trump owes up to $25 million to UBS, according to the financial disclosures. UBS has also been lobbying in 2017 on Dodd-Frank as well as on "proposals to implement a financial transactions tax."
Trump owes at least $50 million to a shadowy entity called Chicago Unit Acquisition, LLC. Trump's financial disclosure says that one of his entities, DJT Holdings, owns Chicago Unit Acquisition. Mother Jones recently reported that the arrangement may mean that Trump's businesses "could owe $50 million and possibly much more to one or more creditors that have not been disclosed to the public."
© Copyright IBTimes 2022. All rights reserved.
FOLLOW MORE IBT NEWS ON THE BELOW CHANNELS