House Republicans Back Alan Greenspan's Call For Repeal Of Financial Regulations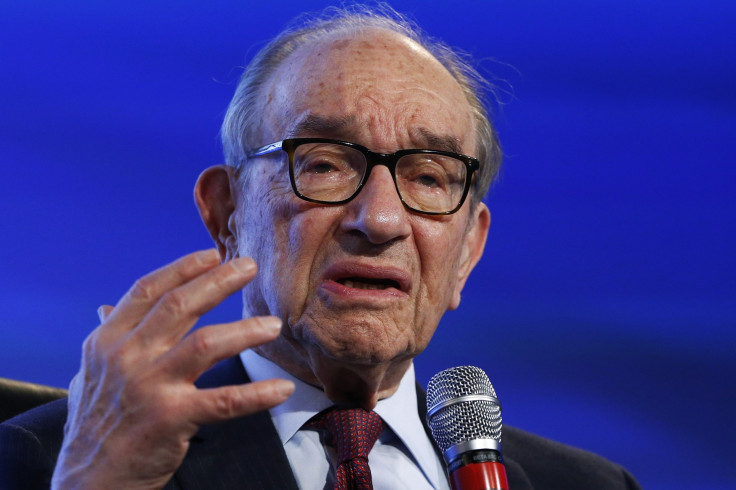 Former Federal Reserve Chairman Alan Greenspan has been widely blamed for championing deregulatory policies that critics say led to the financial crisis of 2008 and the subsequent recession. Now, though, House Republican leaders are touting Greenspan's call for deregulation as a reason to get rid of post-crisis financial regulations — rules designed to prevent another meltdown like the one that happened in the wake of Greenspan's tenure.
As President Donald Trump and Republicans in Congress push to repeal the Dodd-Frank legislation passed in the wake of the 2008 crisis, GOP lawmakers on the House Financial Services Committee blasted out an email Friday headlined, "Greenspan: Get Rid of Dodd-Frank and Watch Economy and Stocks Soar." The email sent to the committee's newsletter list and posted on the congressional committee's website included a link to a CNBC story in which Greenspan told the cable network, "If you get rid of Dodd-Frank, it's going to have a very significant positive impact on the economy." The email went out the same day President Trump signed an executive order that could begin the process of rolling back some Dodd-Frank provisions.
Current Federal Rerserve Chair Janet Yellen has defended Dodd-Frank, arguing that the rules are not hurting the economy and that they are protecting Americans from another financial meltdown.
In 2008, Greenspan conceded some personal fault in pushing for deregulation before the crisis. At one point during a congressional hearing about his role in the crisis, he was asked if "your ideology pushed you to make decisions that you wish you had not made?"
"Yes, I've found a flaw," he said. "I don't know how significant or permanent it is. But I've been very distressed by that fact." He added that he was "in a state of shocked disbelief."
Greenspan was a proponent of eliminating Depression-era Glass-Steagall rules to separate banking from risky financial speculation — and the House GOP has been trying to eliminate similar, recent rules. Greenspan was also a proponent of complex financial instruments known as derivatives, which the federal government's Financial Crisis Inquiry Commission said "magnified" losses that occurred during the 2008 crisis. And Greenspan urged Americans to embrace riskier variable-rate mortgages. Greenspan has disputed that Federal Reserve policies suppressing interest rates were involved with the mortgage-linked products that fueled the crisis.
"It had absolutely nothing to do with the housing bubble," Greenspan told the Wall Street Journal in 2013. "That's ridiculous."
In his recent book, U.S. Sen. Bernie Sanders recounted that when he asked Greenspan at a 2000 congressional hearing if he was worried about the possibility of a major bank failure, the then-Fed chairman said: "No, I'm not. I believe that the general growth in large institutions has occurred in the context of an under lying structure of markets in which many of the larger risks are dramatically - I should say, fully - hedged."
After the crisis, Greenspan faced widespread criticism for his role in the financial policies that preceded the meltdown. Time Magazine, for instance, named Greenspan among the "25 people to blame for the financial crisis." Other economists, such as the Center for Economic and Policy Research's Dean Baker, went even further, writing in 2013 that "Greenspan will go down in history as the person most responsible for the enormous economic damage caused by the housing bubble and the subsequent collapse of the market."
Asked about House Republicans now touting Greenspan's push for deregulation as a rationale to eliminate Dodd-Frank, Baker told International Business Times: "Greenspan is just about the last person in the world who you would want to cite as an authority on financial regulation. His failure to take steps to rein in the housing bubble ranks among the biggest regulatory failures of all time. The inevitable collapse of the bubble costs millions of people their jobs and has cost the country more than $10 trillion in lost output (over $30,000 per person). Even today the economy is roughly $2 trillion smaller than had been projected for 2017 before the collapse. Greenspan is not a person who can speak with authority on financial regulation."
© Copyright IBTimes 2023. All rights reserved.
FOLLOW MORE IBT NEWS ON THE BELOW CHANNELS