Money And Politics: How The Koch Brothers And Other Billionaires Are Influencing 2016 Senate, House Races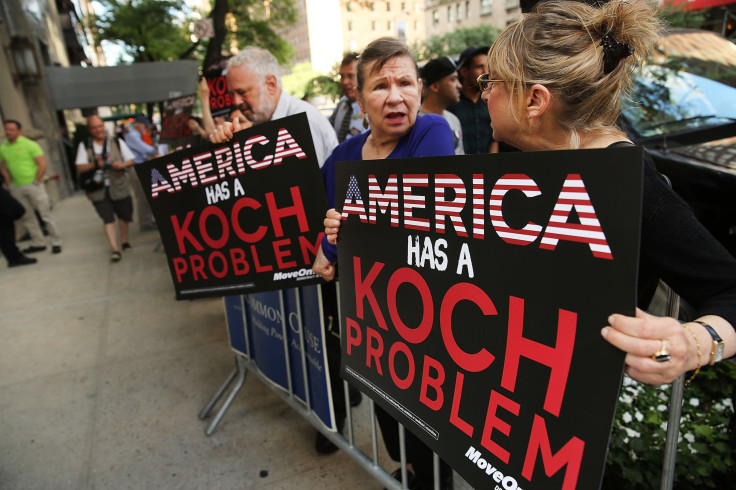 Conservative billionaires may be withholding their support from Donald Trump, but don't expect them to sit out the 2016 election entirely. Instead, some of the key donors on the right have signaled their intention to focus on down-ticket races. That means an unprecedented flood of outside money could be coming soon to a congressional district near you.
Leading the charge are Charles and David Koch, the libertarian philanthropists responsible for crafting the right wing's most expansive donor network. While the Trump campaign has attempted to broker an alliance with the Koch Brothers, Charles Koch said on Thursday that he would be staying out of the presidential election. For most of the past year, the Kochs have been almost completely absent from the Republican nomination process, even as Koch-backed organizations have poured resources into a handful of congressional races.
Millions of dollars in outside spending already have flooded into this year's Senate race in Ohio between incumbent Republican Rob Portman and former Gov. Ted Strickland, a Democrat. Americans for Prosperity, one of the Koch Brothers' flagship organizations, has so far spent more than $1.7 million in support of Portman, according to the Center for Responsive Politics. Another Koch-backed group, Freedom Partners Action Fund, has spent more than $3.7 million.
That sort of money can be a lot more effective in a down-ballot race than in a presidential election, Sunlight Foundation spokesperson Josh Stewart told International Business Times.
"Fewer dollars can go a longer way," Stewart said. "It takes relatively little investment to have a significant impact, especially in House races."
A few hundred-million dollars invested in Donald Trump probably couldn't help him overcome certain fundamental weaknesses, such as his unpopularity among women; but even a fraction of that amount, scattered among a handful of competitive House and Senate races, could help keep Congress in Republican hands.
That might help explain why Freedom Partners and the U.S. Chamber of Commerce each has dedicated nearly $3 million to re-electing Sen. Pat Toomey, R-Penn. Both groups are also spending to help Sen. Ron Johnson, R-Wis., fend off a challenge from former Democratic Sen. Russ Feingold.
And Americans for Prosperity has made it known that even Republicans aren't safe this year. The group has already spent $200,000 trying to defeat North Carolina Rep. Renee Ellmers, whom the group deems insufficiently conservative on spending issues. Thanks to redistricting, Ellmers is facing another sitting Republican, Rep. George Holding.
It isn't just congressional races that are being swamped with outside spending this year. A handful of judicial races have also seen unprecedented cash infusions. In Wisconsin, outside groups drastically outspent both candidates in an election to the state's Supreme Court; Rebecca Bradley, who was first appointed to the court by Republican Gov. Scott Walker, won.
An unprecedented sum also has flooded into Arkansas' two Supreme Court races, with much of it coming from groups outside the state. Other local races may see drastic spending increases this year as well.
And it's still early. Stewart said it remains to be seen just how many states and congressional districts will see unprecedented campaign spending, and which races will pass the $100 million mark when campaign expenditures are combined with outside influence.
"We don't really know what the full map looks like yet because of the volatile nature of the presidential race," Stewart said.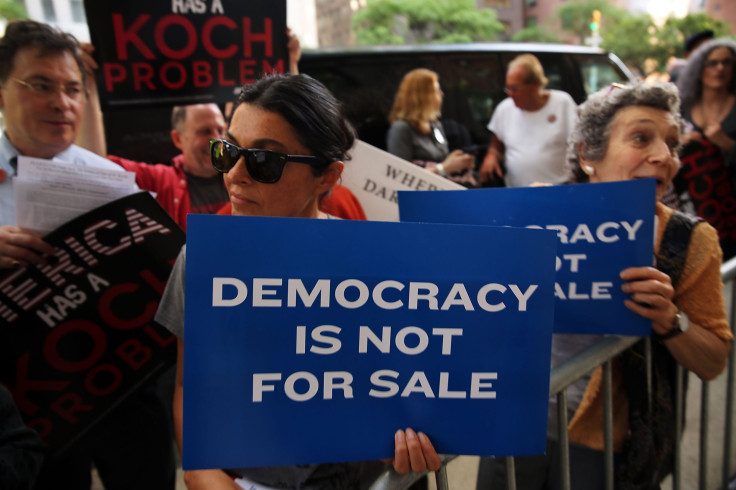 © Copyright IBTimes 2022. All rights reserved.
FOLLOW MORE IBT NEWS ON THE BELOW CHANNELS