Saudi Arabia Gets Its Own DC Public Affairs Firm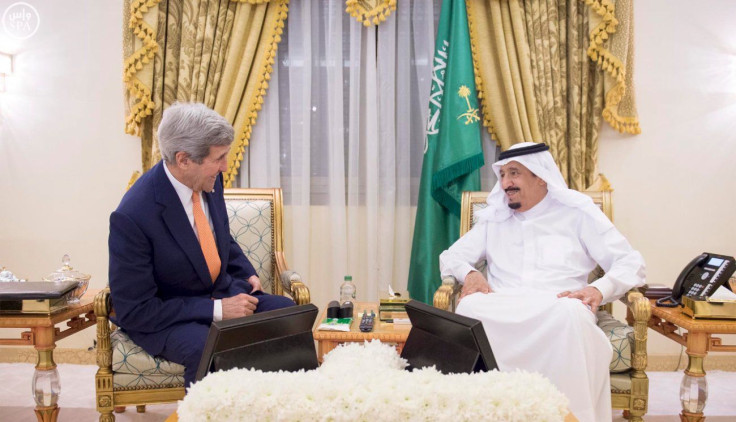 Saudi Arabia is getting its own nonprofit press shop in Washington, D.C., with the creation of the Saudi American Public Relation Affairs Committee (SAPRAC), which opened its doors Thursday. The group "aims to further strengthen the historic relationship between Saudi Arabia and the United States, both politically and economically," according to its website's About page.
The group appears to be loosely following the model of the American Israel Public Affairs Committee (AIPAC), a powerful Washington nonprofit that has promoted Israeli interests in the United States through a combination of lobbying and public communications. The group was founded by Salman Al-Ansari.
Saudi Arabia and the United States enjoy close economic links by virtue of American dependence on Saudi oil, and former Presidents George H.W. Bush and George W. Bush had warm relations with Saudi princes. But ties have frayed lately, partially due to increased domestic oil production in the United States. Saudi Arabia also disapproves of Washington's attempts to normalize relations with Iran, while President Barack Obama has expressed frustration with the House of Saud's human rights record and foreign policy.
Democratic presidential candidate Hillary Clinton has a similarly complicated relationship with Saudi Arabia. As secretary of state under Obama, she noted in a private embassy cable: "Donors in Saudi Arabia constitute the most significant source of funding to Sunni terrorist groups worldwide."
But her State Department also signed off on weapons deals with Saudi Arabia, and the Clinton Foundation has received tens of millions of dollars in donations from Saudi Arabia, Qatar and other allied states in the region. In October, the Saudi government signed a contract to be represented by the Podesta Group, a lobbying firm run by Clinton campaign fundraiser Tony Podesta.
Qatar, Saudi Arabia's tiny ally and neighbor along the Persian Gulf, recently announced it would be shutting down its own American public relations experiment. The cable news channel Al Jazeera America, Qatar's attempt to make a splash in the U.S. news media, will close its doors this spring after barely three years on the air.
Correction, March 17, 2016, 9:42 p.m. EST: An earlier version of this post misidentified SAPRAC founder Salman Al-Ansari as Salman A. Al-Ansari, an attorney based in Qatar.
© Copyright IBTimes 2023. All rights reserved.
FOLLOW MORE IBT NEWS ON THE BELOW CHANNELS