Trump Supporters Pay For Comey Attack Ad Through 'Dark Money' Group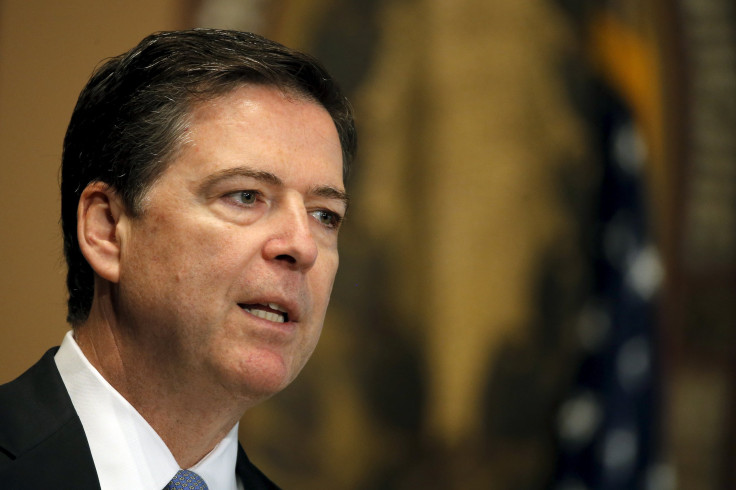 James Comey's much-anticipated testimony to the Senate Intelligence Committee is scheduled to be broadcast and streamed live across a variety of media platforms. But those watching the proceedings on television will see the FBI director getting grilled not just by lawmakers, but by a dark-money-funded attack ad scheduled to run during Thursday's testimony.
"As head of the FBI, James Comey put politics over protecting America," the ad's narrator intones as the spot opens, before running through a series of accusations against Comey, including that he was "consumed" with last year's election meddling while global terrorism was on the rise. The ad, titled"Showboat," ends by declaring Comey, who has never run for public office, "just another D.C. insider."
Read: What Happened With James Comey? Timeline Of Events That Led To FBI Director's Firing
The 30-second spot, paid for by a group called Great America Alliance, represents a peculiar kind of political maneuver: an attack ad running nearly a year and half before the next election, that targets a private citizen with no obvious political ambitions who isn't advocating any particular policy, political issue, party or candidate. But the group behind the ad, run by some of President Donald Trump's earliest backers, demonstrates the way political groups, fueled by unlimited campaign cash and antiquated campaign finance laws, are transitioning the infrastructure of campaigns into permanent advocacy organizations that back a politician's agenda — and attack his enemies.
"[Comey] is a former FBI director, but he acted in a political manner during the last year of his tenure," Eric Beach, who co-founded the Alliance with former Reagan campaign manager Ed Rollins, told International Business Times. "One thing both sides agreed on is he inserted himself in the political process... We believe that he should be seen through a political prism."
The Alliance formed in December and spent $400,000 to place the ads on digital platforms and television, Beach said. The group was formed by the same team that created the Great America PAC, which raised nearly $30 million to support Trump's campaign last year — one of the first PACs to support the billionaire developer's campaign. Tomi Lahren, Newt Gingrich and Rudy Giuliani serve as advisers to the Alliance, which says on its website that its mission is to "help realize President Trump's promise to 'Make America Great Again.'"
Beach says the group has spent $3.5 million on ads supporting Neil Gorsuch and "seven figures" on tax and regulatory issues. But the Comey ads are a first for the Alliance, and perhaps U.S. politics in general. While Beach pointed to MoveOn.org's New York Times ads attacking Gen. David Petraeus in 2007 as an example of ads attacking non-politicians, Petraeus was not a private citizen at the time. Several campaign finance experts told IBT they couldn't remember a similar attack ad.
"Certainly, non-politicians have been mentioned in ads before (e.g., Paris Hilton, the Koch Brothers), but that was in the context of attacking a politician," Travis Ridout, a professor of Government and Public Policy at Washington State University and co-director of the Wesleyan Media Project, which tracks tracks political ads nationwide, told IBT in an email. "I just can't think of any examples in which a group has attacked a private citizen like this."
But while the group calls itself the "largest outside group to support President Trump's agenda," it is legally, according to the IRS, not a political group at all, but a 501(c)(4) non-profit, tax-exempt "social welfare" organization. That IRS designation allows the Alliance to keep its donors anonymous — the definition of a "dark money" group — as long as it doesn't make political operations its "primary activity." The attack on Comey is technically part of the group's mission to promote social welfare, since the ad doesn't advocate for or against a political candidate.
Political spending by 501(c)(4) groups has increased significantly over the last decade, jumping from $1.26 million in 2006 to a high of $257.24 million in 2012, according to the Center for Responsive Politics. In the 2016 election, that number fell to $147.33 million. But those figures represent only money that falls under the Federal Election Commission's narrow definition of "political" spending. "Issue ads," like the Comey ad, aren't included in that total.
The Great America PAC team's transition from PAC to 501(c)(4) mirrors a strategy created by President Barack Obama's 2012 campaign. After winning a second term, Obama turned his campaign apparatus, Obama for America, into a 501(c)(4) group called Organizing for Action to advance his agenda. While Organizing for Action said it would voluntarily disclose its donors, the group received criticism for allegations it sold access to the White House.
"We are seeing more and more elected officials either creating their own (c)(4) groups or working closely with (c)(4) groups founded by former advisers or former campaign managers," Chisun Lee, Senior Counsel at the Brennan Center for Justice at NYU's Law School, told IBT.
Those groups are "taking advantage of unlimited donations and doing advertising and other forms of public outreach and strategizing that don't appear to be regulated right now by any existing law," Lee said.
FOR FREE to continue reading
✔️ Unlock the full content of International Business Times UK for free
offer available for a limited time only
✔️ Easily manage your Newsletters subscriptions and save your favourite articles
✔️ No payment method required
Already have an account?
Log in
© Copyright IBTimes 2023. All rights reserved.