Pope Francis 80th Birthday: 15 Quotes To Celebrate The First Latin American Pontiff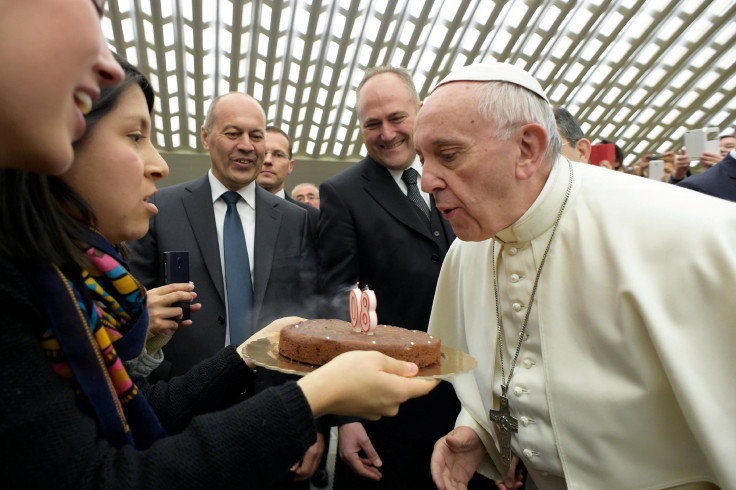 Pope Francis is turning 80, but don't tell him "happy birthday," too soon. Francis thanked well-wishers Wednesday ahead of his Saturday birthday, and teased them about extending his celebration.
"I thank you all for your well-wishes for my upcoming birthday," Pope Francis said while speaking to Italian pilgrims Wednesday after his weekly General Audience, playfully adding, "those, who offer birthday congratulations ahead of time, are jinxes!"
To celebrate the pope's milestone birthday, here are 15 quotes from the pontiff, the first church leader from Latin America:
1. "Let us protect Christ in our lives, so that we can protect others, so that we can protect creation!"
2. "Once our grandparents were very careful not to throw away any leftover food. Consumerism has led us to become accustomed to the superfluous and the daily waste of food, which we are sometimes no longer able to value correctly, as its value goes far beyond mere economic parameters."
3. "All the peoples of the earth, all men and women of good will, we must raise our voice in defense of these two precious gifts: peace and nature – Sister Mother Earth, as Saint Francis of Assisi called her."
4. "Clearly, creation itself is a sign of God's boundless love for us."
5. "Healthy families are essential to society. It provides us with consolation and hope to see so many large families who welcome children as a gift from God. They know that every child is a blessing."
6."Charity, and charity alone, frees us."
7. "Let no one use God as a shield while planning and carrying out acts of violence and oppression."
8. "When we read about creation in Genesis, we run the risk of imagining God was a magician, with a magic wand able to do everything. But that is not so. He created human beings and let them develop according to the internal laws that he gave to each one so they would reach their fulfillment."
9. "The 'big bang,' that today is considered to be the origin of the world, does not contradict the creative intervention of God, on the contrary it requires it."
10. "May no one use religion as a pretext for actions against human dignity and against the fundamental rights of every man and woman."
11. "Watch out against the terrorism of gossip!"
12. "God is not afraid of new things."
13. "Love is the measure of faith."
14. "Never condemn. If you feel like condemning, condemn yourself, there's got to be something there, huh?"
15. "If someone is gay and he searches for the Lord and has good will, who am I to judge?"
© Copyright IBTimes 2023. All rights reserved.