Pope Francis New York Visit 2015 Schedule: Meetings, Events, Masses And Everywhere Pope Francis Will Go In NYC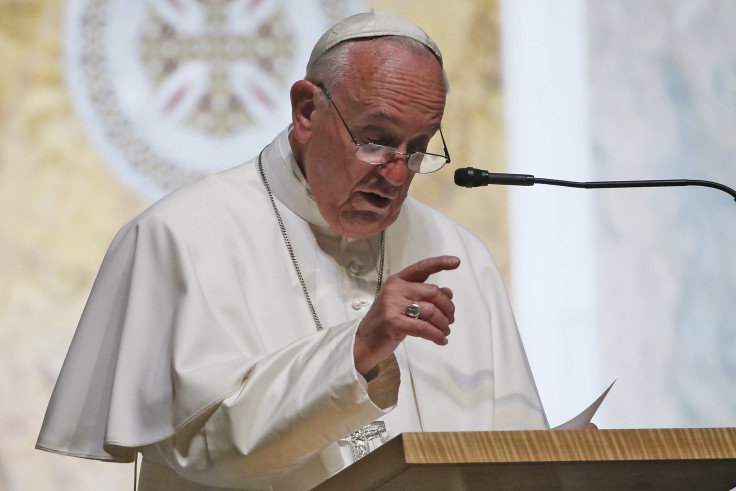 Pope Francis is scheduled to land at John F. Kennedy International Airport at 5 p.m. Thursday for his very first visit to New York City. Here's all you need to know about what he'll be doing, where he'll be and when for this historic two-day visit.
The pope is scheduled to depart Washington, D.C. at 4 p.m. Thursday. He'll go on to the iconic St. Patrick's Cathedral, near Rockefeller Center, for the Evening Prayer at a Vespers service at 6:45. This event is not open to the public, but to the cathedral's clergy only.
The next morning, Pope Francis is scheduled to head to the United Nations, where he will address the General Assembly at 8:30 a.m. He has meetings planned Friday with U.N. Secretary-General Ban Ki-moon and the president of the General Assembly, along with a town hall gathering with staff.
After the U.N., the pope is due to head downtown to the 9/11 memorial site. He is expected to pray and take part in a multi-religious meeting as well as deliver an address. That visit is scheduled for 11:30 a.m., and guests are limited to families of victims, survivors, rescuers, recovery workers and other members of the 9/11 community, by lottery only.
Pope Francis then will head back uptown at 4 p.m. to Our Lady Queen of Angels school, an East Harlem School where he was reportedly expected to meet with third-grade students. From there, Pope Francis was set to embark on a brief tour through Central Park. The motorcade was expected to begin at the West 72nd Street entrance to the park and stop at 60th Street. Fans had to get tickets, well in advance, as well as show a valid ID, to enter the park to see the papal procession. Security will be tight.
Pope Francis' final appearance in New York, according to his schedule, is a mass at Madison Square Garden, beginning at 6 p.m. and lasting until 7:30 p.m. If you haven't gotten tickets by now, there's a slim chance of getting them, as they went primarily to parishes in the Archdiocese of the state of New York.
After a jam-packed day in New York, Pope Francis is scheduled to spend Friday night in New York before heading to Philadelphia, the City of Brotherly Love, at 8:40 a.m. Saturday.
New Yorkers may be excited about Pope Francis' visit, even as they cringe at the thought of road closures because of it. "There will be a number of street closures and anticipated traffic delays in the area of Central Park West, East Harlem, Financial District, Midtown, Madison Square Garden, and the Upper East Side," the city has said. Find out what roads are closed here.
© Copyright IBTimes 2022. All rights reserved.
FOLLOW MORE IBT NEWS ON THE BELOW CHANNELS