Pope Francis Quotes 2015: 10 Inspiration Sayings From The Leader Of The Roman Catholic Church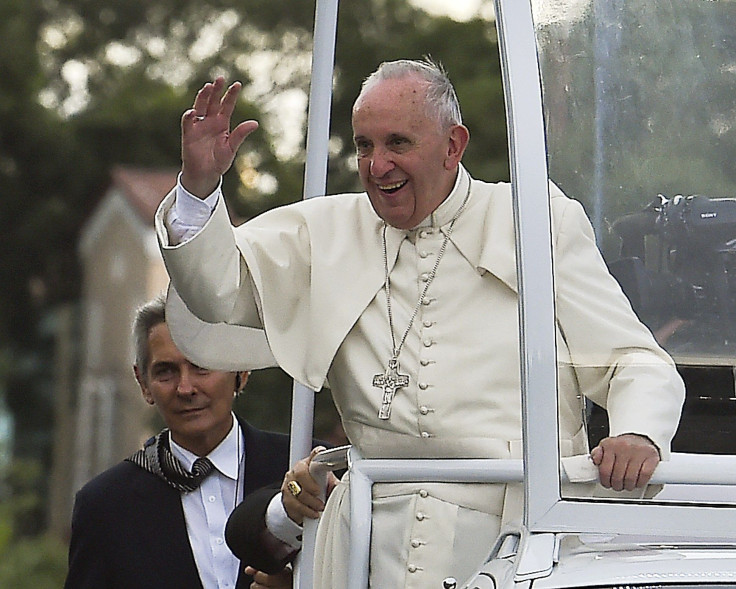 Pope Francis is about to make his way to the United States to embark on a tour of the east coast. Since being elected pontiff in 2013, he has touched the hearts and minds of thousands with his words. To celebrate his American visit, some of his most inspirational quotes have been shared below:
1. "If someone is gay and he searches for the Lord and has good will, who am I to judge?" -- Comment the pope made July 29, 2013, at a press conference.
2. "A little bit of mercy makes the world less cold and more just." -- He said during a blessing at St. Peter's Square March 18, 2013.
3. "I believe in God -- not in a Catholic God; there is no Catholic God. There is God, and I believe in Jesus Christ, his incarnation. Jesus is my teacher and my pastor, but God, the Father, Abba, is the light and the Creator. This is my Being." -- Francis said Oct. 1, 2013, to La Repubblica.
4. "The faith with which a person enters marriage must also be examined, and we also need to make it clear that the divorced are not excommunicated." -- Francis said in May 2014 to reporters.
5. "Wretched are those who are vindictive and spiteful." -- He said at a public sermon in 2013.
6. "God is not a divine being or a magician, but the Creator who brought everything to life." -- From the address to the Pontifical Academy of Sciences Oct. 28, 2014.
7. "When we see a holy people of God that is humble, whose wealth is in its faith in the Lord, in its trust in the Lord, they are the ones who are saved." -- On Vatican Radio Dec. 16, 2014.
8. "Although the life of a person is in a land full of thorns and weeds, there is always a space in which the good seed can grow. You have to trust God." -- Interview with American magazine Sept. 30, 2013.
9. "The confessional is not a torture chamber, but the place in which the Lord's mercy motivates us to do better." -- The pope said this Sept. 19, 2013, during an interview with Jesuit publications.
10. "Each of us has a vision of good and of evil. We have to encourage people to move towards what they think is good... Everyone has his own idea of good and evil and must choose to follow the good and fight evil as he conceives them. That would be enough to make the world a better place." -- As said to Cultura Oct. 1, 2013.
Pope Francis | FindTheBest
Follow me on Twitter @mariamzzarella
© Copyright IBTimes 2023. All rights reserved.
FOLLOW MORE IBT NEWS ON THE BELOW CHANNELS