Pope Francis Quotes 2014: 15 Sayings To Share On The Pontiff's Birthday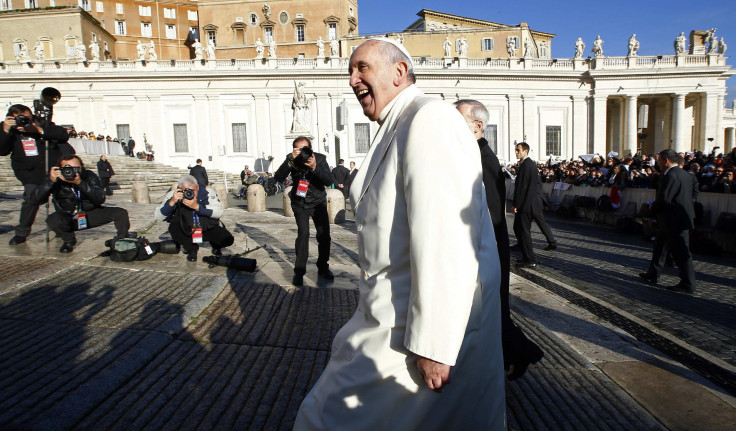 Happy Birthday, Pope Francis!
The pontiff's 78th birthday was met with more than 2,000 people gathering outside St. Peter's Square at the Vatican to sing "Happy Birthday" to the pope and dance a mass tango in his honor, the Guardian reports. The traditional song was heard in Spanish, Italian and other languages as the pope entered St. Peter's Square to deliver his weekly general audience.
"When I passed through the Square, I saw different groups of tango dancers. I hope you can put on a good show today and bring in some Argentinian winds," Francis said addressing the dancers who performed for his birthday.
Pope Francis blew out his candles on his open-air jeep thanks to Argentinean seminarians who brought him a cake. Francis also managed to bless several children and spoke with seminarians studying in Rome before he addressed the masses. His weekly audience described how the family is a gift from God.
Jorge Mario Bergoglio was born on Dec. 17, 1936 in Buenos Aires, Argentina. He became the 266th pope on March 13, 2013. He's the first pope from Latin America, the first Jesuit to be elected to the Catholic Church's top post and the first to take his papal title after St. Francis of Assisi of Italy.
Since his election, Francis has been lauded for his charisma, compassion and popularity. He was named Time Magazine's person of the year in 2013. He was nominated for a Nobel Peace Prize in 2014 and his approval ratings are sky-high. Out of the world's 1.1 billion Catholics, just 11 percent see him unfavorably, according to a recent poll by the Pew Research Center.
For those who want to share Pope Francis' messages, below are 15 quotes he has said since his election:
On Charity
"The true disciple of the Lord commits himself personally to a charitable ministry whose scope is man's multiform and endless poverty." – Address to members of St. Peter's Circle on Oct. 31, 2013.
"We must restore hope to young people, help the old, be open to the future, spread love. Be poor among the poor. We need to include the excluded and preach peace." – La Repubblica interview on Oct. 1, 2013.
"The gift of piety means to be truly capable of rejoicing with those who rejoice, of weeping with those who weep, of being close to those who are lonely or in anguish, of correcting those in error, of consoling the afflicted, of welcoming and helping those in need." – General Audience on June 4, 2014.
On Peace
"Religious belief has an important place in the life of this predominantly Muslim nation. In my visit to Ankara, I wished to stress the importance of ensuring its free exercise by all, and the need for Christians and Muslims to work together in promoting solidarity, peace and justice." – Francis said after his trip to Turkey on Dec. 3, 2014.
"As religious leaders, we are obliged to denounce all violations against human dignity and human rights … As such, any violence which seeks religious justification warrants the strongest condemnation because the Omnipotent is the God of life and peace." – Comments made during his recent trip to Turkey.
On Faith
"Although the life of a person is in a land full of thorns and weeds, there is always a space in which the good seed can grow. You have to trust God." – Interview with American magazine on Sept. 30, 2013.
"Journeying is precisely the art of looking toward the horizon, thinking where I want to go but also enduring the fatigue of the journey, which is sometimes difficult. … There are dark days, even days when we fail, even days when we fall … but always think of this: Don't be afraid of failures. Don't be afraid of falling." – Speech made to Jesuit students in Italy on June 7, 2013.
"When exhaling this air, we announced Jesus Christ risen by the same Spirit. No one can live without breathing. It is the same for the Christian: without praise and mission there is no Christian life." – Address to Catholic Fraternity of the Charismatic Covenant Communities and Fellowship on Oct. 31, 2014.
""When we see a holy people of God that is humble, whose wealth is in its faith in the Lord, in its trust in the Lord, they are the ones who are saved." – On Vatican Radio on Dec. 16, 2014.
"God is not a divine being or a magician, but the Creator who brought everything to life." – Address to the Pontifical Academy of Sciences on Oct. 28, 2014.
On Acceptance
"If someone is gay and he searches for the Lord and has good will, who am I to judge?"– Comment made at a press conference on July 29, 2013.
"We come across this reality all the time in the confessional: a father and a mother whose son or daughter is in that situation. This happened to me several times in Buenos Aires. ... We have to find a way to help that father or that mother to stand by their son or daughter." – Interview with Argentine daily La Nación on the LGBT community.
"Instead of being just a church that welcomes and receives by keeping the doors open, let us try also to be a church that finds new roads, that is able to step outside itself and go to those who do not attend Mass, to those who have quit or are indifferent." – Interview with America magazine on Sept. 19, 2013.
"The faith with which a person enters marriage must also be examined, and we also need to make it clear that the divorced are not excommunicated." – Francis said in May 2014 to reporters.
"A little bit of mercy makes the world less cold and more just." – Blessing at St. Peter's Square on March 18, 2013.
© Copyright IBTimes 2023. All rights reserved.