From Pope Francis To The Rise Of ISIS To Gay Marriage, Here's How Religion And Faith Changed Everything In 2015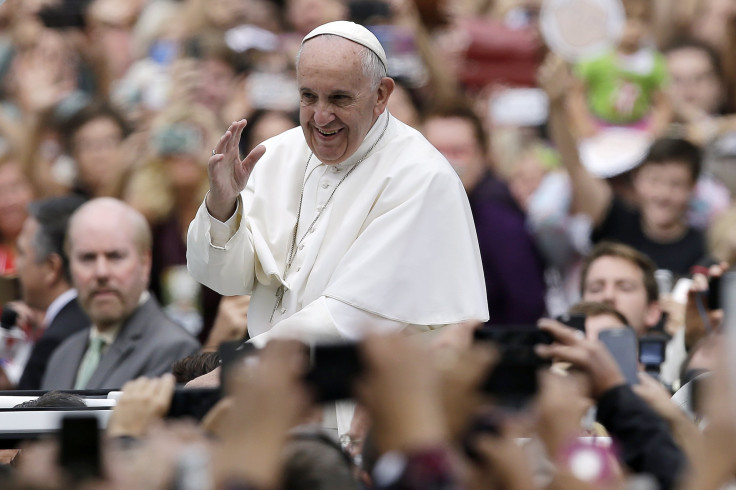 Tension points around religion and faith triggered some of the most newsworthy events of 2015. Whether it was the continued deadly rise of ISIS, the extraordinary influence of Pope Francis, or the legalization of same-sex marriage in all 50 U.S. states, the stories that most affected our world were ignited by heated disagreements about what we believe in, what we don't believe in, and what other people think we should believe in. Below is a recap of the most important religion stories of the year, a reminder that even as religiosity declines in some parts of the world, religion matters now more than it ever has.
1. The continued rise of ISIS and its brutal regime
ISIS dominated the headlines with its cruel and unspeakable crimes against humanity, ushering in 2015 with heinous acts of brutality: The radical militant Islamist group beheaded a group of Japanese hostages; slaughtered Coptic Christians on a beach in Libya, sharing a high-definition video of the act with the world; and locked a Jordanian pilot in a cage and burned him alive.
That was just the beginning. Later, the group announced the death of American hostage Kayla Mueller, destroyed priceless antiquities, downed a Russian airliner and continued its murderous regime -- of whom Muslims numbered the most victims. Its terrorist assault on Paris in November that killed 130 people and wounded scores of others awakened concerns in the West over the militant regime's reach.
And while the group lost key leaders and ceded major territories thanks to a coalition of resistance that has included Western airstrikes, it has also managed to expand beyond Syria and Iraq into Yemen, Libya, Saudi Arabia and elsewhere. The group, which declared that all Muslims must swear allegiance to its self-appointed caliph, or chief religious leader, has sparked an intense discussion over how much of its ideology is actually rooted in Islam -- and has brought the debate about Islam to the forefront.
2. Pope Francis' banner year
Known as the "pope of the periphery," Francis lived up to that moniker in 2015, championing society's poor and most vulnerable. He visited three of the poorest countries in Latin America -- Bolivia, Ecuador and Paraguay -- eschewing a trip to his own home country of Argentina to put a spotlight on the suffering. Francis' speeches throughout the year -- including the ones he made during his historic visit to the United States in September -- decried the unfettered pursuit of money and greed as the root of all evils.
Perhaps his biggest move came in May, when he delivered his "Laudato Si" encyclical on the environment, making a moral case for combatting climate change. Of course, not everyone -- in particular American conservatives and even more conservative elements within the Catholic hierarchy -- has been thrilled with the pope's seemingly liberal worldview. Conservative Catholic politicians in the United States, such as Rick Santorum, suggested that Francis stick to the church and not enter the sphere of politics.
But even that backlash hasn't prevented 2015 from being Pope Francis' year. His continued efforts at making the Catholic church a more welcoming one have been applauded by Catholics and non-Catholics alike, as evidenced by his skyrocketing popularity.
3. A historic Supreme Court decision reflects changing attitudes, sparks debate
Same-sex marriage became legal in all 50 states, after a historic 5-4 Supreme Court decision in June. The move formalized a shift in attitudes about homosexuality in the U.S. that had been decades in the making. Indeed, a Pew Research survey showed that more and more Christian churches are accepting of same-sex relationships than they've ever been. Even Pope Francis famously said of homosexulaity in 2013, "Who am I to judge?"
But many evangelical Christians and other conservative religious groups were unhappy with the ruling, seeing it as the 21st century Roe v. Wade. Kim Davis, a county clerk in Kentucky, refused to issue marriage licenses to same-sex couples on the grounds that it violated her religious freedom because she believes that marriage can occur only between a man and a woman. The "religious freedom" argument was especially popular with conservatives, who said that people like the bakers in Oregon who refused to make a cake for the wedding of a same-sex couple should be free to practice their faith.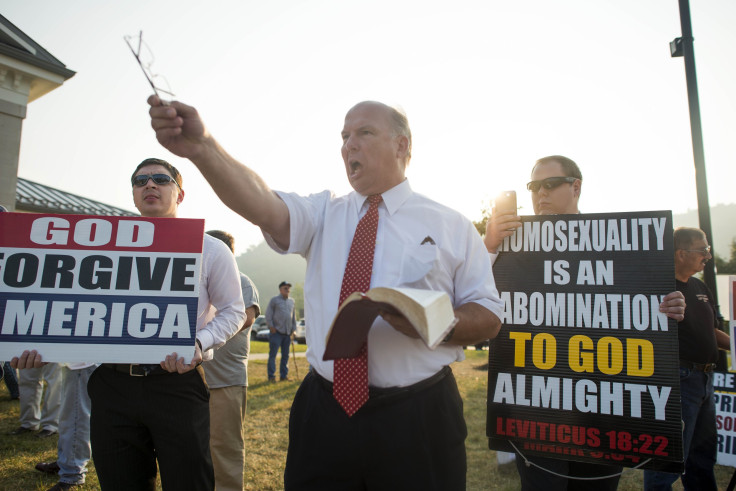 4. Anti-Muslim backlash in the United States and Europe
Rhetoric against Muslims reached a fever pitch in 2015, as crimes by terrorist groups whipped many into a frenzy about Islam. Anti-Muslim sentiment in the U.S. was fueled by Republican presidential candidate Donald Trump, who, after the Paris terrorist attacks, argued that Muslims should be banned from entering the country. Syrian refugees, who are primarily Muslim, were the target of hatred in both Europe and the United States, as many politicians used them as a proxy for airing suspicions about Muslims as a group.
The flare in anti-Muslim rhetoric wasn't without consequences: There was a significant documented increase in violence and hate crimes against Muslims -- and those, like Sikhs, who are perceived to be Muslim. Democratic presidential candidates Bernie Sanders, Hillary Clinton and Martin O'Malley all decried the backlash, but many Muslims bristled at Clinton's comments about how Muslim-Americans should be at the front lines of watching out for terror.
5. Charlie Hebdo attacks prompt debate over free speech
Early in January, terrorists stormed the Paris offices of the magazine Charlie Hebdo, along with a kosher market, killing 17 people. The shootings were motivated by offensive cartoons of Prophet Muhammad published in Charlie Hebdo, prompting a worldwide debate over free speech and what constitutes "going too far" when it comes to mocking religion. In August, a group of prominent authors including Junot Diaz and Michael Ondaatje signed a letter of protest against PEN, a literary organization, for honoring the magazine with a freedom of expression award. While the magazine should not have been subject to violence, the writers argued that the magazine should not be rewarded for publishing the controversial cartoons.
But others argued that free speech -- and tolerating even sacrilegious views -- is an important part of a democratic society. Some took this line of thinking to its very limits -- like anti-Muslim crusader Pamela Geller, who held a "Draw Muhammad" cartoon contest in Texas. The event was attacked by two gunmen who were later claimed by ISIS.
6. Charleston shooting highlights race tensions
Horror struck a historically black church in Charleston, South Carolina, in June when a white supremacist opened fire during a Bible study session at Emanuel African Methodist Episcopal Church, killing nine people. The shooter, Dylann Roof, confessed to the shooting, he said, in hopes of igniting a race war. He was later indicted on 33 federal charges of hate crimes. The attacks also prompted a heated debate in the U.S. over the Confederate flag, which Roof had proudly displayed. The shooting came during an intense summer in which activists within the BLack Lives Matter movement were already protesting injustices against the black community -- an ongoing theme of 2015.
7. America becomes less religious
Research from the Pew Research center showed that fewer Americans believe in God -- and more and more describe themselves as "religious nones" -- in other words, they don't associate with any particular religion. Millennials were a large force in driving down those numbers: Only half said they believed in God with absolute certainty. But while they were not religious in a formal sense, many identified with having a strong sense of spirituality and engaged in spiritual practices regularly.
FOR FREE to continue reading
✔️ Unlock the full content of International Business Times UK for free
offer available for a limited time only
✔️ Easily manage your Newsletters subscriptions and save your favourite articles
✔️ No payment method required
Already have an account?
Log in
© Copyright IBTimes 2023. All rights reserved.