Poster For Brad Pitt's Acclaimed 'Killing Them Softly' Debuts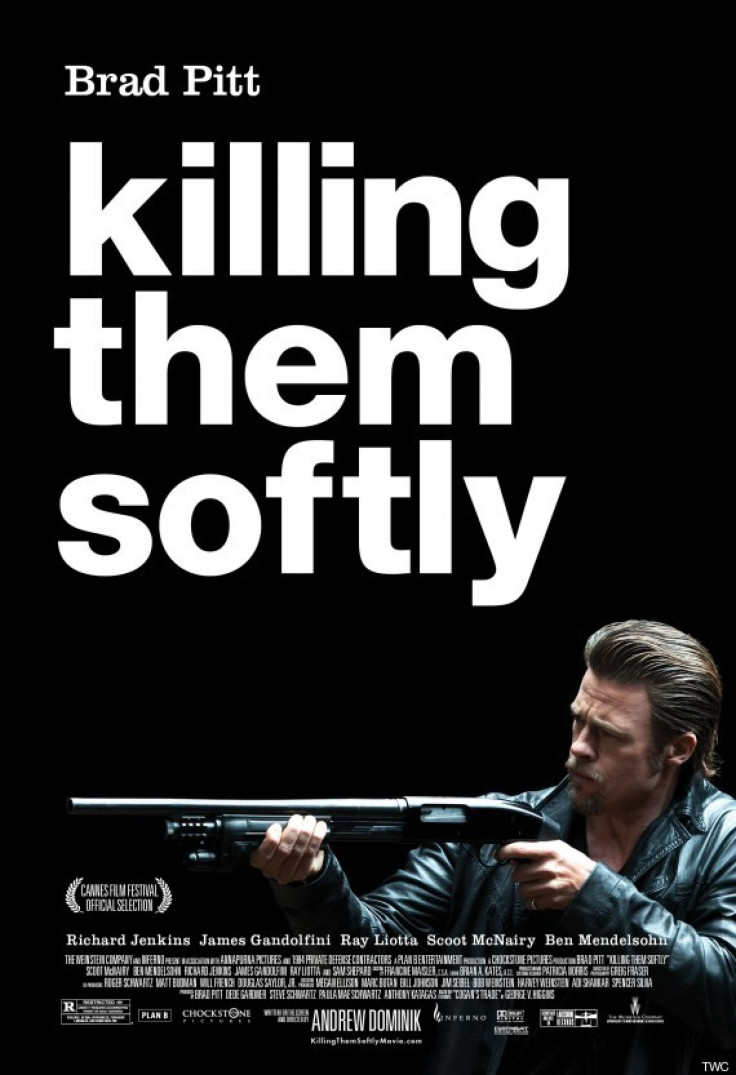 The new poster for Brad Pitt's latest on-screen venture, "Killing Them Softly," has arrived. Pitt appears on the modestly styled poster, which was released by the Huffington Post on Thursday, sporting a leather jacket and holding an assault rifle.
Directed by Andrew Dominik, the brashly written crime drama illustrates gangster life in the wake of the recession. Set during the 2008 election, political commentary and presidential speeches are a major part of the film's narrative. "Killing Them Softly" puts forth a thought-provoking critique of contemporary American society.
Based on the 1973 novel "Cogan's Trade," by George V. Higgins, the film centers on the effects of a mysterious poker game heist. Jackie Cogan (Pitt), a folk music-loving mob enforcer, is called in to find the suspected culprits.
James Gandolfini, Richard Jenkins, Ray Liotta, Scoot McNairy and Ben Mendelsohn also star in the film.
Much of the film's buzz is the result of Dominik's cult following. His first two films, "Chopper" (2000) and "The Assassination of Jesse James By the Coward Robert Ford" (2007) have been regarded as underrated cinematic gems.
"Killing Them Softly" premiered at the 2012 Cannes Film Festival in May and was met with critical raves.
"A juicy, bloody, grimy and profane crime drama that amply satisfies as a deep-dish genre piece," concluded Todd McCarthy of the Hollywood Reporter. "'Killing Them Softly' rather insistently also wants to be something more."
"Easily a contender for one of the best movies of the year," wrote Indie Wire's Kevin Jagernauth. "'Killing Them Softly' pulses and burns in a way few films ever do."
Interestingly enough, much of the film's praise has been directed toward Pitt, who isn't introduced until the film's second act.
"Pitt is a joy to watch here, taking his time with the character, waiting for the right moment to strike," wrote Dan Mecca of Moviefone. "This is Chili Palmer without the optimism, a criminal not tired of crime but rather the hypocrisy it's surrounded by."
"Killing Them Softly" is set to hit theaters on Oct. 19.
© Copyright IBTimes 2023. All rights reserved.