Pot Smoking On The Job? Colorado Cannabis Companies Experiment With Marijuana Policies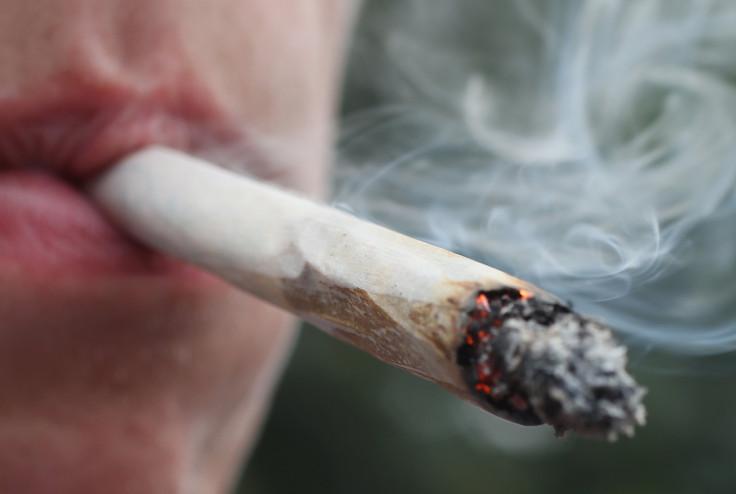 In most corporate settings, it's standard for employees to file into meetings with a cup of coffee in hand before sitting down to strategize on how best to move the business forward. But at least one Denver-based company has taken a different approach by allowing its staff to use another stimulant of sorts to get the creative juices flowing.
"When we have a company brainstorm session, we usually go to the rooftop or Red Rocks Park, and if people want to consume cannabis, they can smoke," said Isaac Dietrich, the co-founder of MassRoots, a tech startup social platform for cannabis users, about their Friday-afternoon meetings.
Since Colorado legalized the drug in 2012 for recreational purposes, pot-related businesses have grappled with their internal marijuana policies. Unable to discern to what extent weed should be part of workplace culture, they all still champion full legalization of the drug, which is the basis of their existence. While consumption is banned on-site at licensed dispensaries, companies on the fringe of the industry, such as pipe glass-blowing businesses or the corporate division of a grow facility, are not bound to these rules, making employee pot smoking bans somewhat dicey.
Like any other trade, marijuana companies are focused on their bottom line. For Colorado's legal marijuana that was nearly $1 billion in sales last year, according to the state's Department of Revenue. When working with cannabis companies, CR Richter HR Consulting advises employers to promote drug policies that consider safety and the impact pot has on the quality of their employees' work. Owner Carole Richter said there is not one blanket policy for the entire industry, since some businesses may necessitate taste-testing edibles as part of their work, whether it be to develop advertising or write reviews.
"Most of the business owners that I have met in the industry have been really responsible and conscientious," Richter said. "They strive for the best business results, so that might mean employees using cannabis responsibly. They want to produce good product and that's the same for any employer, even so in this space."
Some marijuana-friendly companies say an environment where, perhaps, a weed vaporizer pen might be among an employee's work supplies, is intended to help achieve corporate objectives. It's a policy that's backed up by MassRoots' own inception: The idea of a pot-focused social network was first floated by the founders in a college apartment during a smoke session. Formally launched in 2013, the company now employs 27 people and maintains an office culture that is "very much like the trends that you find in other tech companies," Dietrich said.
"Very early, we developed a philosophy [that] if it helps people be more creative then we are fine with people consuming cannabis at work, whether it be an edible, or vape or they go out and smoke a joint," Dietrich said.
Still, there are boundaries, even if they are not specifically defined by a company handbook. "If it's a puff or two to get through day, that's fine," Dietrich said. "If someone is constantly smoking joints, they will probably be let go very quickly. We have trust in our employees."
There are limited studies that look at whether pot enhances work performance, but the ones widely circulated are damning: One study that sampled employees for a week found that cannabis use was associated with cognitive impairment, less alertness and slower responses. As far as creativity goes, another study conducted in 2014 concluded that cannabis has a negative effect on divergent thinking or the ability to come up with new solutions to a problem.
Kyle Sherman, who runs a tech company involved in cannabis, said anecdotally his employees' experience with weed at work has been the opposite of what the studies would suggest. "We've noticed increased productivity just because they are able to think about things differently," said Sherman, who is CEO of Flowhub. "We've seen it time and time again. There's all this misinformation out there when it's such a beneficial thing for our employees."
In Colorado, smoking at dispensaries is out of the question, but ancillary businesses, such as Flowhub, which provides software for the cannabis industry, have free rein. Pot is allowed at its Denver offices, smoking joints inside is not, but perhaps only because their office lease prohibits smoking of any kind. Cannabis drinks and edibles are traded throughout the day at the 18-person startup, where staff is primarily made up of millennials.
"We allow cannabis consumption if its recreation, as long as you get s--- done," Sherman said.
But for some larger places, where there are many moving parts, concerns about cognitive impairment have some employers crafting workplace policies that seem paradoxical to the services they promote. For example, licensed pot retailers have staffs to consider that are larger than businesses that employ "budtenders" and growers.
Smoking on the job is not allowed at O.penVAPE, a licensed cannabis retailer. In 2014 the Denver-based company decided to draft a policy that is inclusive of its entire 150-person staff. Among the wide range of positions on the payroll, there are drivers and accountants, as well as machine operators. "Our baseline policy is mostly important in the manufacturing side, but also in the corporate side," Berg said. "People are allowed to freely do what they want to do on their own time, but for the purpose of how we work, the consumption of cannabis is not conducive to the environment."
The policy attempts to address tactfully the issue of drug use at work through guidelines about impairment, instead of singling out cannabis. The "workplace impairment policy" extends to sleep deprivation and impairment. "At the time and probably even now, not many in the industry were giving any thought to this important topic," said Steve Berg, O.penVAPE CFO. "It can be a sensitive topic. You are a company creating cannabis products, and people feel passionate about the access to them."
Marijuana Support Over Time | InsideGov
Through the policy, employees identified as potentially being impaired are asked to take an online test that would measure functionality. If the test shows reason for concern, the employee is asked to meet with a counselor to determine an appropriate course of action, but the company has yet to reach this point with any of its workers.
Other weed-related companies, as they navigate the unchartered territory, share similar sentiments as O.penVAPE. In a step to ensure employee safety, the Colorado Harvest Company, a group of growers and dispensaries, also prohibits cannabis use at the licensed retailer's offices.
"I don't think that's out of line," said Tim Cullen, CEO of Colorado Harvest Company. "Liquor stores don't allow employees to drink liquor while at work. Pharmacies don't allow their employees to use drugs."
As with any employer, Cullen said he wants his team and product to be top rate. "We're trying to do the right and responsible thing as employers," Cullen said.
© Copyright IBTimes 2022. All rights reserved.
FOLLOW MORE IBT NEWS ON THE BELOW CHANNELS