President-Elect Joe Biden Hoping For A Better 2021: 'Let Us Unite, Rebuild In 2021'
KEY POINTS
Joe Biden is "filled with hope" that 2021 would be a better year for the American people
The former vice-president wished the country well despite the coronavirus pandemic
Social media users praised Biden for giving such an inspiring message before 2020 ended
On the last day of 2020, President-elect Joe Biden shared an important message with the people of America on social media, saying that he is hoping for 2021 to be a better year for everyone.
The 78-year-old politician, who represented Delaware in the United States Senate, posted an inspiring message on his official Twitter account saying that the "challenges" faced by the nation won't disappear quickly, but "better days" are coming soon.
"The challenges we face as a nation will not disappear overnight, but as we look forward to the start of a new year, I am filled with fresh hope about the possibilities of better days to come," Biden wrote.
The former vice-president wished the country well despite the grief the coronavirus pandemic has brought to many Americans.
Biden concluded his message by encouraging the people to come together and "rebuild" the nation in the new year.
"After a year of pain and loss, let us unite, heal, and rebuild in 2021," Biden wrote on the micro-blogging website.
Social media users appreciated the president-elect for saying such kind words to unite the nation amid the pandemic. One user thanked Biden for giving her motivation.
"Thank you, Joe! I cannot wait for you to lead our country. We are sorely lacking leadership. Happy New year to you and @DrBiden," @ladyguenivere wrote.
"I can't wait for this era of darkness to end, and a new, bright era of hope and kindness and compassion to begin," @katseimi wrote.
"One of the best things going into 2021 is knowing that Donald Trump will soon be evicted from the White House and Joe Biden will become the new president! There is hope on the horizon after a very bleak year," @murray_nyc said.
"Recovery takes time. We must stop fighting each other to begin though. Let's unite on Jan 20th to welcome our new Executive. We can be "More Perfect", but we must build back better together," @mpiatt noted.
Biden has a tough task of containing the virus as soon as he assumes office on Jan. 20, 2021. The U.S. is the worst-affected nation when it comes to COVID-19 infections as it has already witnessed more than 20 million cases.
In the last 24 hours, 202,240 more cases and 2,941 deaths were recorded in the entire country.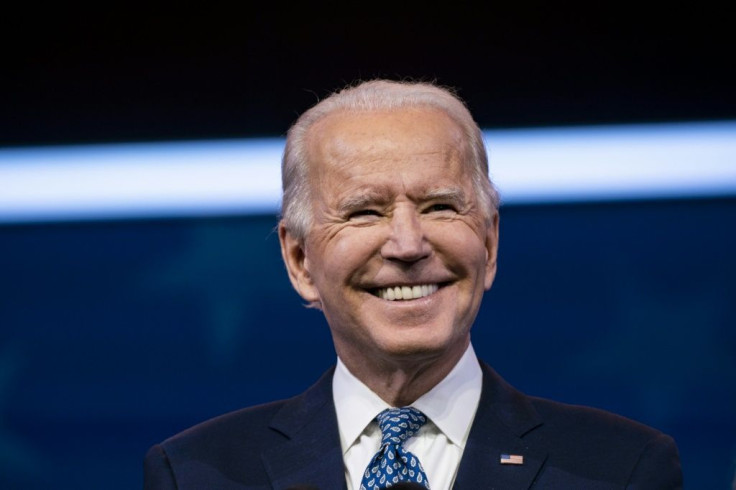 © Copyright IBTimes 2023. All rights reserved.
FOLLOW MORE IBT NEWS ON THE BELOW CHANNELS