President Obama Is Glad Readers Are 'Entertained' By 'Fifty Shades of Grey'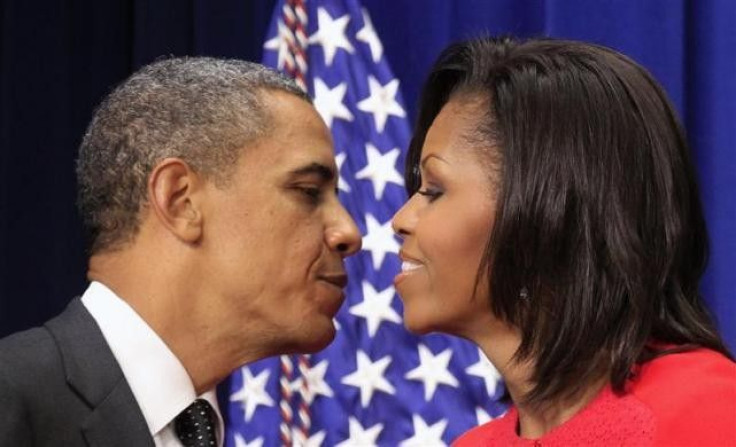 Not even President Barack Obama can escape the fervor surrounding "Fifty Shades of Grey." Forget foreign policy or women's reproductive rights - what some journalists really want to know is what the President thinks of the kinky bestseller.
In an interview Wednesday with Entertainment Tonight's Nancy O'Dell the President and first lady Michelle Obama talked about keeping their 20 year marriage spicy.
When Obama remarked that his wife often falls asleep early, O'Dell advised her to read "Fifty Shades."
"I have not had a chance to read anything lately," Michele said before adding that she's familiar with the book's premise.
"I think everybody has heard what 'Fifty Shades of Grey' is about."
So what did the president have to say about the E.L. James' raunchy submission tale?
"I'm glad folks are entertained," he said.
This isn't the first time President Obama has been asked about "Fifty Shades." During a May interview with The View, Joy Behar asked the President: "What's the controversial sex book that's on millions of women's bedside tables?"
"I don't know that," a stumped Obama replied. "I'll ask Michelle when I get home."
But the President's connection to "Fifty Shades" doesn't end there. In a recent poll published by the Daily News, it was determined that Americans are more embarrassed to read Obama's memoir "Dreams of My Father" in public than "Fifty Shades." According to the study, which was conducted by "60 Minutes" and Vanity Fair, 16% of Americans are ashamed to be seen reading "Dreams" while a mere 5% are ashamed to read "Fifty Shades" out in the open.
"Fifty Shades of Grey" follows a naïve 21-year-old, Anastasia Steele, who agrees to become a gorgeous 27-year-old billionaire's submissive. The book's sequels, "Fifty Shades Darker" and "Fifty Shades Freed," round out the trilogy.
The books have sold over 30 million copies and have spent months a top the bestseller list. On Tuesday, the books slipped to the second, third, and forth spot on USA Today's bestseller list after 20 straight weeks in the number one spot. "No Easy Day," which chronicles the mission to kill Osama Bin Laden, now occupies the number one spot.
That doesn't mean the "Fifty Shades" phenomenon is going to settle down anytime soon. In March, Focus Features/Universal (GE) snapped up the book's film rights for $5 million after beating Warner Brothers (TWX) and Sony Pictures (SNE) in an all-out bidding war.
According to Buisness Insider, the series has sparked an increase in sex toy sales and has inspired a clothing line and hotel packages. As the Hollywood Reporter notes, that the books have been translated into more than 30 languages. Earlier this month, The Guardian reported that "Fifty Shades of Grey" is the U.K.'s bestselling book of all time.
© Copyright IBTimes 2023. All rights reserved.