President Obama And Michelle Obama Share Tender Moment While Malia Tries To Spoil It [VIDEO]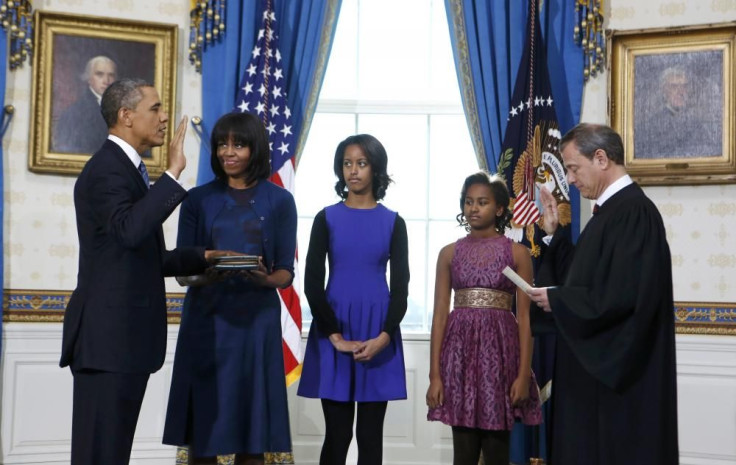 The 2013 inauguration has been special for all the right reasons, making the special day for President Barack Obama even that more memorable. Naturally, the president's family took much of the spotlight and continued to show why America's in love with the first family.
As Obama took the oath for his second term Monday, he had plenty of duties and responsibilities, but that did not prevent him from being a family man. First lady Michelle Obama, Sasha Obama and Malia Obama all had their own special inauguration moments.
Whether it is the FLOTUS' eye roll during the luncheon or her fabulous attire, or Sasha's yawn, these moments show what has endeared the Obama family to America.
On Election Night, Sasha Obama reminded her father to thank the people behind him on stage and once again, Sasha was the highlight of another touching moment. Reviewing the inaugural parade, the first family can be seen in the front row. The president is looking at his phone while Sasha tries to get his attention. Michelle Obama taps him on the arm and, as Sasha has her iPhone out, something unexpected happens.
Sasha is ready to take a phot of her parents kissing during the inauguration when her older sister decides to join the fun. As Sasha lines up her iPhone, Malia jumps in the way, making a face to the camera. You can get a better view of the photobomb here. The family laughs and this time Sasha is successful in taking the photo. The FLOTUS reviews the photo and seems to approve of it.
The video of this candid moment of the Obama family during the inauguration can be seen below, thanks to the Wall Street Journal.
© Copyright IBTimes 2023. All rights reserved.