Presidents Day 2019 Quotes: Inspirational Sayings By Trump, Obama, And Others
It's the third Monday of February, which means it's time to pay tribute to all the 45 presidents who took the reins of the nation at different times in history and led it to where it is today.
Presidents Day is marked to commemorate the birthdays of the first president, George Washington, and former President Abraham Lincoln. Although the day was initially observed on Feb. 22, coinciding with the birthday of Washington, it was later changed.
Here are some inspirational quotes from notable American presidents, courtesy, Psychology Today and Life Hack:
"Associate yourself with men of good quality if you esteem your own reputation; for 'tis better to be alone than in bad company." ― George Washington
"Nothing can stop the man with the right mental attitude from achieving his goal; nothing on earth can help the man with the wrong mental attitude." ― Thomas Jefferson
"Courage and perseverance have a magical talisman, before which difficulties disappear and obstacles vanish into air." ― John Quincy Adams
"Any man worth his salt will stick up for what he believes right, but it takes a slightly better man to acknowledge instantly and without reservation that he is in error." ― Andrew Jackson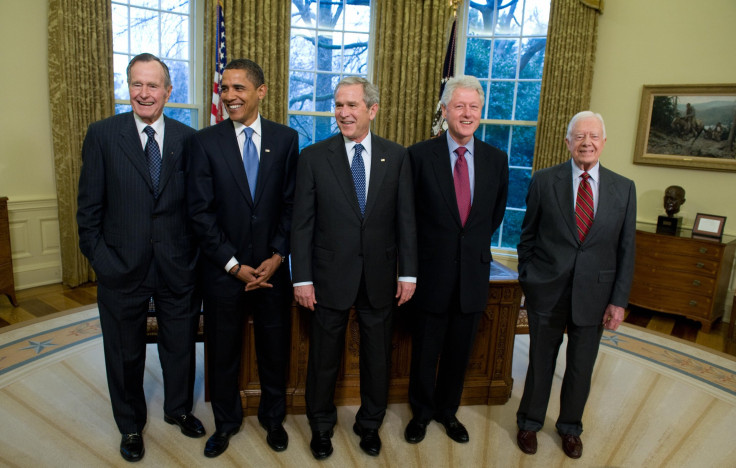 "There is nothing more corrupting, nothing more destructive of the noblest and finest feelings of our nature, than the exercise of unlimited power." ― William Henry Harrison
"In the end, it's not the years in your life that count. It's the life in your years." ― Abraham Lincoln
"It is hard to fail, but it is worse never to have tried to succeed." ― Theodore Roosevelt
"Remember, remember always, that all of us, and you and I especially, are descended from immigrants and revolutionists." ― Franklin D. Roosevelt
"The test of leadership is not to put greatness into humanity, but to elicit it, for the greatness is already there." ― James Buchanan
"While men inhabiting different parts of this vast continent cannot be expected to hold the same opinions, they can unite in a common objective and sustain common principles." ― Franklin Pierce
"Be fit for more than the thing you are now doing. Let everyone know that you have a reserve in yourself; that you have more power than you are now using. If you are not too large for the place you occupy, you are too small for it." ― Chester A. Arthur
"You can do what you have to do, and sometimes you can do it even better than you think you can." ― Jimmy Carter
"Live simply, love generously, care deeply, speak kindly, leave the rest to God." ― Ronald Reagan
"Never be satisfied with less than your very best effort. If you strive for the top and miss, you'll still 'beat the pack.'" ― Gerald R. Ford
"If you live long enough, you'll make mistakes. But if you learn from them, you'll be a better person. It's how you handle adversity, not how it affects you. The main thing is never quit, never quit, never quit." ― Bill Clinton
"A volunteer is a person who can see what others cannot see; who can feel what most do not feel. Often, such gifted persons do not think of themselves as volunteers, but as citizens – citizens in the fullest sense: partners in civilization." ― George H.W. Bush
"A leadership is someone who brings people together." ― George W. Bush
"Change will not come if we wait for some other person, or if we wait for some other time. We are the ones we've been waiting for. We are the change that we seek." ― Barack Obama
"Without passion you don't have energy, without energy you have nothing." ― Donald Trump
© Copyright IBTimes 2023. All rights reserved.