Prince George No Longer Interested In Playing With Sister Princess Charlotte
Prince George has become very independent and wants to do things on his own.
Prince William and Kate Middleton's eldest child just turned 5 years old on Sunday. However, Prince George is already being independent.
Prince George is "very independent now and not as interested in playing with Charlotte all the time," a source told People. "They are close, but George likes to go off and do his own thing."
The source added that the third-in-line to the throne is talkative once he gets to know someone. "George takes a little while to warm up, but once he's comfortable with you, he's very chatty and charming," the insider added.
Prince George's shyness was apparent when he and Princess Charlotte visited Prince Louis at the hospital with their dad, Prince William. The 3-year-old princess was not shy in greeting the crowd. Princess Charlotte was smiling as she waved her hand and walked her way to the hospital. On the other hand, Prince George simply walked while holding their father's hand.
On the said sighting, many noticed how protective Prince George was to his sister. When the family stepped into the facility, the Duke of Cambridge let go of his children's hands. Prince George was seen walking towards Princess Charlotte and putting a protective arm around her shoulders as they walked side by side.
Prince William and Middleton wanted their children to grow up like any other normal kids. So, they haven't told Prince George about the big responsibility that awaits him as the future king.
"With George, they are trying to delay that moment of realisation and give him normality before they thrust this on him," Catherine Mayer said. "But it will be, nevertheless, part of his upbringing both in terms of what he sees his parents and grandparents doing and probably quite soon a beginning of an understanding that he is in public life and what that means."
As Prince George gets older, he will need to follow certain royal rules. For instance, when he's older than 8, he has to ditched shorts for trousers.
Also, when he turns 12 years old, he can't board on the same flight as his parents. The royal protocol forbids two direct heirs in the same plane to prevent the line of succession from being affected in case of a crash.
Prince Charles is Queen Elizabeth II's heir. The Prince of Wales is expected to take over the throne after the monarch. Prince William is second-in-line to the throne while Prince George is third in the succession.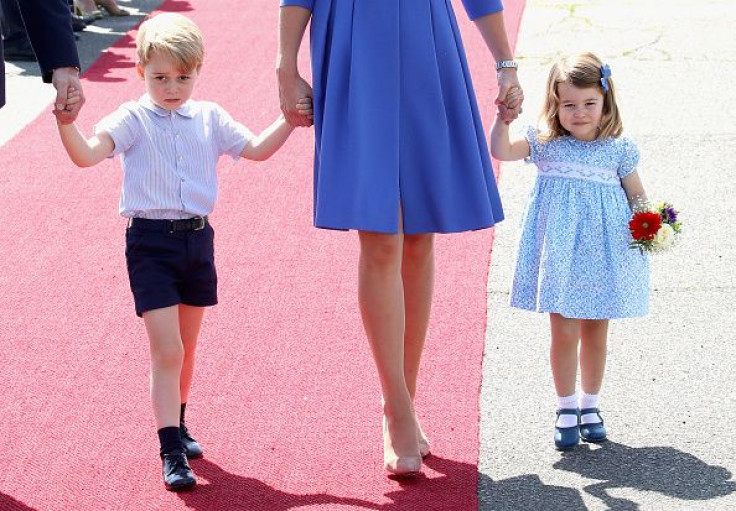 © Copyright IBTimes 2023. All rights reserved.