Prince Harry Back On Speaking Terms With 'Hurt' Father Prince Charles: Report
KEY POINTS
Prince Charles was "hugely hurt" when Harry and Meghan allegedly dumped it on the family that they were leaving, a report says
The channels of communication are reportedly now "open" between the father and son, but it's still not "all roses"
A new book claimed Prince Charles questioned the skin tone of the Duke and Duchess of Sussex's future children
Prince Charles and Prince Harry are speaking again, though it's still not "all roses" for the father and son, a report says.
The Prince of Wales, 73, and the Duke of Sussex, 37, were last publicly seen together in April, when Prince Harry returned to the U.K. for his grandfather Prince Philip's funeral. Prior to that, Prince Harry had not been able to fly to his home country since he and wife Meghan Markle moved to California in March 2020.
However, multiple sources told Page Six that the father and son are back on speaking terms again.
"Charles was hugely hurt when Harry and Meghan just dumped it on the family they were giving up their roles and moving abroad," one unnamed royal insider claimed, referring to Prince Harry and Markle's decision to step back as working royals. "I don't think [Harry and Charles] talked for a good while, but now the the channels of communication are open."
But though Prince Harry and his father, who is the heir to the British throne, are talking again, the source claimed, "I don't think it's all roses. It's not like they are sitting down for a heart-to-heart on the phone once a week."
Representatives for Prince Charles and for Prince Harry and Markle did not respond to requests for comment.
The report comes days after a new book by New York Times best-selling author Christopher Andersen titled "Brothers and Wives" claimed that Prince Charles questioned the skin tone of the Duke and Duchess of Sussex's future children.
The book claimed that on the day Prince Harry and Markle's engagement was officially announced in 2017, Prince Charles allegedly asked his wife, Duchess Camilla: "What do you think their children's complexion might be?"
Speaking further on his book, Andersen alleged during an interview with Us Weekly that the Prince of Wales did this "fondly," but that it was weaponized by by "the bureaucrats and the palace" and turned into something "quite nasty" by the time Prince Harry heard about it.
The author also claimed that when Prince Harry confronted his father and his older brother about the alleged remark, they allegedly told him that he was "oversensitive" and "overreacting."
Prince Charles and Prince William's alleged response made the already "very complicated situation" worse, Andersen added.
A spokesperson for Prince Charles has since denied the claims made in Andersen's book, calling the account "fiction."
Prince Harry and Markle have not commented on it, but Page Six quoted a "highly placed" unnamed source as saying, "I think people, on both sides of the Atlantic, in the family are united in agreeing they don't want to give this book any more oxygen."
While Prince Harry and Markle have not been back to the U.K. together since their exit last year, the couple and their two children, Archie, 2, and Lili, 5 months, are expected back for Queen Elizabeth's Platinum Jubilee celebrations in June.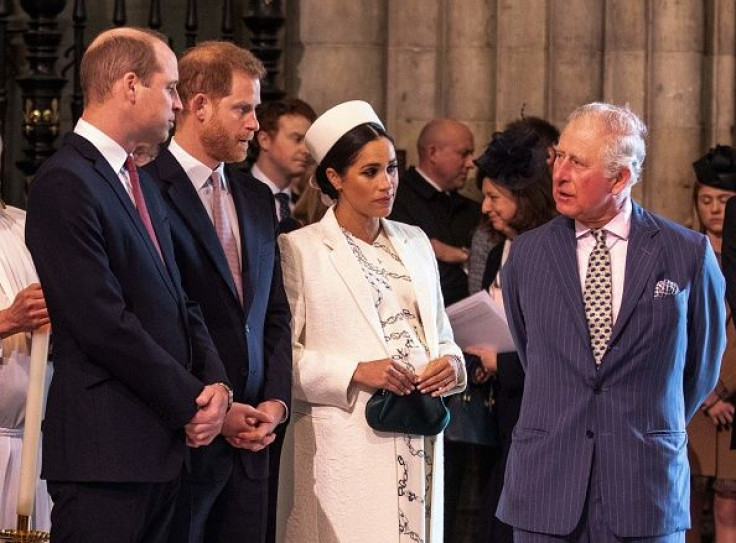 © Copyright IBTimes 2023. All rights reserved.