Prince Charles, William Told Harry He Was 'Overreacting' About Alleged Skin Color Comment, Author Claims
KEY POINTS
Christopher Andersen offered insight into the claim that Charles discussed the skin tone of Harry and Meghan's future kids
The author alleged that Charles did this "fondly," but it was misconstrued by the time Harry heard about it
Harry allegedly confronted his father and his brother William over the skin color comment, the author claims
Prince Harry allegedly confronted his father Prince Charles and brother Prince William over a remark about his unborn child's skin color, a royal biographer claims.
Author Christopher Andersen recently spoke with Us Weekly about his newly released book, "Brothers and Wives: Inside the Private Lives of William, Kate, Harry and Meghan." In his tome, he cited a "well-placed source" as saying that Prince Charles allegedly discussed the possible "complexion" of Prince Harry and Meghan Markle's future children during a private conversation with his wife, Duchess Camilla.
Markle and Prince Harry previously alleged that a member of his family raised concerns about how dark their unborn child's skin might be, sparking accusations of racism against the British royal family.
Andersen claimed that he was able to "trace" the Duke and Duchess of Sussex's revelation to an alleged comment made by Prince Charles to Duchess Camilla on Nov. 27, 2017, the day Prince Harry and Markle's engagement was officially announced.
"And what [Charles] did was casually turn to her like any grandparent to be would do and say, 'I wonder what their children will look like, hair color, eye, color, complexion,'" the author told the outlet.
Andersen alleged that the Prince of Wales did this "fondly," but it was twisted into something toxic by the time Prince Harry heard about it.
"The problem is it was taken misconstrued, contorted over a period of time by the bureaucrats and the palace — the people who [Princess] Diana used to call the men in gray — and they really weaponized that and turned it into something that was quite nasty by the time it reached Harry's ear," the author added.
According to Andersen, Prince Harry, 37, confronted his father, 73, and his brother, 39, about the alleged remark, but they allegedly told him that he was "oversensitive" and "overreacting."
Prince Charles and Prince William's alleged response made the already "very complicated situation" worse, the author added.
Prince Charles has since denied the claims, telling Us Weekly in a statement, "This is fiction and not worth further comment." He reportedly has consulted lawyers, according to royal expert Omid Scobie.
In response, Andersen said he hopes the royal family would "read what the book actually said," insisting that the "real fiction" was the denial.
"This is what the palace always does. There's a knee-jerk reaction is to say, 'None of it's true,'" the author told Us Weekly. "In this particular case, clearly, they haven't read the book because if they did, they'd see that, in a sense, it sort of softens the image of the royal family in terms of race."
Prince Harry and Markle, 40, are the parents of son Archie, 2, and daughter Lilibet, 5 months. The couple, who stepped back as working royals last year, made the bombshell claim that there were "concerns and conversations about how dark [Archie's] skin might be when he was born" during their interview with Oprah Winfrey in March.
After the interview, Prince Harry clarified that the person in question wasn't Queen Elizabeth II or Prince Philip.
At the time, the palace released a statement calling the Sussexes' allegations of racism within the family "concerning."
"The whole family is saddened to learn the full extent of how challenging the last few years have been for Harry and Meghan," the statement read. "While some recollections may vary, they are taken very seriously and will be addressed by the family privately."
"Brothers and Wives: Inside the Private Lives of William, Kate, Harry and Meghan" was released Tuesday.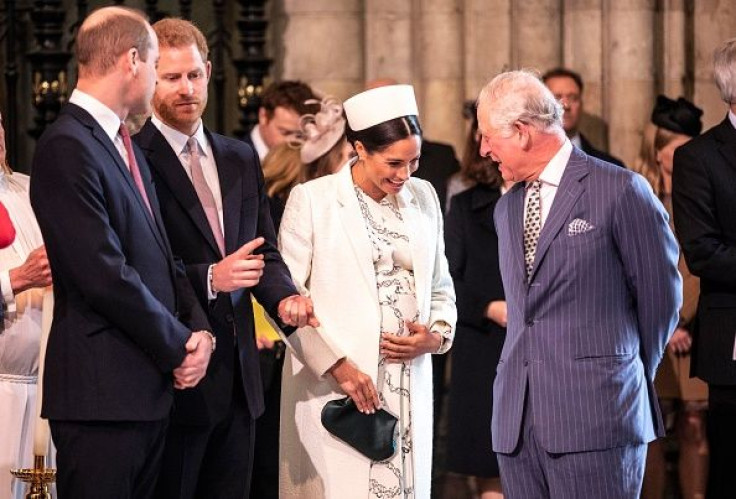 © Copyright IBTimes 2023. All rights reserved.