Prince Harry Criticized For Crying In Public, Emotional Breakdown 'Fake,' 'MeghaCue'
Prince Harry recently showed his raw emotion when he gave a speech at the WellChild Awards in London. While speaking in front of the crowds, the Duke of Sussex broke down in tears at the thought of his wife, Meghan Markle, and son, Archie.
But shortly after Prince Harry's footage was released online, royal fans and critics alike couldn't help but accuse him of faking his tears. On the online forum site Quora, royal fans said that it is so hard to believe that Prince Harry would break down in public when he has bottled up all of his emotions – and was trained to do so – all his life.
Ursula St. Clair, a cardiovascular nurse, said that Prince Harry's emotion must have come from a MeghaCue, which was a reference to the Duchess of Sussex. St. Clair said that Prince Harry mentioned his wife's name in his speech at least four times, and it's possible that the "Suits" alum was the one who wrote it for him.
Pamela Harvey, a former expat in Britain and the Cayman Islands, also said that it was evident that Prince Harry wasn't crying or having an emotional moment while giving his speech.
"His body language did what any person's body would do when unexpectedly having a laugh. He bent over, the body's attempt to conceal inappropriate laughter. I recognize that gesture from videos of Diana laughing. She would start to be serious, then overcome by something hilarious in her mind, she would do that same gesture, bending over, laughing hysterically. Maybe it's universal. I have no experience making a speech and then being overcome with laughter, so I don't know how I personally would react," he said.
Vivian Leese, a visual artist, said that Prince Harry didn't have an emotional breakdown while he was giving his speech because his recovery was too quick. She said that he simply had a physical reaction to a humorous thought.
"I did notice that Harry had a rather hard time with the first opening lines as he read them, hardly looking up from his notes. I'm sure Markle wrote the speech in its entirety," she said.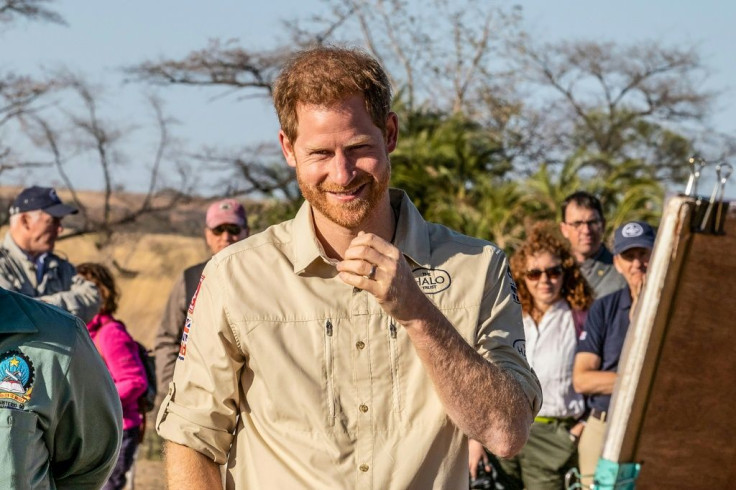 © Copyright IBTimes 2023. All rights reserved.