Prince Harry, Meghan Markle Baby: Truth About Couple Leaving The Royal Family
Prince Harry and Meghan Markle are not leaving the royal family despite reports.
Gossip Cop refuted a report from OK! magazine suggesting that the Duke and Duchess of Sussex are fleeing from the royals for their baby. The tabloid published a report with a headline that read: "Meghan & Harry Leaving The Royals For Their Baby!" Prince Harry reportedly vowed that he "won't let my child end up like Diana."
The publication stated that Prince Harry and Markle will "turn their backs on the monarchy." "Harry and Meghan will be making a historic announcement...They're leaving their royal life behind," a so-called insider said. "Harry will be giving up his title and his $150 million trust fund."
The insider insisted that Prince Harry's "priorities have shifted now that he has a baby on the way."
The rumor-debunking site agreed that one's priorities do change. But a father's main responsibility is to take care and provide for his family and Prince Harry giving up his title and trust fund would only leave the royal prince with nothing for his family. Prince Harry "would neither have money to support his wife and baby nor a home anymore in Kensington Palace in which to shelter them."
"There's buzz that they are planning to relocate to America," the tipster added.
Prince Harry reportedly knew that Queen Elizabeth II will be upset. The source even likened Prince Harry's plan to that of King Edward VIII who abdicated the throne in 1936 to be with American socialite Wallis Simpson.
Gossip Cop insisted that the report is not true. In fact, the former "Suits" star is in the process of becoming a British citizen. So, it's unlikely that the Duke and Duchess of Sussex are moving to the United States.
In addition, it is unlikely that Prince Harry and Markle would want to be out of the monarchy. In fact, they just completed their royal tour to Australia, New Zealand, Fiji and Tonga.
In related news, the duchess was criticized for always touching her growing baby bump. The netizens were tired of seeing Markle cradling her tummy during the royal tour. "#WeGetTheIdea you're pregnant," one user wrote on Twitter.
Markle was also slammed for spending too much on her wardrobe for the said tour. The expectant royal reportedly spent $8,447 for her outfits a day which only infuriated the Brits.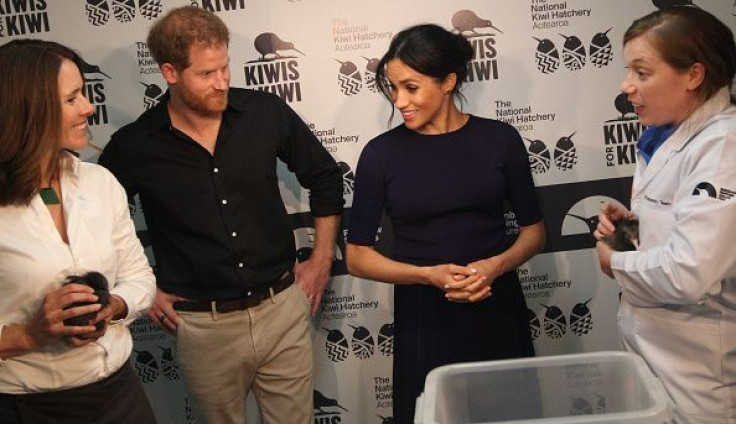 © Copyright IBTimes 2023. All rights reserved.