Prince Harry, Meghan Markle Have Reunited With Kids In California After Queen's Funeral: Report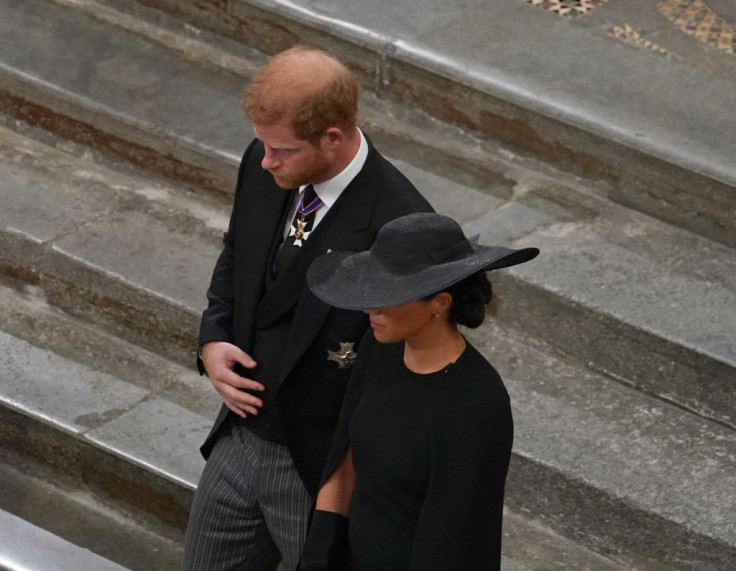 KEY POINTS
Prince Harry and Meghan Markle flew back to California Tuesday, a day after Queen Elizabeth's funeral
The couple reportedly planned to return home almost immediately after the funeral because they missed their kids "like crazy"
The Sussexes had only planned to stay in Europe for less than a week but extended their stay after the Queen died
Meghan Markle and Prince Harry have returned to California following Queen Elizabeth II's funeral, according to reports.
The Duke and Duchess of Sussex are back home in Montecito, California, and have finally reunited with their children, Archie, 3, and Lilibet, 1, after being apart from them for over two weeks, Us Weekly reported.
Prince Harry, 38, and Markle, 41, had been in Europe since Sept. 4. They initially only planned to stay there for less than a week to attend a series of philanthropic engagements.
However, Queen Elizabeth II's health quickly deteriorated while they were in the U.K., and the late monarch passed away at the age of 96 on Sept. 8. The couple decided to extend their stay until her funeral.
Prince Harry and Markle left the U.K. Tuesday, a day after the late monarch's funeral services, Page Six reported. While the couple was away, Markle's mom, Doria Ragland, reportedly looked after their children.
Before they left his home country, an anonymous source told Us Weekly Monday that Prince Harry and Markle had planned to fly back home to California right after the funeral because they missed their kids "like crazy."
"Meghan and Harry are preparing to return to Montecito almost immediately after the funeral, where they'll be reunited with Archie and Lilibet after being separated for over two weeks," the source said, adding that it's "the longest amount of time they've been apart from their children."
The insider continued, "They've missed the kids like crazy and have been FaceTiming them every day, but can't wait to see and hold them again after a poignant few weeks."
Queen Elizabeth II's death reunited Prince Harry and Prince William, who had been estranged for years since the Duke of Sussex and Markle decided to step back from royal duties in 2020.
The Prince of Wales invited his younger brother and sister-in-law to join him and his wife, Kate Middleton, in greeting mourners outside Windsor Castle two days after the Queen passed away. It marked the first time the one-time "Fab Four" had been photographed together in more than two years.
Prince William continued to reach out to Prince Harry following the Sept. 10 walkabout.
During the Queen's committal service at St. George's Chapel in Windsor Castle Monday, he was spotted waving at his younger brother and Markle, inviting them to come and be seated with him and his family. Prince Harry nodded before he and his wife joined them in the front row.
Earlier that day, Prince Harry and Markle had been seated in the second row during the Queen's state funeral service at Westminster Abbey, leading to speculation among royal fans that it was an intentional snub toward the Sussexes.
However, an unnamed source at Buckingham Palace told The Daily Beast denied that the couple's second-row seats were a snub and clarified that the order of the seating arrangements "was approximately age order but trying not to split families up."
The palace source suggested that the Queen's grandchildren were arranged in order of their age, except for Prince William, the heir to the throne. This was apparently the reason why Princess Anne's children, Peter Phillips and Zara Tindall, were seated in the front row with Prince William, Princess Kate and their eldest children despite not being considered working royals.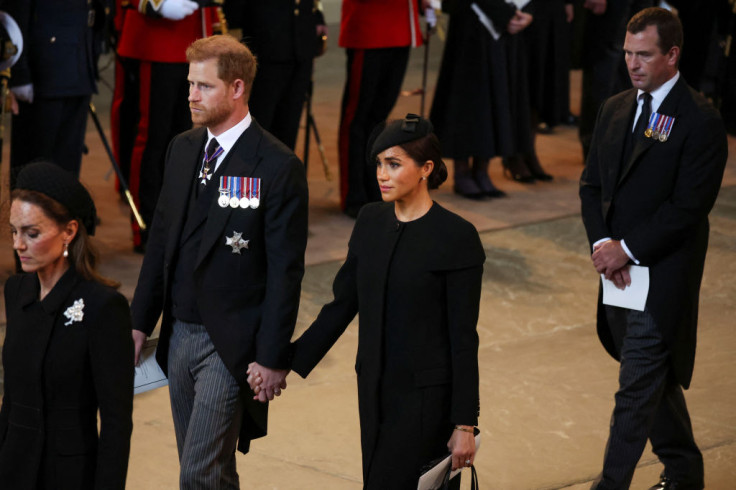 © Copyright IBTimes 2023. All rights reserved.