Prince Harry, Meghan Markle Urged To Stop Using Royal Titles In Business Ventures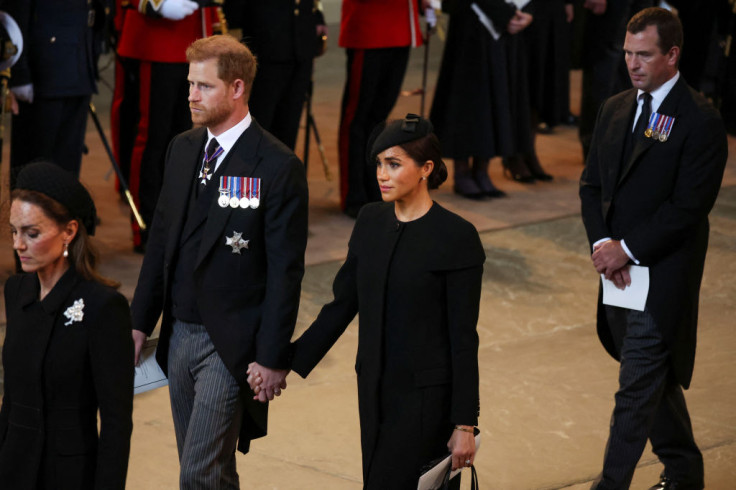 KEY POINTS
Royal historian Marlene Koenig commented on Prince Harry and Meghan Markle's continued use of their royal titles
The royal expert argued that the focus "should not be on removing titles" but rather how they are used
She suggested that the Sussexes should stop using their royal titles in their business ventures
A royal historian believes Prince Harry and Meghan Markle should stop using their royal titles in their new lives in the U.S.
Prince Harry and Markle continue to be associated with their dukedom titles — the Duke and Duchess of Sussex — even after quitting royal duties and moving to California in 2020. They have since been stripped of their royal patronages and no longer use "royal highness" titles or receive public funds.
Some critics have also called for the couple to be stripped of their Sussex titles — a move that would require an Act of Parliament.
But Marlene Koenig, the royal historian and expert behind the blogs "Royal Musings" and "Royal Book News," argued that the focus "should not be on removing titles" but rather how they are used.
She told Express that she believes Prince Harry and Markle should stop using their Sussex titles in their business ventures.
The author noted that "you can live in America and have a title" but that the "elephant in the room is the use of the title in business."
Koenig suggested that the utilization of royal titles should perhaps have been clarified when Prince Harry and Markle first stepped back from royal duties. She noted that there is "so much precedent" for the titles appearing in a different form.
"Perhaps it would have been kinder and wiser to have said at the time that in business they should use the surname Windsor, or Mountbatten Windsor, or Sussex [...] Meghan Sussex, Harry Sussex in their careers," Koenig told the outlet.
She added that there is "no need for an Act of Parliament" if Prince Harry and Markle would stop using their titles professionally — which she believes is the best route for the California-based couple to take following their royal exit.
Royal biographer and investigative reporter Tom Bower also recently criticized Prince Harry and Markle's continued use of their titles despite the couple's bombshell claims about the royal family.
"I don't think they should be allowed to call themselves duke and duchess anymore, and I think the only way in which they can be undermined and reduced in importance in America is to say, 'Well, if you think that of us, this is our family, this is Britain, then you don't need to keep your titles anymore,'" Bower said on "Good Morning Britain" Monday.
Dr. Bob Morris of the Constitution Unit at University College London suggested that it is "very unlikely" for the Parliament to take the initiative to strip Prince Harry and Markle of their titles, so the decision will be left to King Charles III and the government.
Speaking on SiriusXM, Bower claimed that King Charles has "made various threats" to the Sussexes over Prince Harry's upcoming memoir and their Netflix docuseries and warned them not to "slander" the royal family.
"They have also got to consider their own titles, the Duke and Duchess of Sussex, could be taken away by Charles if they misbehave," Bower said. "That is something Meghan and Harry are very worried about because after all although she pours dirt on the royal family the whole time, whenever she introduces herself she says: 'I am Meghan, Duchess Of Sussex.'"
International Business Times could not independently verify the claims.
Some royal experts have suggested that Prince Harry's tell-all, "Spare," could "widen the rift" between him and the rest of his family, including his older brother Prince William.
"All of this will almost certainly be unhelpful to King Charles and Queen Consort Camilla, in the early months of his reign. It may well widen the rift between the royal family and the Sussexes in the pivotal period leading to King Charles's coronation," royal commentator Richard Fitzwilliams told the Daily Mail.
"Spare" will hit shelves on Jan. 10, 2023.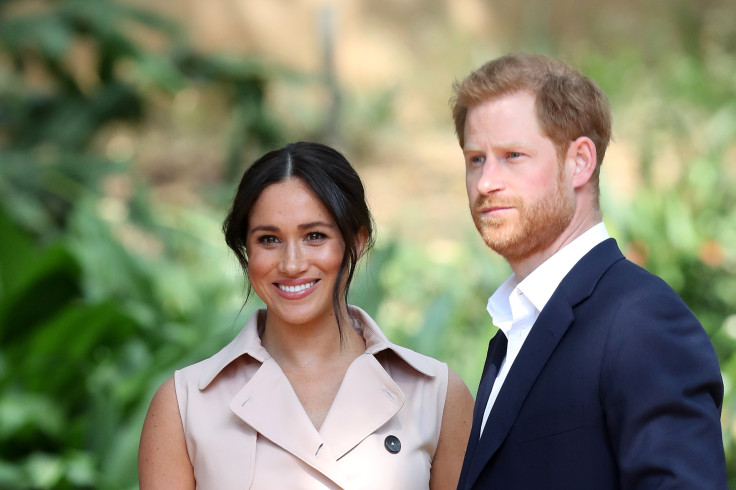 © Copyright IBTimes 2023. All rights reserved.