Prince Harry, Meghan Markle Vs Princess Eugenie, Jack Brooksbank: Engagement Interviews Compared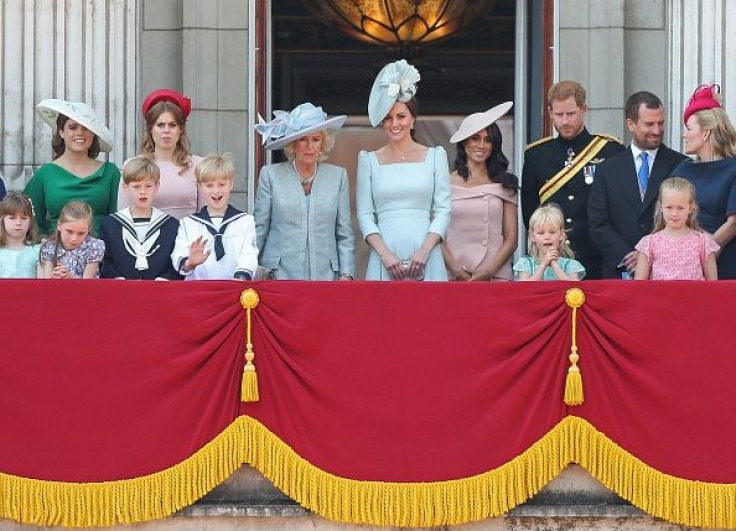 Prince Harry and Meghan Markle's engagement interview has been compared with that of Princess Eugenie and Jack Brooksbank.
Judi James, a body language expert, told Express that Princess Eugenie and Brooksbank appeared to be more traditional that Prince Harry and Markle.
"Eugenie and Jack presented as the most traditionally a royal couple of the three as opposed to the 'sofa chemistry' body language appearances of both Andrew and Fergie and Harry and Meghan," James said.
However, it was also evident that Princess Eugenie and Brooksbank were still in the bashful stages of love.
"Jack, in particular, wore kind of the round and raised cheeks that signal genuine happiness and at times his cheeks even turned pink to show shyness too. Eugenie's rather husky, sexy voice and her more assured body language suggests that she will be the more powerful partner although she used several lowering signals to make her fiancé feel dominant," James explained.
Prince Harry and Markle, on the other hand, are more like an A-list Hollywood couple during their engagement interview.
"Being seated always suggests more leisurely and revealing discussion in a chat show format and we got just that from Harry and Meghan whose signals of sophisticated sexuality teamed with Meghan's confidence and eloquence pitched them as more A-list Hollywood than reserved royals," she said.
James noted that Markle took over some of the questions thrown at them with ease.
"Harry looked besotted and her body language responses to her husband-to-be ranged from devastatingly flirtatious to quasi-maternal, with some glances and strokes of reassurance and encouragement for Harry. Harry and Meghan's mirroring was less intense though as they knew one another for less time than Eugenie and Jack's seven-year stint as a couple in love," she said.
Prince Harry and Markle tied the knot on May 19 at St. George's Chapel in Windsor Castle. Princess Eugenie and Brooksbank will wed in the same venue on Oct. 12.
© Copyright IBTimes 2023. All rights reserved.