Prince Harry, Meghan Markle's NAACP Award An 'Insult' To Past Recipients, Journalist Claims
KEY POINTS
Piers Morgan slammed Prince Harry and Meghan Markle after the couple accepted the President's Award at the NAACP Image Awards
Journalist Peter Ford suggested the duke and duchess were given the award because the event "wanted publicity"
NAACP said the couple were named recipients because they "heeded the call to social justice" and "joined the struggle for equity"
Meghan Markle and Prince Harry were recognized recently for their work after they quit royal duties, but not everyone is on board.
The Duke and Duchess of Sussex appeared on stage at the NAACP Image Awards Saturday to accept the President's Award in recognition of special achievement and distinguished public service.
Previous recipients of the prestigious prize include sporting icons such as Muhammad Ali and LeBron James and political figures such as Jesse Jackson, Colin Powell and Condoleezza Rice. Entertainers such as Rihanna, Jay-Z and Lauryn Hill and journalists such as Soledad O'Brien were also among the President's Award recipients in recent years.
British journalist Piers Morgan, a longtime critic of Markle and Prince Harry, slammed the couple on Twitter Saturday.
"Imagine giving these two clowns an award when their only claim to fame is trashing their families on TV, ruthlessly exploiting their royal titles for vast financial gain and preaching about equality and environment from their California mansion and private jets? Hilarious," he tweeted.
Australian entertainment journalist Peter Ford had a similar reaction to Prince Harry and Markle's award, writing on Twitter that it was "an insult to the extraordinary past recipients."
Ford also alleged that the duke and duchess got the award because the NAACP Image Awards "wanted publicity."
Some Twitter users appeared to share Morgan's and Ford's views, with one user commenting: "There are people who have worked so much harder than privileged Harry and Meghan, who do so much more public service on the frontline. It's sad to see them get so much attention for nothing."
Others came to the Sussexes' defense, with one user pointing out that the couple "got the award for the amazing things [they've done that were] highlighted in the video shown" during the NAACP Image Awards.
NAACP president and CEO Derrick Johnson earlier said that Prince Harry and Markle were named this year's recipients of the President's Award because they "heeded the call to social justice and have joined the struggle for equity both in the U.S. and around the world."
Johnson also praised the couple for continuing to "lead by example" and for "ensuring the support and recognition of generations of civil rights leaders to come" through the NAACP-Archewell Digital Civil Rights Award.
Prince Harry and Markle partnered with the NAACP for the new annual award, which recognizes leaders creating transformational change — at the intersection of social justice and technology — to advance civil and human rights. The honoree will get a $100,000 unrestricted stipend, Variety reported.
The first recipient is author and scholar Dr. Safiya Noble, an internet studies scholar and professor of Gender Studies and African American Studies at the University of California, Los Angeles. She is also the co-founder and faculty director of the UCLA Center for Critical Internet Inquiry (C2i2), which works with the Archewell Foundation.
Prince Harry and Markle were recognized with the honor for their efforts to help young people living with HIV/AIDS, their paid leave advocacy and their efforts to create relief centers for communities in need.
The couple, through their charity Archewell Foundation, also supported COVID-19 vaccine accessibility during the pandemic as well as the Black Lives Matter movement and the fight for racial justice.
In September 2021, the Duke and Duchess of Sussex called for COVID-19 vaccine equity when they appeared at Global Citizen Live in New York City, an event that called for wealthier countries to commit to sharing their doses with nations most in need.
The couple also called for independent international organizations to be allowed to determine where vaccine doses are most needed, with Markle saying: "Just think about the millions of vaccines that have been discarded this year. That's like throwing away life vests when those around you are drowning," according to People.
Markle also spoke out in support of the Black Lives Matter movement following the police killing of George Floyd in 2020. While giving a commencement speech to the graduating class at her former Los Angeles high school in June that year, the duchess encouraged students to fight against the "senseless acts of racism."
"I know you know that Black Lives Matter. ... We need you and you are prepared," Markle was quoted by NBC News as saying during her speech. "I am cheering you on, all along the way. I am exceptionally proud of you."
During Saturday's awards ceremony, Markle mentioned their social justice work during her and Prince Harry's joint speech, saying that they were "deeply humbled" to join the ranks of many illustrious awardees.
"In the months that followed [Floyd's killing], as my husband and I spoke with the civil rights community, we committed ourselves and our organization, Archewell, to illuminating those who are advancing racial justice and progress," she said.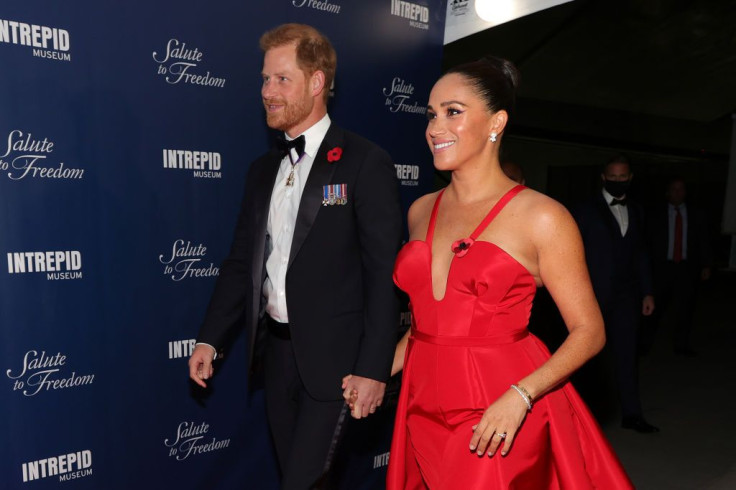 © Copyright IBTimes 2023. All rights reserved.
FOLLOW MORE IBT NEWS ON THE BELOW CHANNELS