Prince William, Kate Middleton Meet Beyoncé, Jay Z At Barclays Center In New York [PHOTOS]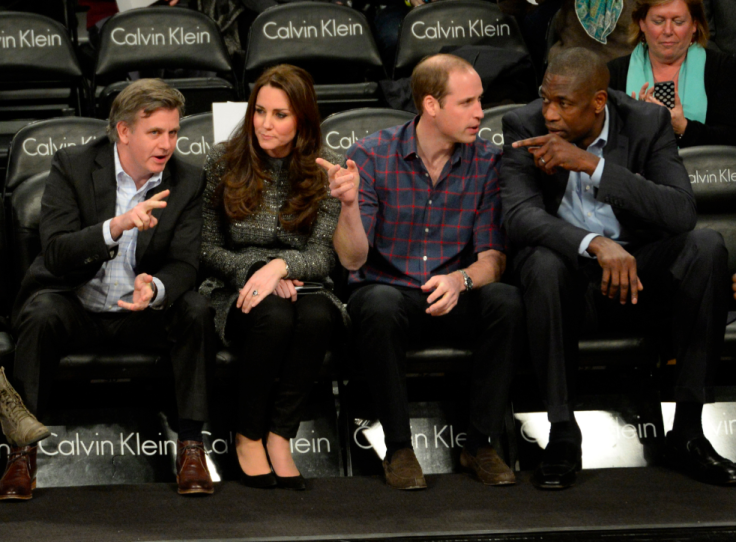 A huge roar erupted at the Barclays Center in Brooklyn with just 7 minutes and 14 seconds left in the third quarter of the Brooklyn Nets vs. Cleveland Cavaliers game -- and it wasn't because of anything either team had done: The royal couple arrived. About a dozen people escorted Duchess of Cambridge Kate Middleton and Prince William to their front row seats -- directly across from Beyoncé and Jay Z -- even as players on the Nets continued to dribble down the court Monday.
The applause that greeted the Royal Couple was raucous -- far louder than for LeBron's introduction or any part of the game. Of course, Middleton was sporting one of the most trendy fashion accessories of 2014: a baby bump. For the big game, the Duchess also wore a $595 tweed Tory Burch coat, black pants and black heels, Us Weekly wrote. For the prince's courtside fashion, William wore a red and blue-checkered shirt, brown belt and navy blue pants.
The moment practically everyone was waiting for occurred when the third quarter ended. The King and Queen of hip-hop, otherwise known as Jay Z and Beyoncé, strutted across the court to greet the Duke and Duchess of Cambridge. The couples shook hands -- no bows or curtsys -- and had a lively chat that was captured by people in the stands who had whipped out their cellphone cameras. Some of the photos were posted to Twitter.
Before the arrival of Kate Middleton and Prince William, the game had been close. But the Cavaliers upped their energy and pulled ahead of the Nets: King James was able to rule in front the royals!
The Royal Couple's arrival at the Barclays Center came hours after Eric Garner protesters staged a "die-in" outside of the Brooklyn basketball court. James practiced with a T-shirt that read "I can't breathe," in memory of Garner. It's a phrase that has been echoed by demonstrators since a grand jury did not indict Daniel Pantaleo, a white officer, for the chokehold death of Garner, an unarmed black man.
Peter Goodman contributed to this report.
Follow me on Twitter @mariamzzarella
© Copyright IBTimes 2023. All rights reserved.