Prince William, Kate Middleton And Prince Harry Host Secret Gala For Royal Foundation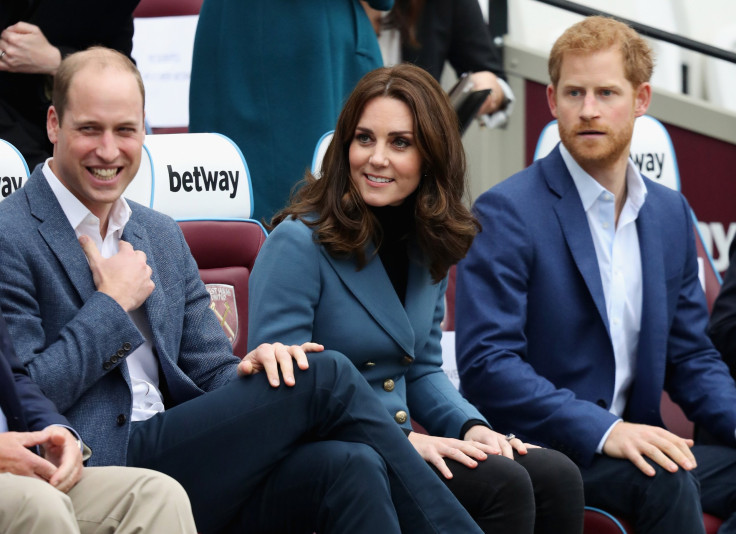 Prince William, Kate Middleton and Prince Harry have reunited again for a special dinner.
On Thursday, the royal trio gathered together for a lavish night out. The Duke and Duchess of Cambridge, and Prince Harry hosted a special dinner in honor of Royal Foundation, which they patron, Hello! reported.
The event happened at Sunbeam Studios in west London. It was a quick 15-minute drive from Kensington Palace.
The publication noted that it was a secret gathering. The palace did not announce it and the details were kept under wraps. However, some of the guests shared a photo of their invitation on Instagram.
"The Royal Foundation of The Duke and Duchess of Cambridge and Prince Harry request the pleasure of your company at The Royal Foundation Dinner," the invitation read. Guests are requested to be there at 6:45 pm. ahead of Prince William, Middleton and Prince Harry's arrival.
The invite also included an accompanying letter showing guests the instructions on how to get to the venue. In addition, attendees are requested to wear lounge suit and a cocktail dress for the gathering. It also warned the guests that the use of their mobile phones during the gathering is strictly prohibited.
"Please note that photography and mobile telephones are strictly prohibited and we ask all our guests to switch off their telephones upon arrival. There will be a professional photographer in attendance," the additional instruction read.
The secret dinner gala ended at approximately 10:15 p.m. It remains unknown what the gathering is for and why the palace did not announce it when it usually does when it comes to Prince William, Middleton and Prince Harry's royal engagements.
In related news, Middleton just visited Hornsey Road Children's Centre where she met the parents, children and volunteers at the charity. The Duchess of Cambridge's visit to the center was a long-time coming. She was scheduled to visit there in September. Unfortunately, it was canceled because Middleton was suffering from hyperemesis gravidarum.
In the said event, Middleton met a 6-year-old Nevaeh Richardson-Natiko who presented her a bouquet of flowers. The royal mom told her Princess Charlotte's favorite color.
Middleton also met Billy, 39, a dad who is struggling with parenting a 7-month-old daughter. To encourage him, the Duchess of Cambridge shared how Prince William struggled with fatherhood too.
What can you say about Prince William, Middleton and Prince Harry's secret dinner gala? Drop a comment below.
© Copyright IBTimes 2023. All rights reserved.