Prince William, Kate Middleton Showing 'Steady Increase' Of PDA, Expert Explains
Prince William and Kate Middleton are reportedly showing a steady increase of PDA.
The Duke and Duchess of Cambridge are not very tactile compared to the Duke and Duchess of Sussex. The public rarely sees Prince William and Middleton holding each other's hand especially when they are on royal duties which is a stark contrast to Prince Harry and Meghan Markle who couldn't help but touch each other whenever they step out together.
Body language expert Judi James confirmed that Prince William and Middleton have been sweeter recently. She believes that the couple's actions could have been influenced by Prince Harry and Markle and other factors.
"There does seem to be a slow but steady increase in the PDA rate between Kate and William over the past year or so, with this affectionate back-stroke display being the most recent example," James said.
James explained that it's possible that the future king and queen are taking their lead from Prince Harry and Markle. The royal siblings' rumored rift is also another reason why Prince William has become more tactile to his wife lately. It's possible that Prince William became more tactile to show to his wife that he appreciates her moral support.
Another possible reason is Middleton's relationship with the Queen. Since Prince William and Middleton are very close to the monarch, they do not need to shy away from being affectionate. In addition, the couple is already parents to three adorable children and it's only right for Prince William to relax a little and use touches and tie-signs with his wife to show respect and love for her in public.
Last week, Prince William and Middleton visited the Troubadour White City Theatre in London. The duchess accidentally stumbled and Prince William rushed to support her as she recovered her balance. The couple was seen giggling together after the incident.
Prince William and Middleton were also seen sharing a sweet moment during their official tour to Pakistan. Prince William accidentally hit a soft ball on his wife's neck causing Middleton to say "William" while laughing and feigning pain. The second in line to the throne said that he could get away with it because Middleton is "my wife."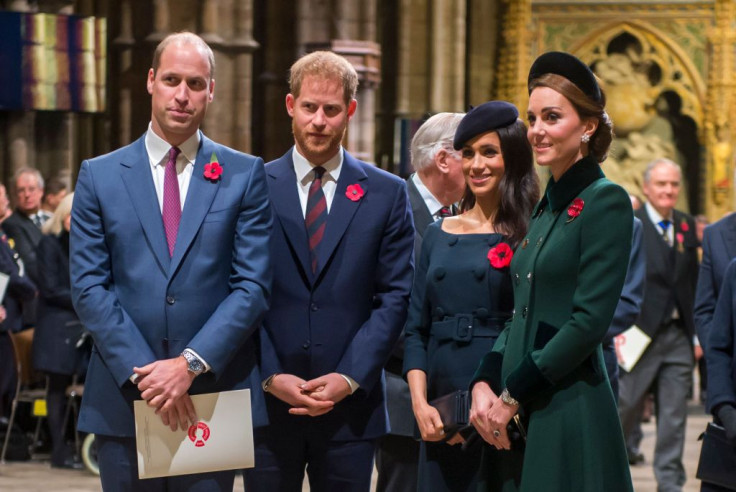 © Copyright IBTimes 2023. All rights reserved.