Princess Charlotte's Adorable Nickname At Home Revealed By Affectionate Mom Kate Middleton
Princess Charlotte's sweet, adorable nickname was just revealed by her loving mom, Kate Middleton.
Princess Charlotte's parents, Middleton and Prince William, were in Northern Ireland earlier this week for a two-day trip. While there, the Duchess of Cambridge stopped to talk to Belfast-based blogger Laura-Ann and her son George, 2, at Windsor Park Stadium on Wednesday, according to People.
On her Instagram Stories, Laura-Ann shared a video of Middleton meeting her son, who shares a name with the duchess' eldest son, 5-year-old Prince George.
"Hello – what's your name?" Kate asks in the clip. "Hi George, what a cool name you've got, and you look very smart in your bow tie. It's very nice to meet you."
The video didn't show their entire interaction, but Laura-Ann explained that Middleton asked how old her other son is. It was during this time that the gorgeous royal revealed 3-year-old Princess Charlotte's sweet nickname.
"And I said is he is 4 and she said, 'Oh, he's the same age as Lottie' – she calls her Lottie!" Laura-Ann excitedly tells the camera.
This isn't Middleton's only nickname for Princess Charlotte. When Prince William's wife did some last-minute shopping at U.K. discount store The Range in Norfolk, she brought along her two eldest children. While there, she was heard by witnesses calling Princess Charlotte a sweet endearment.
According to an onlooker, Middleton told Charlotte, "Get up, Poppet," as she sat on the floor near Prince George, according to Daily Mail.
Meanwhile, Middleton may have also weighed in on the ongoing speculations that she and Prince William may try for a fourth child in the future. During her and Prince William's walkabout in Ballymena, she told well-wisher named Alan Barr that his 5-month-old baby was "gorgeous" and made her feel "broody."
But when asked by the little baby's father if she and Prince William have plans to add to their brood, Middleton only laughed, saying, "I think William would be a little worried."
It seems Middleton and her husband don't seem to be eager to give 9-month-old Prince Louis a younger sibling yet. But one royal baby will be joining the fold soon as Prince Harry's wife Meghan Markle is set to give by late March or early April.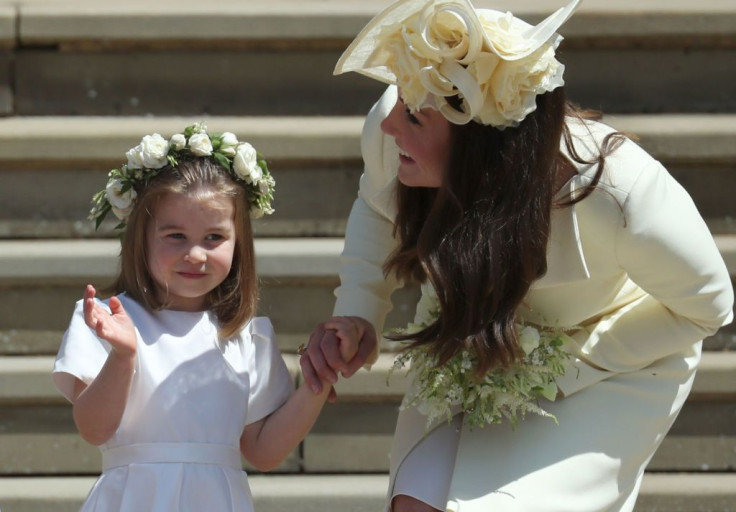 © Copyright IBTimes 2023. All rights reserved.