Princess Diana Honored At Princess Eugenie's Wedding In This Unique Way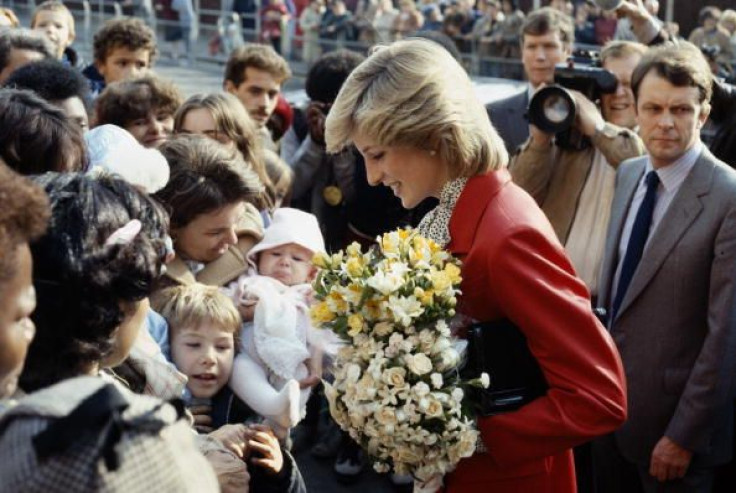 Princess Diana was honored at Princess Eugenie's wedding on Friday in a unique way.
Isabella Sullivan, a journalist for Express, noted that one of the female guests wore a dress that was similar to what Princess Diana wore in 1986. The unnamed guest looked stunning in her green polka dot dress and polka-dot printed boater-style hat with navy blue trim.
The Princess of Wales wore a similar attire when she went to the Royal Ascot in 1986. But the mom of two's hat was a bit different from the hat worn by Princess Eugenie's wedding guest.
Princess Eugenie's wedding guest's hair color was also similar to Princess Diana's hair color at the races. But the guest wasn't the only that seemingly took inspiration from Prince Charles' ex-wife. In 1988, Sarah Ferguson also wore a green polka dot dress and matching hat. The Duchess of York was photographed with a black choker at that time.
Meanwhile, Princess Eugenie remembered Princess Diana at her wedding in another special way. Prince Andrew's daughter invited David Emanuel to her nuptials. Emanuel was the one that created Princess Diana's wedding dress in 1981.
Katie Mansfield, a journalist for Express, claimed that Emanuel and his wife, Elizabeth, made three dresses for Princess Diana ahead of her wedding for fear that her gown will be revealed to the public before the wedding day.
According to Good Housekeeping, Princess Diana was also sewn into her dress because she lost a considerable amount of weight in the months leading up to her big day. The Princess of Wales' waistline shrunk five inches, and it was later on revealed that she struggled with bulimia.
"My husband put his hand on my waistline and said, 'Oh, a bit chubby here, aren't we?' and that triggered off something in me. And the Camilla thing. I was desperate, desperate. I remember the first time I made myself sick. I was so thrilled because I thought this was the release of the tension. The first time I was measured for my wedding dress, I was 29 inches around the waist. The day I got married, I was 23 and a half inches…" she said.
© Copyright IBTimes 2023. All rights reserved.