Princess Kate, Prince George On A Museum Date: Prince George 'Looked So Happy'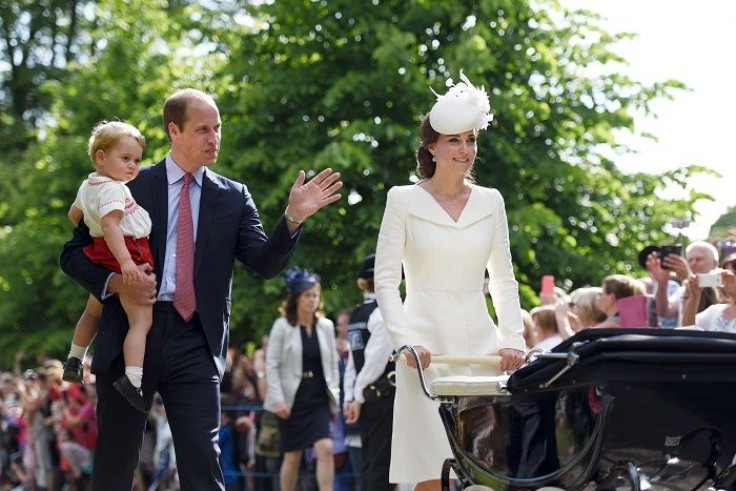 Princess Kate and Prince George recently enjoyed some quality time together, amidst the presence of dinosaurs.
The Duchess of Cambridge was able to squeeze some quality mommy time with her 2-year-old son last week, when the two visited the National History Museum in South Kensington on Oct. 22, People magazine reported. Princess Kate and Prince George went unnoticeable while going around the museum's dinosaur exhibit, according to museum goer Rimi Rahman.
Rahman told People magazine that the other museum goers "didn't notice her at all," referring to the royal mother of two. "They went all around the dinosaur gallery – George looked so cute and little, his hair is so nice. He looked so happy," the source added. Rahman also recounted how Princess Kate "was holding George's hand" as they toured around the museum.
A museum spokesperson also confirmed Princess Kate and Prince George's museum date to People magazine. The spokesperson said, "We were very happy to welcome Natural History Museum Patron HRH the Duchess of Cambridge for a private visit last Thursday."
The mother and son duo was spotted at the museum's Hintze Hall, which houses the 13.9 feet high and 69.8 feet long Tyrannosaurus Rex bone skeleton cast. The replica, known as Dippy the Diplodocus, has been the centerpiece of the museum's impressive dinosaur gallery at Hintze Hall.
Meanwhile, this is not the first time that Prince William's wife brought their son Prince George on a museum date. In March this year, Princess Kate also spent mommy time with the lively toddler at London's popular Science Museum, according to Hello! magazine. The adorable duo visited the museum's Pattern Pod which features a "multi-sensory gallery" of patterns.
Museum dates are just one of the family outings that Princess Kate and Prince George enjoyed together. In December last year, the Duchess of Cambridge brought Prince George on a short visit to Hyde Park's Winter Wonderland. A Hello! source revealed then that the two spent an hour in the park's Santa Land where they rode on a teacup ride.
"[They] looked like they were having a fantastic time," the source added.
© Copyright IBTimes 2023. All rights reserved.